Martin Wyss Returns to the Kahala! For anniversary dinner Jan. 22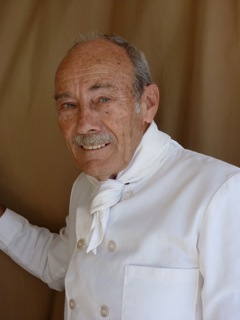 Chef Martin Wyss opened the Kahala Hilton (as it was then called) in 1964. He gained a fervent following at the Maile Restaurant there.
In 1982, he and his wife Jeanie started their own restaurant in a Niu shopping center—the beloved and now much-missed Swiss Inn, from which he retired in 2000.
He's back.
To celebrate its 47th anniversary, the Kahala Hotel and Resort, as it's now called, is bringing Wyss back for a gala anniversary dinner, Saturday, Jan. 22, 6:30-10:30 p.m. at the Plumeria Café.
Wyss has teamed up with the Kahala's current executive chef, Wayne Hirabayashi (himself no slouch), to do a special menu of favorites from the old Maile Room. The menu includes such Maile signature dishes as:
Royal Maile Salad (Manoa Lettuce, Belgium Endives, Bay Shrimp, Avocado, Celery Seed Dressing)
Duck Waialae (with Wild Rice, Lychee, Mango, Banana, Grand Marnier)
Mahimahi Caprice (with mushrooms, banana)
Fresh Island Catch in Buerre Blanc
Scallops in Pastry Shell with Sorrel Sauce
Plus dozens of other items from Lobster Bisque to Cherries Jubilee
The dinner is priced at $75 plus 20 percent gratuity (so really $90). It includes Kahala Mai Tai's, Kahala-Tini's, sparkling wine, red and white wines.
"I don't know how much actual cooking I'll have to do, but I will be there," says Wyss. "It will be a chance to see old friends."
"I've never cooked with Martin," says Hirabayashi. "He has a reputation as a great guy, great chef, really Old School. A handful of my staff worked with him and they are looking forward to it."
One night of Wyss's signature dishes is not enough, apparently. From Jan. 16-31, you can have a special Maile Room Signature menu at Hoku's: Maile Salad, Duck Waialae and a selection of Wyss's desserts for $47, a dollar for each year the hotel has been open.
If you really miss the wienerschnitzel and rösti potatoes from the Swiss Inn, you'll need to hop Hawaiian Air to Portland. Martin and Jeanie Wyss's daughter, Jennie, has opened Café Hibiscus in the Portland arts district. "That's a dumb name for a place that serves Swiss food," says the ever candid Martin.
The Café Hibiscus menu is all Swiss Inn classics, including the wienerschnitzel and salads with Wyss's famous Swiss Inn dressing. Martin himself just finished three months cooking in his daughter's kitchen for her.
For the Jan. 22 Kahala anniversary gala, (808) 739-8760 or click here. For Hoku's (808) 739-8780 or click here.
And if you're heading to Oregon: Café Hibiscus, 4950 NE 14th Ave., Portland, (503) 477-9224 or click here.