March 2012: Table of Contents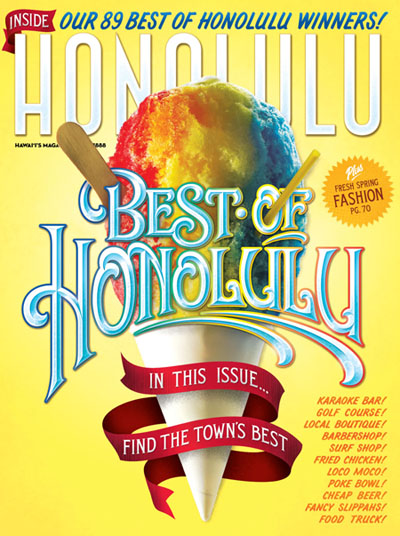 Features
The Graduates
Some of the first graduates of the Hawaiian immersion schools have been out on their own in the adult world for a few years now. We caught up with four of them for their reflections on the schools, the language and their futures.
By Martha Cheng

Best of Honolulu
It's that time of year again. From oxtail soup to poke bowls, slippers to stationary—we've crisscrossed the city to find the best products, services, food and entertainment, all to help you live better in Honolulu.
By Martha Cheng, Tiffany Hill, Christine Hitt, Michael Keany, A. Kam Napier, David Thompson and Christian Vetter

Woman About Town
Elevate your wardrobe status from pedestrian to street style star with spring's mix-match array of eye-popping, Technicolor basics, bold accessories and lively graphic prints.
By Stacey Makiya and Brie Thalmann
Departments
Editor's Page: Quest for the Best
The March Best of Honolulu issue is a reader favorite, and a pleasure to research.
By A. Kam Napier
Feedback
Our readers respond.
Calabash
The first month of civil unions
Get out and go
Food: coffee cheries
Unsolicited advice
The search for the perfect bloody mary
Arts: The Academy becomes the Museum
Field Guide: Urban pig hunting
Heckathorn Reports…
Editor A. Kam Napier rounds up some of John Heckathorn's best writing, drawing from his 27 years with HONOLULU Magazine.
By A. Kam Napier
Afterthoughts: Quonset Cool
Curved, corrugated, casual—Hawaii's kamaboko houses are prefab-ulous.
By Michael Keany