Manoa Bed & Breakfast Still Hopes to Welcome Buyer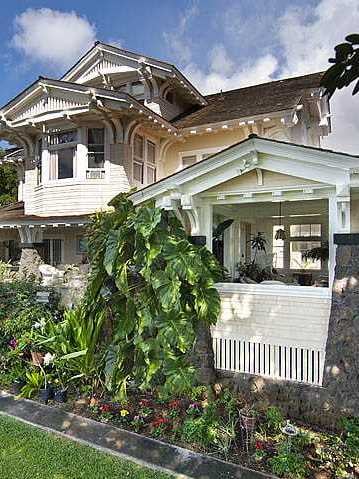 Manoa Valley Inn is one of the neighborhood's most iconic residences, and certainly one of the island's most charming historic homes. Built in 1911, the residence was formerly known as the John Guild House, named after the secretary of Alexander & Baldwin who acquired and renovated the property to its current form in 1919. In fact, the home, which is on the National Register of Historic Places, has been owned by several prominent local figures throughout its history, including Benjamin Dillingham, founder of the Oahu Railway and Land Company; Richard Bickerton, the Supreme Court Justice and Privy Council Member under Queen Liliuokalani; and Grace Merrill, the wife of Arthur Merrill, the principal of Mid-Pacific Institute, and sister of architect Charles Dickey.
Guild was perhaps the home's most infamous owner, having been convicted of embezzling a large sum of money from Alexander & Baldwin in 1922, dying in prison in 1927. In the 1980s, then-owner Rick Ralston, founder of Crazy Shirts, began the bed-and-breakfast operation, which continued under Nakamitsu Hawaii Corp., which briefly owned the property in the 1990s. Nakamitsu sold the property to current owner Theresa Wery in 1998. Wery, a 20-year veteran of the local B&B business, put the property up for sale in 2007, having decided to retire. Since then, the property has been on and off the market, and was re-listed in 2009.
The 4,424-sq.-ft., 10-bedroom and 10-and-a-half-bath home is notable for its outstanding architectural detailing, including the gable roof, protruding bay windows, elaborate exterior woodwork, lava-rock pillars and sizeable porte cochere and entry lanai. The interior spaces are big on vintage charm, marked by ornate, flowery designs typical of country cottages of yesteryear. A chimney collapse as a result of the Oct. 2006 earthquake has since been repaired and painted using "in-kind materials" in accordance with State Historic Preservation Division guidelines. While not necessarily in keeping with the home's historic character (though it's certainly a bonus addition for any would-be buyer), a heated saltwater swimming pool surrounded by lava-rock walls was installed in the backyard in 2005. An additional incentive for buyers is the low property taxes, about $300 per year, a benefit of the home's historic status.
According to listing agent Robyn Schaefer, interest in the home has come from B&B owners from the U.S. Mainland and Canada, as well as foreign and local individuals and non-profit organizations. "I think the ideal buyer is an individual, family or entity with a passion for historic properties," says Schaefer, "and [someone] who will enjoy the convenient location of this unique, private home."
Money talk: The home is currently listed at $2,799,000.
Contact: Robyn Schaefer, Coldwell Banker Pacific Properties, 223-4549, robyns@cbpacific.com. www.cbpacific.com/RobynS.