Malaysian Fast Food for Honolulu?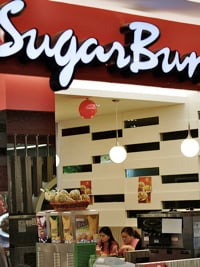 Here's the most exotic bit of restaurant news to reach Biting Commentary in months.
The Star (Malaysia) reports that the fast food chain, SugarBun, is planning to open a franchise in Honolulu near a university campus.
Owned by Borneo Oil, SugarBun is Malaysia's most popular fast-foodery, with large, destination center restaurants. The company is on an aggressive franchising campaign, with 34 locations, mainly in Malaysia, but also Brunei and Bangladesh.
New locations will also include Melbourne, Australia.
Despite the name, SugarBun is not a bakery. It is apparently KFC, McDonald's and local Malaysian food all wrapped into one colorful package.
The company once served only Western-style fast food. In 2001 it rebooted its menu to improve the Western food and add Asian dishes like beef ball mee hoon, a noodle dish, and nasi lemak (left), the spicy coconut cream rice that is the national dish of Malaysia.
I can hardly wait for a restaurant whose idea of a Happy Meal is roasted chicken, seasoned rice and fresh pickles. Or whose idea of dessert is ais katang, the Malaysian form of halo halo—shave ice plus jellies, ice cream and condensed milk.
Or whose company creed is, "Team Spirit excels all the way/ HAPPY, HAPPY Everyday."
Contacted by email, SugarBun's general manager, Raymond Teo, wrote that Honolulu plans were still preliminary. "We shall keep in touch with you once the restaurant is operating in the near future."
And you thought Honolulu already had everything.