Mahalo to our sponsors for supporting the following climate story.

Mālama 'Āina: Caring for the Land
---
By Robbie Dingeman | Photos by Aaron K. Yoshino and Sean Marrs
The concept of land as life has long served as a central cultural connection in Hawai'i. From a Native Hawaiian worldview, 'āina provides everything people need to survive, and people honor and nurture the land as a respected relative. In part two of our climate series (our first focused on water), we bring attention to two vital 'āina or earth-focused issues: how climate change is complicating our community's push to grow more of our own food and hastening the extinction of our native species. 
AS
the heart-shaped kalo leaves dance in the Hakipu'u taro field at Kualoa Ranch, farmer Anthony Mau sees progress in the struggle to prevent the extreme heat of climate change from devastating the crop.This land has nurtured kalo for many generations, but in recent years, the plant growth slowed, some to a third of their normal size. Intense heat wasn't allowing the taro to breathe, Mau says. "Essentially, we were cooking the kalo underground." With a doctorate in aquaculture and knowledge gleaned from mo'olelo, Kualoa's diversified agriculture manager, like other growers  across the Islands, has been forced to adapt traditional farming methods to respond to the erratic temperatures and unpredictable weather patterns brought on by climate change.
What's working now, Mau says, is a Native Hawaiian planting technique using long mounds that allow the plants to rise out of the wet ground, informed by techniques applied successfully elsewhere by other growers: from Tahiti, layering banana and coconut leaves in the lo'i; from Japan, using newspaper instead of banana leaves; and his most recent update, using rolls of ink-free newsprint. "There's a mix of traditional wisdom, Hawaiian science, coupled with more of a modern twist and innovation," Mau says. "We grew our best taro this year because we perfected our strategy." And, it's working, which means bigger, healthier kalo. Still, he's focused on what's ahead, knowing future erratic weather conditions will require new strategies. "The concern is that climate now is going to be super variable, and there's no predictability."
"There's a mix of traditional wisdom, Hawaiian science, coupled with more of a modern twist and innovation." 

— Anthony Mau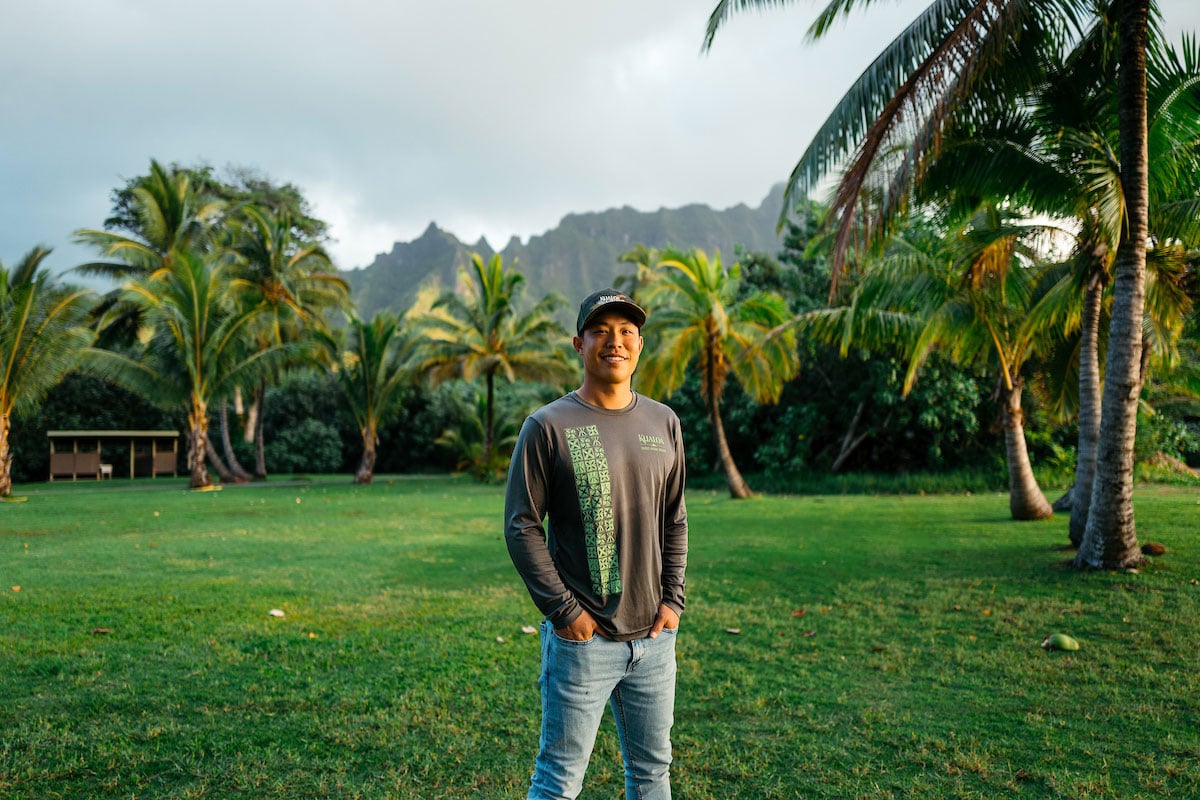 Flooding Affects Local Food
A few miles away, Paul Reppun has worked the family's 10-acre farm in Waiāhole Valley for 48 years, along with his brother, Charlie. "Floods that should be happening every 20 years seem to be happening every couple years," Reppun says. Intense flooding can wipe out an entire crop in a few hours. "The pattern of the seasons has changed. We don't have a regular rainy season like we always did,"  he says.
Beyond Waianu Farm's primary crop of taro, Reppun says the family added different varieties of banana, sweet potato, 'ulu, coffee, cacao, fruits and vegetables, some raised in greenhouses. The more diverse the crops, the better the odds that some of them will withstand the unreliable weather, he says. "Farming is always a risk, but it's becoming less predictable for risk."
Locally Produced Foods Essential for Sustainability
Hawai'i imports most of what we eat. A 2013 report by state agriculture officials calculated that figure at roughly 85% based on available data, although the state no longer tracks the percentage of what's grown locally versus what's imported. "We import over 99% of our staples," says Dana Shapiro, general manager and co-founder of the Hawai'i 'Ulu Cooperative. The limited data available indicates we import about 40% of fresh fruits and vegetables, and 70% of protein consumed here (that includes meat and seafood). Shapiro is working to grow more breadfruit, taro and sweet potato as locally grown staples that can displace imported rice, the most popular staple crop here. (Hawai'i eats more rice than any other state, roughly 100 pounds per person each year, according to federal statisticians.) Historically, rice was grown in the Islands since the 1860s but slowly the crop disappeared. At Kualoa, Mau has planted a swath of rice near the kalo to determine how resilient it may be as a potential food crop.  
Kualoa is part of a local sustainability push to grow and produce more of our food in the Islands. But along with such obstacles as scarcity and expense of farmland and the high cost of importing feed and fertilizer, climate change presents additional hurdles to local farmers and food producers. 
At Honolulu's Office of Climate Change, Sustainability and Resiliency, Dexter Kishida sees the effects of escalating climate change, with farmers changing the way they grow such crops as leafy greens. With erratic weather, they're moving crops from the ground to greenhouses, or to hydroponic or aquaponic systems to protect them, he says. "I find our farmers being some of the most vocal about climate change because they see it every day. They see the changing weather patterns, the yield effect of the rain bomb—professionally and personally—the drought conditions and just how things are changing, how even gradually hotter summers affect what and how they grow." 
Many are hopeful that Gov. Josh Green will carry through with his promise to aggressively move forward with climate repair. Shortly after being sworn in as governor, he committed $100 million of the state's $1.9 billion budget surplus to fight climate change. Exactly how those funds will be spent has yet to be decided, but food growers say the battle is vital to their long-term survival. 
In hot, sunny Wai'anae, beekeeper Ken Harmeyer peers into his hives. He says climate change has upended the life cycle of pollinating insects, which, in turn, makes it harder for nearby farmers to grow their crops.   
Harmeyer says he first noticed the impact of climate change on the bee population about six years ago, with the sudden deaths of hives, and queen bees that were living half as long as they had before. "Normally, a beehive will have between 30,000 and 60,000 bees, and the bees will fly up to 5 miles, pollinating nearby flowers," Harmeyer says. "If you lose half the hives, you've got half of the population." That hit hardest on small basil farms nearby. "If there's no bees to pollinate the basil … production goes down," he says. 
Harmeyer has tended beehives across O'ahu for more than 20 years, and runs the Hawai'i Bee Hotline to relocate unwanted bees. His concerns resonate at Kahumana Organic Farms on the Wai'anae Coast, where Harmeyer manages the hives. "Climate change affects us all, and farmers are especially susceptible as they depend on stable environmental factors to grow food consistently," says Tom McDonald, Kahumana's executive director. 
Although Kahumana hasn't experienced a sharp drop in its production, McDonald says the threat looms. "Climate change is subtle," he says. Last year, the farm felt the effects of climate change with the decline in rain. The dry weather wilted crops, followed by sporadic downpours that damaged some crops and prompted others to blossom more often. "It affected the flowering plants and then it affected the bee population," McDonald says. And while unpredictable weather has plagued farms throughout history, McDonald says, "this man-made effect of global warming has a more intensive effect on all aspects of the environment, and of course, our food system."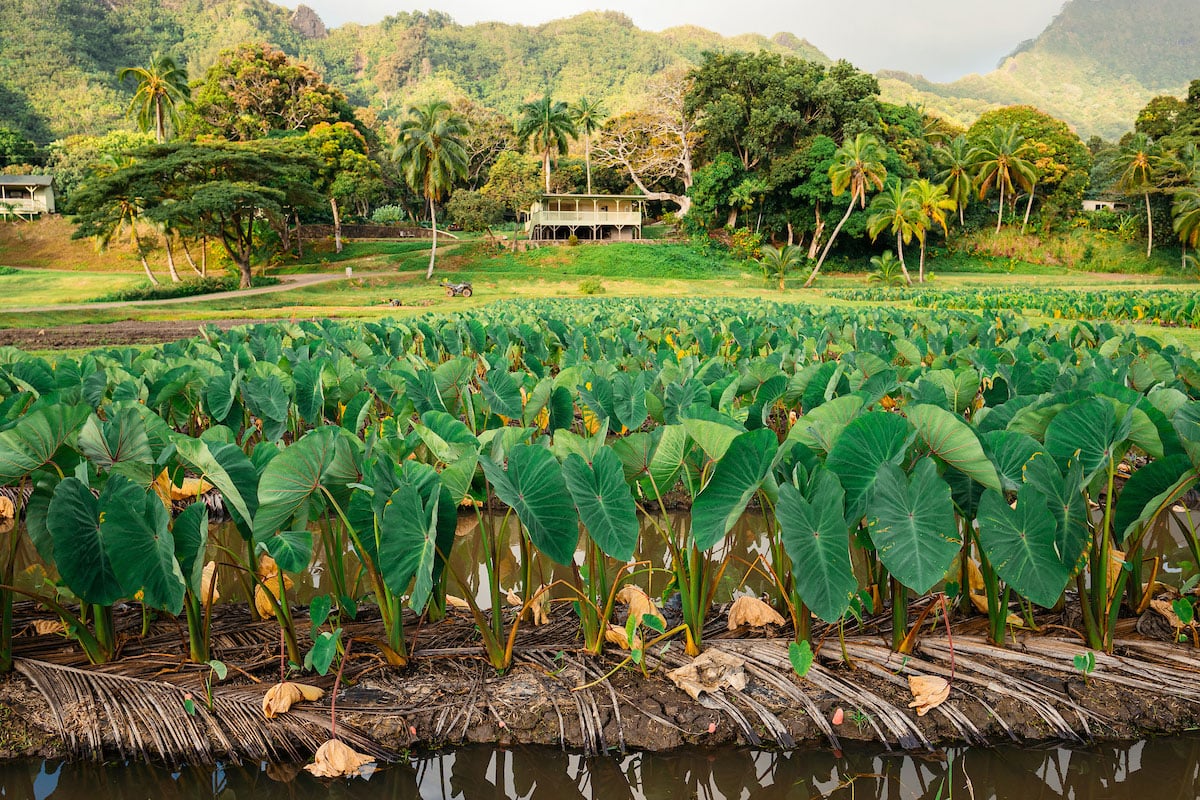 Endangered Species Capital
Rising temperatures and other impacts of climate change have also increased the threat of extinction of Hawai'i's native species. While some species in the Islands began declining as soon as outsiders arrived with their own animals and diseases, environmental specialists say invasive plants are flourishing amid today's unpredictable rainfall patterns, which can yo-yo from drought to flooding to long spells of dry, hot weather. Those flourishing invaders include Miconia, a highly invasive plant, nicknamed "the green cancer of the Pacific" because of its ability to spread fast and squeeze out native species unable to tolerate the heavy shade canopy it creates.
Hotter temperatures and a lush but vulnerable island environment also allow invasive animals to thrive, such as axis deer, which have been destroying the native forest. Last November, the state declared an axis deer overpopulation crisis as a result of the devastation. More destructive storms as well as invasive damage intensify the threat to the native forest, says Emma Yuen, native ecosystems program manager for the Hawai'i Department of Land and Natural Resources. "Climate change is a huge threat for many reasons to our native species," she says.
Each year, the agency seeks funding for fencing to reach its goals to protect native forests and species. The request to the Legislature for the next two-year budget cycle is $5 million per year. In 2011, only about 10% of the state's priority native forests were fenced. That's increased to 21% since, and the state now has a goal to protect 30% of those priority forests by 2030, Yuen says. "What is happening to those native forests every second of every day is that they're being eaten by hoofed animals—pigs, goats, wild cattle, sheep, deer—and basically being reduced to bare ground." That destruction from hoofed animals and other human-caused threats has taken a huge toll. "Over 200 native species of Hawaiian plants and animals are believed to have gone extinct in the last 200 years, and over 500 Hawaiian species are listed as threatened or endangered by the federal and state government."
Rising temperatures brought by climate change have also allowed mosquitoes to thrive in more places, another deadly threat to once-pristine areas at high elevations. Mosquitoes are now decimating species they never would have encountered in the past, Yuen says. "They're creeping higher and higher up the mountain past 4,500 feet. And even just one bite can be fatal if the mosquito is transmitting avian malaria. So, we're quickly losing our forest birds and have a few species that, if we don't do anything, will go extinct in probably the next five years."  She says the akeke'e, 'akikiki, and the kiwikiu or Maui  parrotbill are likely the most threatened with immediate extinction.
In December, the U.S. Fish and Wildlife Service announced a plan to designate more than 275,000 acres on Maui, Kaua'i and Hawai'i Island as critical habitat to protect  the iconic 'i'iwi, which is declining due to habitat loss. The imperiled honeycreeper was once among the Islands' most plentiful forest birds, known for its bright red plumage, black wings and distinctive salmon-colored, curved bill, but is struggling to survive. Where there were once 50 honeycreeper species, recent surveys show that only 17 remain, some with only a few hundred birds left. The plan came after the nonprofit Center for Biological Diversity sued the Fish and Wildlife Service for failing to protect Hawaiian forest birds from extinction in 2021, pointing to eight Hawai'i birds that are likely extinct—the Kaua'i 'akialoa, Kaua'i nukupu'u, Kaua'i 'ō'ō, kāma'o, Maui 'ākepa, Maui nukupu'u, kākāwahie and po'ouli—as well as a plant from the mint family that is found only in Hawai'i. Hawai'i was once home to more than 750 species of land snails but scientists estimate 90% are gone.
"Protecting our native forests that are still remaining is just this
enormous need."

— Emma Yuen
Emma Yuen walks with us along the Pu'u 'Ōhi'a trail, high above urban Honolulu where volunteers are restoring the native forest at the Mānoa Cliff Restoration site. Kelli Konicek, an entomological research technician with the Hawai'i Invertebrate Program, invites us to help release tiny endangered Hawaiian picture-winged flies that have been nurtured in the UH lab. She explains these flies and other microfauna play an important role in restoring native ecosystems. The flies slowly crawl from the glass tubes onto the 'ōhā wai branch, shaded by tall native trees of koa and 'ōhi'a lehua.
"Protecting our native forests that are still remaining is just this enormous need," says Yuen, a 15-year DLNR veteran who grew up in Hāmākua on Hawai'i Island. She points to Native Hawaiian 'āina awareness that dates back centuries. Ancient Hawaiians identified the vital link between the forests, water supply and thriving natural species "and even King Kalākaua in 1876 passed an act for the protection and preservation of woods and forests."
As director of natural and cultural resources at Kamehameha Schools, Jason Jeremiah works with community partners to address climate change while honoring Native Hawaiians' deep cultural ties to the 'āina. "We think about our native species as those who are the first inhabitants before Hawaiians," Jeremiah says. "In essence, they are our kūpuna."
He emphasizes the Native Hawaiian ethos of being connected to the 'āina, the community you belong to, knowing its history and committing to helping it thrive as the path to climate change repair. "Where do you fit within this whole ecosystem of Hawai'i? Are you taking? Are you giving? What kind of reciprocal relationship do you have?" he asks. "We talk a lot about knowing your place, your 'āina, your ahupua'a."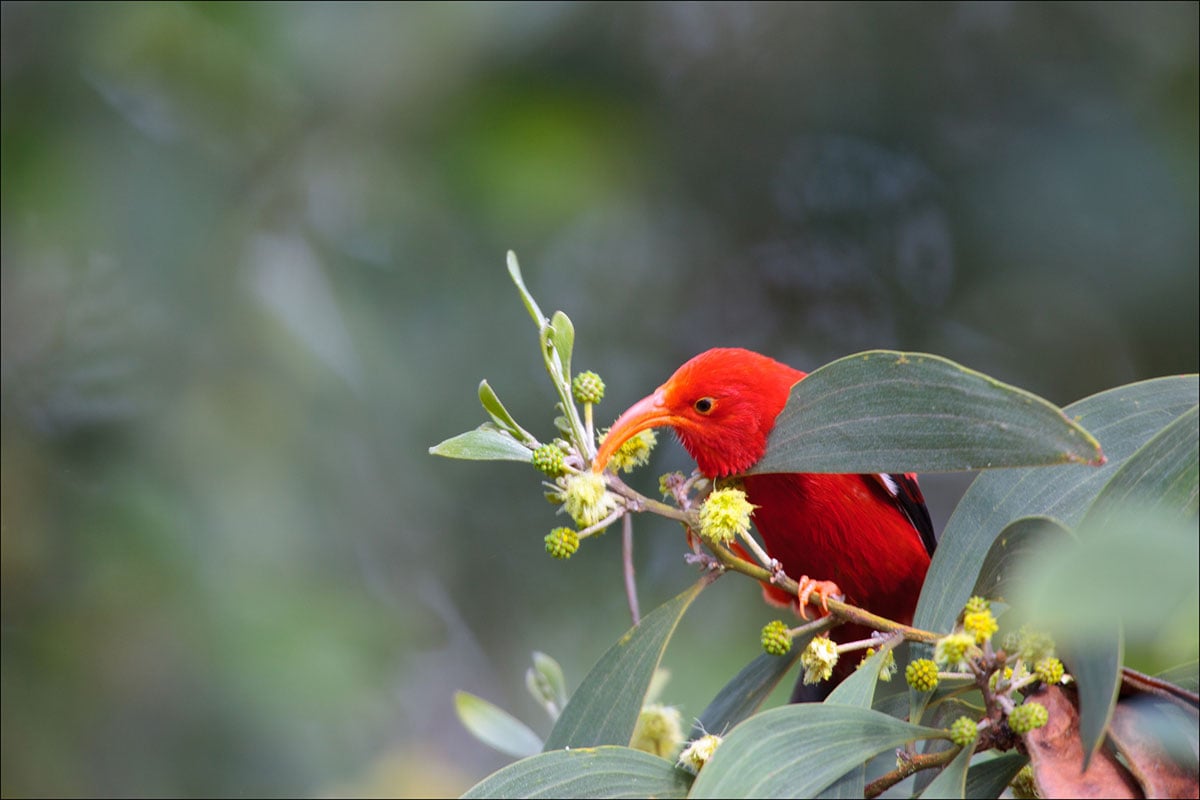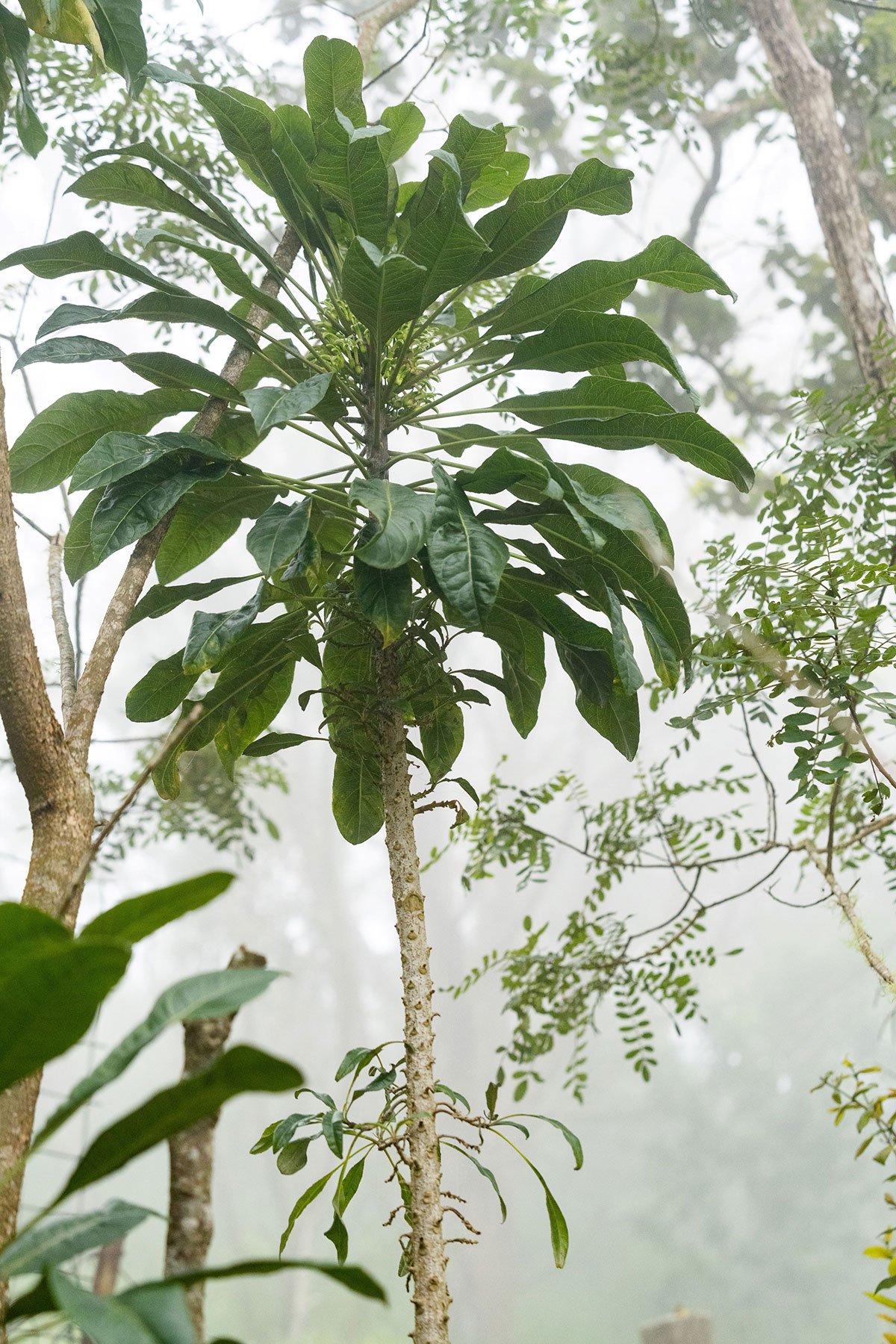 A Glimmer of Hope
Last year, Kamehameha Schools, DLNR and Three Mountain Alliance announced the discovery of a small population of a rare plant believed to be extinct. Conservationists found several Delissea argutidentata growing on a dead māmane stump in the Keauhou area of Hawai'i Island. Since then, the plants have been fenced for protection, more than 30 of the keiki have been planted in the wild and others are being propagated in nurseries.
The plant, which has a long, palmlike trunk topped by a round cluster of leaves, once grew abundantly under the shade of giant koa trees and in old volcanic craters. But for 20 years there had been no recorded sightings of them in the wild.
While so much of the work in this field has focused on what's been lost—native species, forests, sacred places—Jeremiah sees this plant's rediscovery as a sign of hope for environmental, cultural and community resilience. "Our 'āina is still resilient, and it's only a small glimpse of it in one area, but I think it kind of brings you that hope that others can be found."
Trees help keep us cool—in the forest, in neighborhoods and
urban cores.
Honolulu needs to be greener, experts say. While the national average of canopy cover (the overall leaf surface area) stands at close to 30% in major U.S. cities, our city lags behind at 20%. Having more trees would reduce temperatures, provide shade and lead to more environment-friendly green spaces. Some cities, such as Pittsburgh, have boosted their canopy cover to more than 40%. By 2015, Washington, D.C. had achieved a 38.7% tree canopy, according to a study by PlanIT Geo. 
Organizations have to unite to combat climate change through such community efforts as tree-planting projects, says Hailey Campbell, a climate adaptation specialist with the Honolulu Office of Climate Change, Sustainability and Resiliency. Besides providing shade and cooler temperatures, those new trees will eventually help to reduce stormwater runoff by capturing and retaining water. 
"The city is committed to increasing the urban tree canopy to 35% by 2035," Campbell says. In 2019, the city announced a plan to plant 100,000 trees across O'ahu by 2025. And in 2021, residents and the city collectively recorded the planting of 4,927 trees, which brought the total of new trees planted islandwide since 2018 to 50,599.   
In September 2021, then-Gov. David Ige pledged that the state would conserve, restore or grow 100 million trees by 2030 as part of a nationwide effort calling for the planting and protection of a trillion trees. Alexander Yee, also at the Honolulu resiliency office, says planting trees or caring for existing ones are things anyone can do. "And hopefully that comes with a sense of empowering the community and making them feel like the solutions are at hand," he says. "I think trees are a really tangible way for people to be able to see the immediate benefits."   
"Ola ka 'āina, ola ke kānaka, ola ka lāhui: The health of the land is the health of the people is the health of the nation."—the late Dr. Noa Emmett Aluli, physician
Local farmers and food advocates have long urged people to "vote with your fork," to help Hawai'i's economic sustainability. But by growing and eating more locally produced foods, we can also help offset the detrimental effects of climate change, says Dexter Kishida of Honolulu's Office of Climate Change, Sustainability and Resiliency.
Eating local reduces our carbon footprint: Food that's produced here doesn't need to travel 2,500 miles or more by air, boat, truck and other fossil-fuel-burning means. So, when we eat from a garden at our house, in our community or from a local farm, we help eliminate emissions that can harm the environment. Here are some tips for eating local.
Buy from farmers markets that label local food, such as hfbf.org/farmers-markets/.
Look for local labels in stores.
Buy direct. For example, Kualoa Ranch sells its own crops and those of other local producers in its store. (Learn more at kualoa.com/kualoagrown.)
Shop from hubs that sell fresh local foods from an online network of farmers and producers, including Farm Link Hawai'i, farmlinkhawaii.com, and Kahumana Organic Farms, kahumana.org.
Kahumana Executive Director Tom McDonald sums it up this way: "Buy an electric car, buy more local food, support more local farmers," he says.
Honolulu's Office of Climate Change, Sustainability and Resiliency updates an extensive list of ways to volunteer, learn about workshops and find resources at resilientoahu.org/volunteer-today.

 

Join a food garden movement. The Hawai'i Fund for Food Gardens is working to build 1,000 food gardens across the state, providing resources that support individuals, nonprofits and community groups. Visit foodgardenhui.com.

 

Submit legislative testimony online to support local food initiatives.

 

Volunteer at a local farm.