Make It With the Family: Let It Snow Photo Backdrop
Sew your own "snow scene" for a fun and playful Christmas photo op.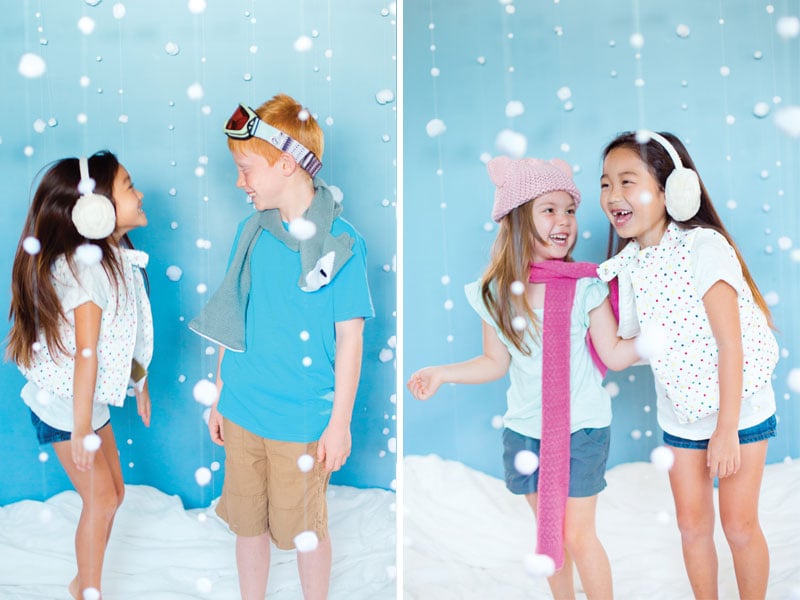 Let it snow in your holiday cards this year. We created this "snow scene" with strings of pom poms hung in a bedroom.
Materials
White pom poms. We used three different sizes.
Fishing line or white thread
Sewing needle
Directions
Cut 4 to 5 feet of thread or fishing line. You want the strings to be at least a foot taller than your child.
Thread the needle and use it to string pom poms on about 2 to 3 inches apart. Vary the sizes on each string.
Attach the strings to a clothesline strung across a room. We also attached the strings to a bamboo pole and held it above the kids during the photo shoot.
Toss pillows on the ground and cover with a white comforter or fluffy white blankets to create the feel of snow on the ground.
Snap away!
Tips
➸ The line tangles very easily. Hang each up immediately after stringing on the pom poms.
➸ We created three rows of snow for our photos.
➸ Loop the string or line through pom pom once to lock each into position.