Make It: Thankful Tree and Turkey
Count your blessings with a fun project that turns into a cute Thanksgiving centerpiece.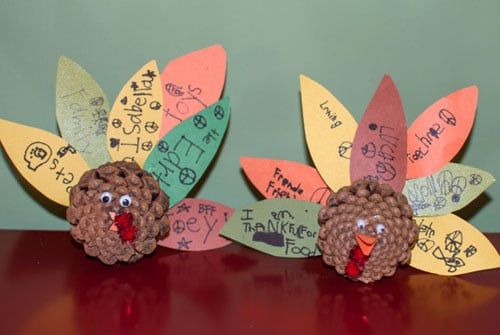 When it comes to the holidays, my family hits the ground running. As soon as Halloween is over, we start thinking about Thanksgiving. The Thankful Tree is a good way to channel creative energy and reminds us all of the reason for this particular season. During the month of November, we record our ideas on construction-paper leaves. Bigger kids can cut their own leaves. Smaller kids can use precut leaves and draw their ideas. We have a small basket full of paper leaves in fall colors, a few markers and a sign inviting family and friends to record the things for which they are thankful.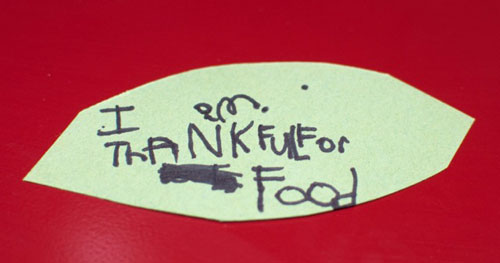 In years past, we have hung them on a tree made from a tree branch, but, this year, for something different, we attached them to our holiday wreath.
A few days before Thanksgiving, our "leaves" become "feathers" on pinecone turkey place markers, which will grace our table on Thanksgiving.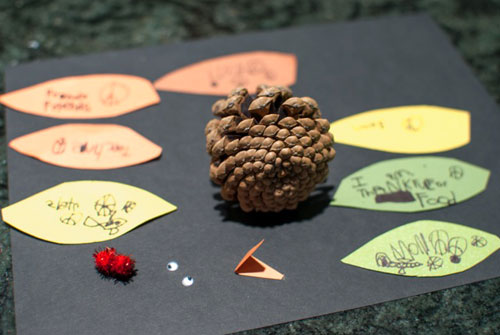 Note: You don't need to do this the entire month, you can have the kids work on their leaves on Thanksgiving Day. We have a guest coming to dinner who will be asked to think of five things so the kids can finish his place marker. This also gives the kids something to do as they wait for dinner.
Materials
Construction paper in fall colors for the leaves and beak
Pencils or markers
Pine cones
Googly eyes (or you can draw eyes on paper)
Glue gun or craft glue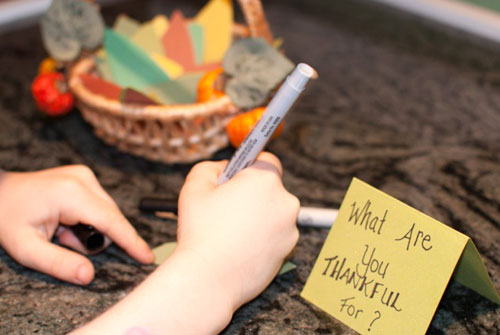 Directions
Create a beak by cutting a triangle out of orange or red paper.
Have the kids arrange the "leaves" as feathers at the back of their turkey, then glue the feathers to the pine cone. Older kids can use the glue gun, younger ones should work with craft glue, which is thicker and easier than Elmer's glue but will take longer to dry.
Add eyes and the beak. We used red pompoms to create the waddles.
Make sure one feather has the guest's name and, voila! You have place markers that can be read aloud during the meal. Or, group the turkeys together for a cute and thoughtful centerpiece.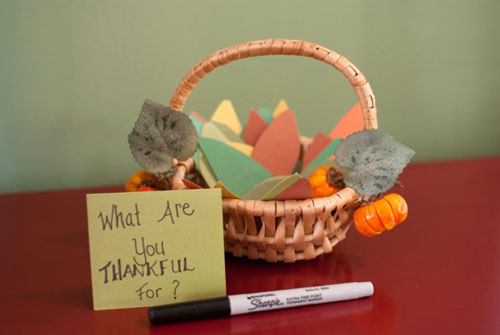 Variations
Try gluing the leaves to an orange or mini pumpkin, or the good old-fashioned trace-your-hand turkey.
---
There is a lot more fun for families this holiday season. Watch for more crafts, recipes and a full round up of holiday events and parades in our Holiday Corner, launching November 19.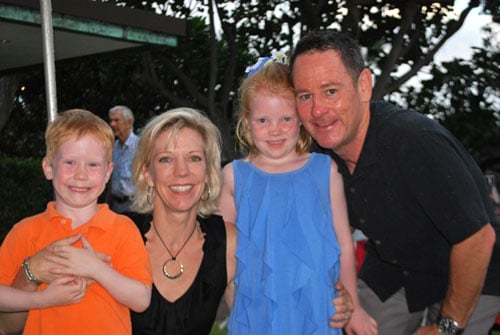 Michele Aucello and her husband Kevin live with their children Isabella and Luca, some chickens, and the occasional elf and leprechaun. You can reach Michele via email, Facebook, or via her personal blog, Leprechauntricks.com. You can also follow her on Pinterest, where she gets many of her ideas.