Make It: Pistachio and Cranberry Holiday Biscotti
These tasty treats are slightly sweet and filled with the colors of the season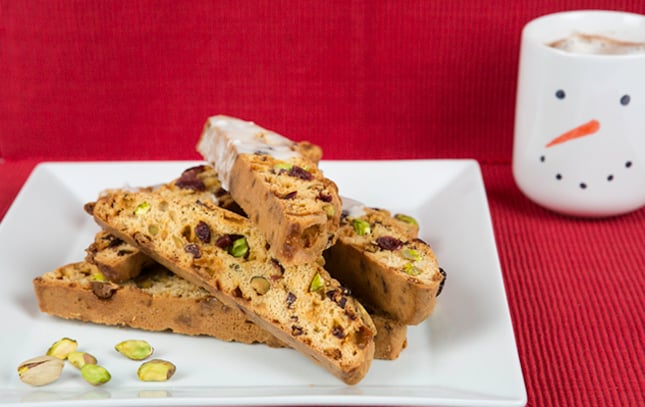 Photo: David Croxford
Pistachios and cranberries lend some Christmas cheer to tasty biscotti. We kept ours simple but you could drizzle frosting on one side and even add red and green sprinkles for a festive touch.
Ingredients:
2 large eggs
2 large egg whites
2 teaspoons vanilla extract
1 tablespoon grated lemon or orange zest
1 cup whole wheat flour
1 1/4 cup all purpose flour
3/4 cup sugar
2 teaspoons baking powder
1/2 cup white chocolate chips
1/3 cup pistachios, roughly chopped, plus, a handful for topping
1/3 cup dried cranberries, plus, a handful for topping
Directions:
Preheat oven to 300 degrees. Line a baking sheet with parchment paper or a silicone baking mat.
In a medium bowl, whisk together both types of flour, sugar and baking powder. Set aside.
In the bowl of a mixer beat the eggs, egg whites and vanilla extract on medium speed. Add the zest.
Incorporate the dry mixture into the wet mixture 1/2 a cup at a time. Stir constantly on low speed until everything is combined into a thick dough. Scrape down the sides of the bowl if necessary.
Stir in the white chocolate chips, pistachios and dried cranberries until just combined.
Spread the dough on to the baking sheet, forming a smooth log that is approximately 3 inches thick. Top with pistachios and cranberries.
Bake for 50 minutes.
Remove and allow to cool before slicing the log into even strips, about an inch wide. Arrange, cut side up, on baking sheet and reduce temperature to 275 degrees.
Bake 40 minutes until very hard.
Remove and cool.
---
Find more holiday recipes, crafts and events in our Holiday Corner.