Make It with the Family: Holiday Window Clings
Personalize your entryway with colorful, handmade window clings.
Did you know that, using a few materials you have at home, you and your child can make your own window clings?
Materials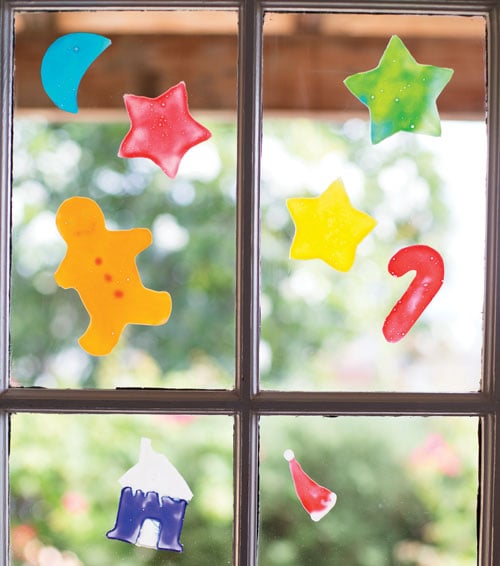 Glue
Dish soap
Food coloring
Cookie cutters
Paint brushes
Large Ziploc bags or sheet protectors
Directions
Place 2 tablespoons of white glue and 2 drops of dish soap in a small bowl.
Add drops of food coloring until desired shade is achieved.
Paint designs on the Ziploc bags or sheet protectors. You can either let the kids create their own pictures, trace an image you place under the plastic, or fill a cookie cutter with the glue mixture.
Let glue dry. If you are using a cookie cutter, it will need to sit for several hours before you remove the form.
Tips
➻ Don't worry about coloring out of the lines.Any excess glue can be trimmed once it's dry.
➻Be patient. A semi-thick layer of glue will dry in a few hours and will cling well. Some of our designs took up to 24 hours to dry.
➻Experiment with several colors on the same shape. We made snowmen and added drops of different colors to add faces and buttons. We found that ours blended together if we added a new color too soon, but we had fun trying!
Thanks to teachingmama.org for the idea!
---
There is a lot more fun for families this holiday season. Watch for more crafts, recipes and a full round up of holiday events and parades in our Holiday Corner.