Madre: Artisanal Chocolate, from Kailua, Oahu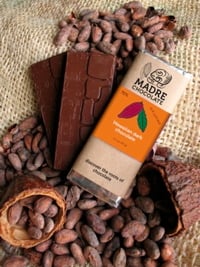 The young guy selling chocolate at the Hawaii Kai Farmers Market switches seamlessly into Spanish when a Spanish-speaking couple approaches his booth. He convinces them to try samples of artisanal chocolate he's stone-ground and hand-poured into molds.
Who is this guy? David Elliott, a degree in rural development from John Hopkins, veteran of five years in Latin America, one of two young scholar-entrepreneurs who hope to turn Hawaii into a powerhouse of artisanal chocolate.
Elliott's partner is Ned Bletter (Stanford, CUNY, postdoc fellow at UH Manoa). Bletter's doctorate is in ethnobotany, which is, roughly, the study of people's relationship with plants. He wrote a chapter on the history of chocolate agriculture for a scholarly tome, Chocolate in Mesoamerica.
"I got really interested, so I made some chocolate in my New York kitchen with a coffee grinder and food processor," says Bletter. "Then I came to Hawaii, and thought, I should make chocolate, this is the perfect place."
Bletter (left) and Eliott (right) have set up Madre Chocolate in Kailua to process their own chocolate bars.
Chocolate grows well in Hawaii, the place in the United States.
Still, only Bob and Pam Cooper of the Original Hawaiian Chocolate Factory in Keauhou process their chocolate from bean to bar. (Dole sends its Waialua Chocolate to Guittard in California for processing.)
That makes sense. To get from cacao pod to candy is a tricky process: fermenting, roasting, winnowing, milling, refining, and tempering. (And, of course, that's before a chocolatier or pastry chef even gets a hold of the bar chocolate.)
Of these, the most critical step is fermenting. "Raw cacao is bitter. Fermenting is when the chocolate and all the more fruity flavors develop," says Elliott. "If you don't ferment correctly, you can't make good chocolate."
The two buy some fair trade Central American chocolate. And they've spent their own time and money trying to establish a direct trade relationship with an organic cacao cooperative in Southern Mexico.
"This place, Xoconusco, is epicenter of chocolate, all chocolate started here," says Elliott. "It's the best in the world. They make wonderful chocolate drinks there, but there's no European-style chocolate made from those beans because the farmers lack the right fermentation equipment. And their cacao gets dumped on the commodity market so they don't get a good price."
To help those farmers and make sure this historic chocolate comes to market, the two have started a modest $15,000 fundraising campaign. For video on that, click here.
The two are also, naturally, focusing on single-source chocolate from Hawaii. "We're working with many small Hawaii growers, trying to get them up to critical mass," says Elliot.
The mainstay of their Madre line is chocolate from Hawaiian Crown on the Hamakua Coast, where, says Elliot, "Tom Menezes is already turning out great chocolate. There will be others soon."
The two are excited about the potential here. "There's no reason why Hawaii can't become the Napa Valley of artisanal chocolate," says Eliott. "No reason at all."
Madre Chocolate comes in 1.5-ounce handcrafted dark chocolate bars, some flavored with ingredients like plumeria, hibiscus, chipotle pepper and allspice, pink peppercorn and smoked salt. Available at farmers markets, Mercado de la Raza, Kokua, Kale, and the Wine Stop.
Biting Commentary bought a half-dozen bars, took them home, had to fight to get any. It's serious chocolate, the kind that coats your palate with pleasure, and makes your heart sing.
Elliott and Bletter also give chocolate making classes, for more background, click on this HONOLULU Magazine article.
Madre Chocolate, 808-377-6440, madrechocolate.com.