Looking for Great Cocktails, Waikiki Edition
For your New Year's Eve inspiration, here's some great Waikiki cocktail moments.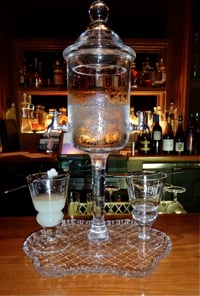 Biting Commentary is ready to go out and carouse any night of the year–except New Year's Eve. That's a good night to nestle at home with a bottle of Nicolas Feuillatte Brut Rose and a whole lot of poke.
However, for your New Year's Eve inspiration, we went out the night before to find you some great cocktails. Where? For our money (and it's not cheap here), the best bar hopping in town is the few blocks from Nobu Waikiki to Trump Tower.
We kicked off at Nobu. Why? Because we wanted to say goodbye to 2010 with the year's greatest local cocktail invention.
Nobu bartender
David Newman visited Ma'o Farm in Waianae, and inspired by the organic surroundings, came up with an Meyer lemon-vodka cocktail with grilled shishito pepper—a cocktail that's sweet, tart and pops with pepper.
Not content with that, for the holidays Newman marinated wild honey for a week with yuzu, bitters and spices. He muddles the spiced lemon-honey with fresh lilikoi and mixes it with vodka and orange liqueur. Still not content, he tops it a green tea-white chocolate foam and honey caviar (a molecular cooking thing that results in globules of gelatinous honey). That's it above.
This drink, for which Newman never bothered to come up with a name, is good, especially if you've never had a cocktail made with fresh passion fruit instead of concentrate. But it can't touch his shishito pepper lemon drop, which should stay on Nobu's menu forever.
Onto the 6th floor Waiolu Lounge at the Trump International Hotel, with its fabulous night view of Waikiki.
Trump's cocktail menu has been completely redone. That's not good news, since it used to be brilliant and now … well, imagine Stoli apple-flavored vodka, too much cinnamon and clove and way too much thyme, rimmed with brown sugar and cinnamon. Confusing and undrinkable.
The Bombay gin with hibiscus syrup sounded promising. You can see by the picture below, it looked bright red as a hibiscus. It even had a flower in the bottom. Unfortunately I'd recently had some excellent hibiscus syrup–sweet, spicy, flowery–whipped up by one of my cocktail maven friends. This didn't even measure up. Service was terrible here, as in chasing down the waiter. We didn't even finish our drinks–as if anyone could have finished the apple-thyme martini.
We had better luck at the Halekulani's ever reliable Lewers Lounge. The thyme martini there looked just like the one at Trump–except it tasted good.
The Lewers menu is strong on classics. If you'll drink whiskey (and it's about time everyone rediscovered brown spirits), the 19th-century cocktail to drink here is the whiskey smash–lemon wedges, mint, simple syrup and bourbon. Put on the Lewers Lounge cocktail menu by America's greatest living bartender, Dale DeGroff, this will remind you why classics are classics.
But Lewers has an even bigger blast from the past. An absinthe drip. In the late 19th and early 20th centuries, absinthe was the drink of choice of poets (Baudelaire, Rimbaud) and painters (Toulose-Lautrec, Van Gogh).
Then it was banned in 1915, partially because it was associated with riotous Bohemian behavior, partly because it's seriously alcoholic (like 140 proof) and partly because it's supposedly a drug. Absinthe contains an herb, Grand Wormwood. Wormwood has psychoactive properties, or so said its opponents.
It's back, and Lewers Lounge has it, the real stuff, Wormwood and all. Lewers serves absinthe in the grand classic fashion, dripping water from a crystal decanter into the absinthe glass. On its way down, the water dissolves a lump of sugar in a perforated spoon.
A word of warning: If you loathe licorice, you'll hate absinthe, which is strongly flavored with anise. Otherwise, it's a beautiful milky white drink with a remarkable not-quite-alcohol buzz. We were sad that at the end of night's carousing, we had to limit ourselves to just one. Like absinthe, we'll be back.
Nobu Waikiki, Waikiki Parc Hotel, 2233 Helumoa Road, (808) 237-6999. Waiolu Ocean View Lounge, Trump International Hotel and Tower Waikiki, 223 Saratoga Road, (877) 683-7401. Lewers Lounge, Halekulani, 2199 Kalia Road, (808) 923-2311.