Locally Grown Tomatoes: Nature's Candy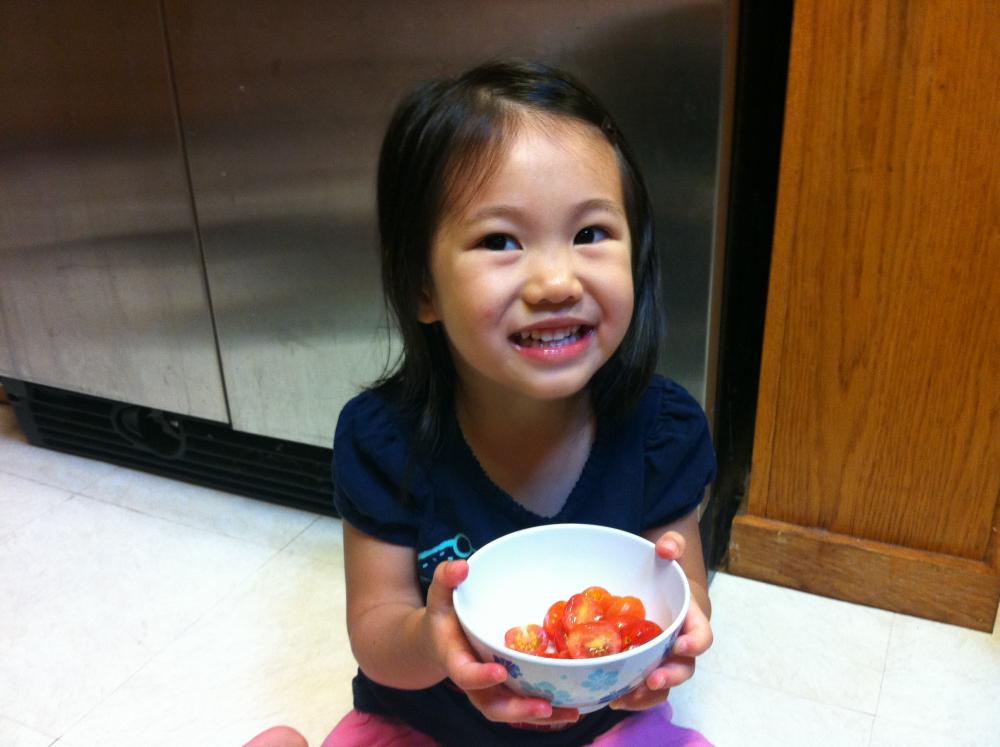 There's nothing that makes me prouder than to hear my kids say, "Dad, can I have more broccoli" or "Daddy, I want more yummy tomatoes." The latter being a common request from our 3-year-old Avery these days. How can I blame her? Fresh, locally grown grape and cherry tomatoes are delicious!
Kelly and I have been working hard to keep Ensen and Avery interested in fruits and veggies from the time they were born. Our soon-to-be 6-year-old son still enjoys broccoli, celery, lettuce, mango, apples and strawberries, but his love for carrots, kale, arugula, and even green onions has sadly diminished, thanks to external influences.
Avery on the other hand eats just about everything. Brussels sprouts, choi sum, lettuce, kale, carrots, celery, zucchini, and all fruit are welcome additions to any meal. Tomatoes have quickly become her favorite over the last six months. She can seriously put away one container of grape tomatoes a day if we let her.
I'm pretty sure she gets the tomato gene from me. I remember enjoying them for most of my life. My dad always had something growing in our yard in Kona and I remember watching him eat cherry tomatoes straight off the vine. I guess the saying "monkey see, monkey do" is true.
I'm sure you've heard the benefits of eating tomatoes sermon led by your parents, grandparents, doctors and friends. They are a "superfood" that contains high levels of lycopene, a natural antioxidant that is believed to reduce the risk of cancer. They are also a good source of Vitamin K, which is an essential vitamin for maintaining healthy bones. Tomatoes also contain Vitamin B6, niacin, folate and potassium, which help reduce cholesterol and lower blood pressure. It's even been found that the chromium in tomatoes is believed to help people with diabetes keep their blood sugar levels under control. The list goes on.
However, while there are many benefits of eating tomatoes, moderation is key. Research reveals a few dangers that have been linked to eating tomatoes, such as food allergies or intolerance, heartburn due to the high acidity found in these fruits (yes, tomatoes are technically fruits), kidney stones, and irritable bowel syndrome. This is why we limit Avery's tomato consumption.
While these are concerns you need to be aware of, they shouldn't prevent you from adding tomatoes to your diet. The good far outweighs the bad.
It is no surprise that our family found that all varieties of local tomatoes – Ho Farms, Wow Farms, Kamuela, etc. – are superior in taste (sweeter, fresher, juicier) to its mainland counterparts. Avery prefers her tomatoes plain, without any dressing or seasoning—almost like eating nature's candy.
If you're having a hard time getting your kids to try or enjoy tomatoes, consider the variety you're feeding them. Try locally grown options, it could make all the difference.
Nathan Kam is a Honolulu public-relations executive, husband and a proud daddy of two incredible kids, Ensen (5) and Avery (3). He enjoys cooking, gardening, traveling, blogging and golfing. You can reach him via email, Twitter, Facebook, LinkedIn or via his personal Kam Family Blog.