Local 8th Grader Wins National Poster Contest
See the winning poster.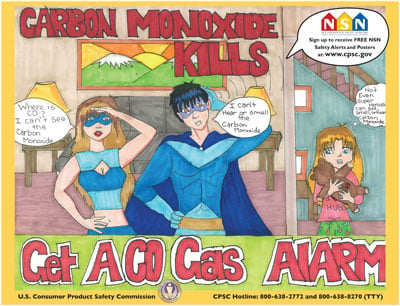 CO Poster
In an effort to raise awareness of the dangers of carbon monoxide in the home, the U.S. Consumer Product Safety Commission (CPSC) held a poster contest for middle-school students in which the students designed posters on carbon monoxide safety. Nearly 450 entries from 6th, 7th and 8th graders were narrowed down to just nine finalists, coming from states throughout the nation, including New Hampshire, New York, California and more. Each finalist received $250, but in the end, Trachell, from Hawaii, took home the grand prize: an additional $500.
See Trachell's poster as well as all the finalist posters in this video.