The Living Art Marine Center: A World of Underwater Thrills for Kids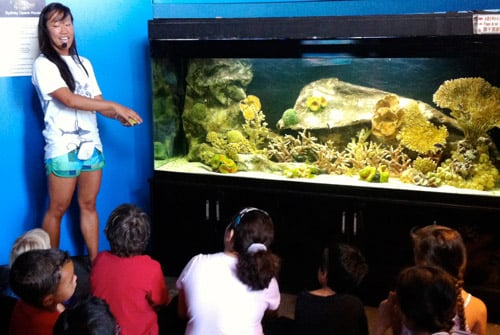 Whenever we go to a zoo or aquarium, I usually wish we had a personal guide to answer my kids' never-ending questions. My lame answers that may have worked with a toddler ("Oh, that? That's, um, a fish with yellow spots. Yeah, that's it.") won't cut it anymore with my curious kindergartner. These days, she needs better tour narration than "Look at that fishy! Oooh, look at THAT fishy!"
Luckily, the guides at the Living Art Marine Center really know their stuff, so parents can sit back and enjoy the 90-minute guided aquarium tour while their kids get a lesson in marine biology (and perhaps learn a bit themselves, which I certainly did).
The Living Marine Art Center is in a warehouse area near the airport, and you need to make advance reservations to visit. Despite its unusual location and exterior appearance, the center offers an entertaining and family-friendly learning experience.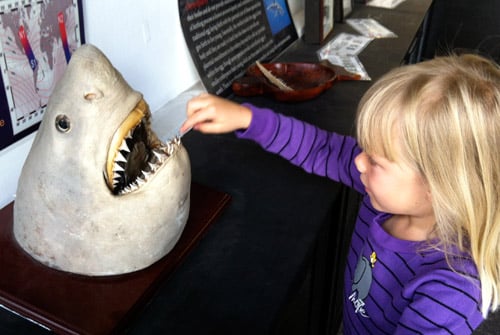 As the tour began, the kids picked a "magic carpet square" (a clever way to make squirmy kids stay put) and found a place to sit. Our friendly guide, Miss Michelle, lead us through an aquarium "world tour," as we visited displays representing various oceans. The kid-focused program encouraged interaction, with questions like, "Do you think coral is a rock, a plant or an animal?" The touch-and-feel coral guessing game was a well-liked exhibit, and the eel tank elicited lots of happy squeals. But the most popular section by far was the Discovery Zone, where the kids got to hold hermit crabs, snails and sea cucumbers.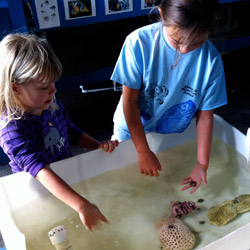 After the tour portion, we separated into groups for craft time. We were offered a choice of making a Gyotaku fish print T-shirt, or stringing a shell and bead necklace. I pushed for the T-shirt, which most of the other families chose as well, but my daughter was set on the necklace—she loved stringing the colorful beads around a cowrie shell they polished with her initial on it. Like most of our museum visits, we ended it with a trip to the gift shop. My daughter requested an amazing shell display that cost hundreds of dollars, but I talked her into the $1.50 stickers.
If you go: Remember to make advance reservations (no walks-in allowed due to space restrictions). The tour is best for ages 3 and up. Also look out for upcoming family workshops, which include Gyotaku T-shirt printing, Wacky Wild Wet Lab, Fish Feeding Frenzy and Squid Dissection Workshop with Professor Tako.
Living Art Marine Center, 3239 Ualena St. #100, Honolulu. Kamaaina adults $9.95, and kids $7.50. Advance reservations required. Next available tour date is Sept. 3. For more info call 841-8080 or visit www.livingartmarinecenter.com.