Life in the Loading Zone: Disco Kidz
Get your groove on! This artsy Chinatown loft hosts dance parties just for kids.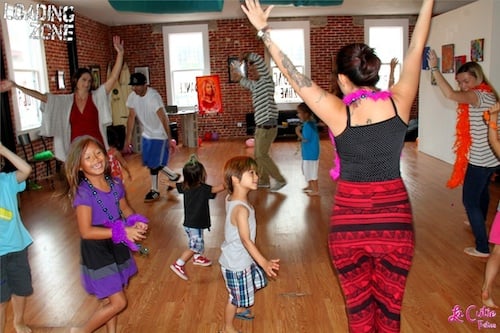 It was a rainy Sunday afternoon. It could have been a boring, stir-crazy day stuck in our house, but instead we discovered my kids' new favorite event: Disco Kidz at Loading Zone Arts.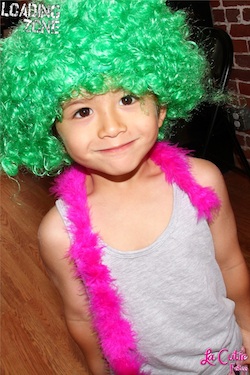 Loading Zone Arts is an art and performance space in Chinatown, used for various workshops and exhibitions for Hawaii's artists, dancers, musicians and designers. They also offer cool options for families, like Disco Kidz. Owner Chanel Tanaka says she started the event after her frustration with finding unique activities to do with her own son. It's got kind of a birthday party vibe, with lots of dancing, arts and crafts, games, snacks, and music. (And despite the name, it's not just about disco – past themes have included African drums, Chinese lion dancing, glow-in-the-dark yoga, and improv acting.)
This month's theme was Cinco de Mayo. Upon arrival, kids (and adults, if they'd like) got to pick a costume. There was an assortment of feather boas, colorful wigs, giant sunglasses, beads and spray-on hair color, which seemed to be the crowd-pleaser. My daughter was thrilled about having orange and green locks for the day.
Next, the kids got to try making their own giant tissue paper flowers and piñatas, which were a huge hit. They loved dipping their hands in glue and spreading it all over to press on tissue paper in colors of their choice.
A game of pin the tail on the elephant came next, followed by snack time with Goldfish crackers and juice. Between activities, the kids loved simply running around the room, playing with balloons scattered around the large space.
And then came the dance party, lead by Loading Zone Arts director Linda Kuo. Parents could participate if they wanted, but most of us snapped pictures and laughed as our little ones did "the worm" across the dance floor.
This Sunday, the theme will be "Under the Sea." On the agenda are sea creature crafts, a Little Mermaid-themed dance jam and, according to Tanaka, "tons of bubbly fun!"
Disco Kidz at Loading Zone Arts, 47 N. Hotel St., Chinatown. Every first Sunday from noon to 2 p.m. $15 per child. Accompanying adults are free. For more info, call 312-4781 or visit www.loadingzonearts.com.