Letters
December 2007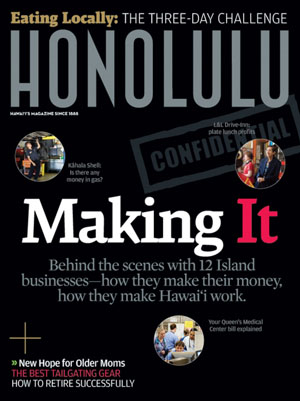 "La Vida Locavore" 10/07
Could you eat nothing but locally grown food for three days?
Congratulations on your story. It was both entertaining and thought provoking. We are vulnerable to the likelihood that there will be periods when transportation to the Islands is curtailed or stopped altogether. It's no longer just the threat of a strike during which we might run out of toilet paper. It is entirely possible, given the state of the world, that we may be on our own for periods of time. If we all try to consciously increase the amount of locally produced products we consume, we would make it economically feasible for more to be grown here. That would be a benefit to our health, the economy and the environment. Besides, as your story pointed out, it could be fun.
-Mare Grace, Kamuela,
Big Island
"The Next Elvis?" 10/07
The city of Honolulu unveiled a larger-than-life bronze statue of Elvis Presley at the Blaisdell Center in July.
Your article lists former Honolulu Mayor Neal Blaisdell as an individual who deserves to have a monument at the Neal Blaisdell Center. Aside from bearing his name, the center has two tributes that immortalize the man who oversaw its construction. There is a bronze bust of Blaisdell in the foyer of the Neal Blaisdell Concert Hall, and a portrait of him located in the center's administration office.
The Elvis project was initiated, funded and is on loan by TV Land for the enjoyment of the people of Hawai'i. It was gratefully accepted by Mayor Mufi Hannemann and the city's Commission on Culture and the Arts.
Undoubtedly, there are numerous people who deserve to be recognized for their achievements and work toward the betterment of Oahu and the state. The city encourages and is willing to work with other organizations that would like to honor those who have made lasting contributions here.
-Michael Pili Pang
Executive Director, Mayor's Office of Culture and the Arts
"It's no longer just the threat of a strike during which we might run out of toilet paper."
"Present-Tense Architecture," 10/07
In his editor's page, A. Kam Napier discussed how he sees architecture in Hawaii breaking from "a beige herd."
In your October issue, you discuss a poignant topic that, over the past few years, has been on the minds of many architects, planners and Oahu urbanists-design. Initiating the dialogue is half the battle. With more developments and rehabilitations on Oahu, we are confronted with more examples of the city's urban design guidelines. As you correctly note, some of the architectural results are less than exemplary.
Waikiki's initial development surge from the late '60s to the early '80s resulted in a sterile, car-oriented, disjointed and prefabricated architectural vernacular throughout Waikiki. We are now at a crucial development juncture: the renaissance of Waikiki, involving billions of dollars of redevelopment projects. This development window provides a second chance at creating an aesthetically pleasant, walkable, uniquely Hawaiian, urban environment.
For its part, the Waikiki Neighborhood Board intends to assist in avoiding past mistakes and, possibly, to correct some of the most grievous design failures from the earlier era. Through its recently enhanced development review process, the board receives environmental documents and permit applications related to development in Waikiki and then provides formal input on all aspects of the development.
Some of the tools our board uses include the guidance policies of the Waikiki Livable Community Project, the Waikiki Special District Design Guide-lines and the PUC Development Plan. These design criteria and policy documents are the result of community and professional input through the public review process and are implemented by city planning staff. These documents are no panacea for poor design and, yes, their strict interpretation can result in formulaic architecture. However, implementation of design guidelines for W Waikiki has resulted in many specific, exemplary new developments in Waikiki and a more pleasant urban experience in general.

Honolulu is blessed with many talented, diverse and passionate architects and architectural firms. Let's challenge our architects and planners to see design criteria as an opportunity for, not a hindrance to, creativity, while at the same time creating an urban identity unique to Honolulu and Waikiki.
-Jeff Merz
Waikiki Neighborhood Board, Design Review

Ahana Koko Lele
In our November "Center Style" section, we published an incorrect price for the Twirl Gucci watch on page 135.
HONOLULU regrets our error.