Lei Day for Japan: Chef Chai Chaowasaree's major fundraiser, May 1, Aloha Tower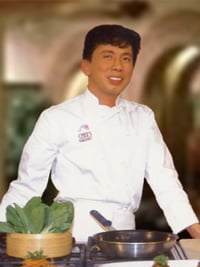 Chai Chaowasaree of Chai's Island Bistro is always quick to help. He's done major fundraisers for the New Orleans floods and for the Southeast Asian tsunami. You knew he would respond to the devastation in Japan.
Hawaiian Airlines knew that, too. Chai is now Hawaiian Air's executive chef. The airline called to ask him how they could help. Chai said, "You can match what I raise, you'll look like heroes. Last time [for the Southeast Asian tsunami] I raised $230,000."
Hawaiian Air, already committed to several other major fundraisers, offered to match up to first $100,000.
"Makes me happy," says Chai. "With their contribution, I hope we can top $300,000."
Chai emailed the town's major chefs. "They all said yes," says Chai. "Right away, at the latest by the next day."
Manning the food booths will be an exceptionally strong culinary roster:
George Mavrothalassitis (Chef Mavro)
Masaharu Morimoto (Morimoto Waikiki)
Alan Takasaki (Le Bistro)
Alan Wong (Alan Wong's)
Roy Yamaguchi (Roy's)
DK Kodama (DK's Steak and Sansei Seafood)
Eberhard Kintscher (Michel's at the Colony Surf)
Colin Hazama (Kauai Grill)
Rodney Uyehara (Beachhouse)
Kevin Hanney (12th Ave Grill)
Göran Streng (Tango)
JJ Luangkhot (JJ Bistro)
Colin Nishida (Side Street Inn)
Elmer Guzman (Poke Stop)
Eric Leterc (Pacific Club)
Leighton Miyakawa (Ruth's Chris)
Fred DeAngelo (Ola)
BethAn Nishijima (Nori's)
Aldo Romero (Gate Gourmet)
Bryan Ashlock (Sheraton Maui)
Joy Chaowasaree (Singha Thai Cuisine)
and, of course, Chai himself
In charge of wine for the event is master sommelier Chuck Furuya, with Southern Wine & Spirits, Joy of Sake and Primo Beer also pitching in.
"The entertainment, we have something special," says Chai. The lineup includes, in a rare Oahu appearance, Kealii Reichel, plus Natalie Ai Kamauu and Jake Shimabukuro.
In addition, Hawaiian Airlines is flying in Patrick Makuakane's Na Lei Hulu I Ka Wekiu halau from San Francisco, for a special performance.
General admission is $100, with tables going for $1,500 and $5,000. Tickets can be purchased only at Chai's Island Bistro, in the Aloha Tower Marketplace.
"Everything donated," says Chai. "We don't even touch the money."
Payments (cash or check only) will be made directly to the Japan-America Society of Hawaii, which will pass all the money to the Japanese Red Cross. (A donation to the Japan-America Society is tax-deductible, a direct contribution to the Japanese Red Cross is not.)
Lei Day for Japan, May 1, 6 p.m., Aloha Tower Marketplace. For more information, call 585-0011 or click here.