Lei Chic's Holiday Gift Guide for Men
Happy Haulidays 2013: Word to the Guys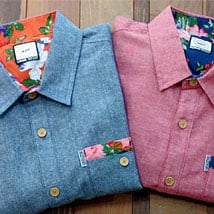 Don't be fooled: Men go on shopping sprees. As long as they can buy everything in one place.
And preferably in their underwear…
Make that dream come true by piling these great gifts underneath the tree. With new threads, gadgets and accessories, it'll probably be awhile before he steps foot in another store (or a pair of pants).

Click on any photo below for details and don't miss our gift guides for women, kids and pets, and stocking stuffers.