Lanikai House Reduced, Listed for Under $1.6 Million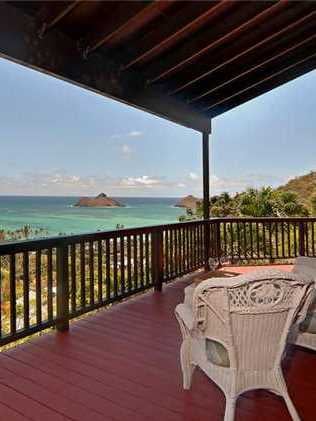 "I've had eight sales in Lanikai in the past year, all good properties," says realtor Annie Kwock, as she gestures toward a new-ish, 4,000-sq.-ft. residence down the road that sold, without ever coming on the market, for $3,350,000. Another nearby listing, this one also a private sale, went for $1,665,000. So, I guess it goes without saying that this home's $1,580,000 listing price is something of a good deal? "It's a phenomenal deal," says Kwock.
The main house, with three bedrooms and two baths, was built in the 1950s, and has had several upgrades since the current owners acquired the home in 2000, including electrical and plumbing improvements, kitchen updates, as well as the installation of an exercise pool and new wood laminate flooring in several rooms. The single-level residence has an open layout with rooms that flow into each other, and a serene, tropical vibe. Buyers might consider the master bedroom and its en suite bath a bit on the small side, though the other two bedrooms are a manageable size—one is being used as an office, the other as a guest room that easily accommodates two twin beds. All of the rooms, with the exception of the office, have split A/C (the office has an in-window unit). The kitchen, with its bright tiled countertops and backsplash, is a mite taste-specific, and potential buyers may want to consider renovating the space, though it's completely functional as-is. The house also has an outdoor shower and window-lined sauna with ocean views.
The property has rental-income potential, thanks to the approximately 1,200-plus-sq.-ft. guest cottage, which is situated behind the main house and up a set of stairs that wind through the landscaped lot. With a wraparound lanai, open-concept living room/kitchen and upstairs loft, the cottage would be a hit with renters, and could rent for between $1,800 and $2,000 a month, says Kwock.
Perhaps the biggest selling point of this house is the potential to add on to and change the lot and its structures. The raised hillside lot could be cut into to create a street-level garage (there's currently a set of stairs that leads down to the road, and a small carport at the top of the shared driveway). And, says Kwock, owners could choose to build an infinity-edge pool in place of the lawn and create a covered lanai in place of the exercise pool. The home's solid-brick construction could also easily allow for a second story. "What we're selling with this house are the amazing views, two solid structures and total flexibility," says Kwock. "There are so many things you could do with it." She notes that the sellers set the price to give buyers room to do some of those renovations.
There has been serious interest in the property, says Kwock, most of which has come from local buyers who initially intend to use the home as an investment, renting out both the main house and guest cottage for the first few years, and then live there following retirement.
Money talk: The home was recently reduced by $115,000 to $1,580,000.
Contact: Annie Kwock, owner and principal broker, Trinity Properties. 780-4444, anniekwock9@gmail.com. www.trinityproperties.com.