La Pietra – Hawaii School for Girls
Positive Learning for Tomorrow's Successful Women
Tucked away on the beautiful, tranquil slopes of Diamond Head is an extraordinary learning environment for girls 6 through 12: La Pietra – Hawaii School for Girls.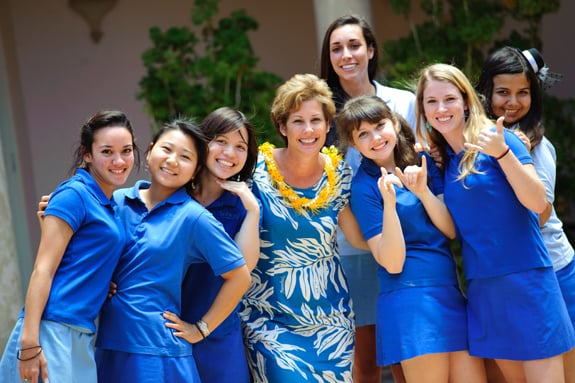 Head of school, Mahina E. Hugo enjoys interacting with students.
La Pietra prepares young women for personal and professional fulfillment, providing a supportive community that values each girl's journey toward a life of passion, confidence and success.
What makes La Pietra special? We talked with head of school Mahina Eleneki Hugo to find out.
What are La Pietra's guiding principles?
Our educational philosophy emphasizes developing the whole person, giving our girls the tools to think critically and creatively and helping them find their voices and develop the confidence to use them. Campus life and extracurricular activities are built around the Hawaiian concept of kahiau—a way of life in which one gives selflessly with no expectation of return or reward.
What does La Pietra do to foster a positive learning environment for girls?
We balance independence with structure, support and guidance through peer interactions, hands-on work, project-based assignments and online courses, and emphasize the role of teacher as facilitator. Our participatory, personal approach addresses each girl's needs. Our unique block schedule allows for a deeper understanding and encourages cross-curricular connections in subjects as diverse as math and art.
Finally, the all-girls environment creates a culture that encourages risk-taking and develops confidence.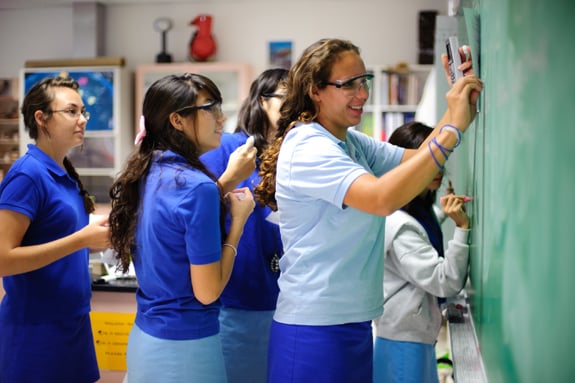 La Pietra students demonstrate their creative and critical thinking skills.
How does La Pietra prepare students for college and beyond?
College counseling begins in ninth grade, assisting with curriculum choice, preparing for critical tests and instilling strong study skills. We focus on finding the right college for each girl, with staff personally guiding families to define interests, explore options and make sound decisions.
We're extremely proud of the 25 graduates of the Class of 2011 who were offered over $2.5 million in merit scholarships from more than 100 colleges and universities. In addition, all members of the class were accepted by one of their top two choices.
What are some unique academic and extra curricular programs?
Innovative initiatives improve learning and prepare students for a changing world. As a member of the Online School for Girls' consortium, we offer online courses designed to develop fluency in 21st-century skills in technology, communication, analysis and contemporary global issues.
The state's only International Diploma program allows girls from other countries to experience La Pietra. Their global perspectives enrich the environment for all the students.
Our Guest Artist Program brings renowned writers, painters, sculptors, photographers, digital imagists, jewelry makers and others to share their talents. An independent project required for juniors encourages the girls to express their talents and creativity.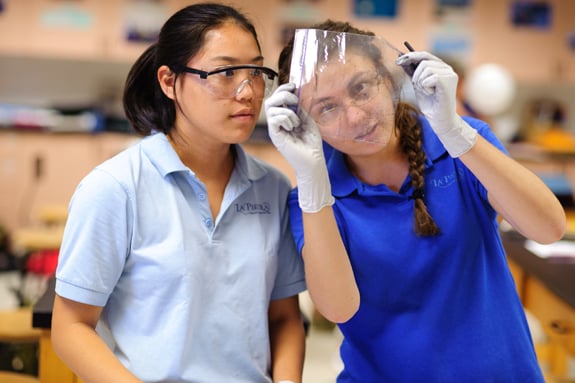 La Pietra students hard at work
What makes your campus unique?
Our Diamond Head campus is close to the ocean, beaches, Kapiolani Park and various historical sites, providing living laboratory opportunities.
Our progressive, interactive Technology Center is Hawaii's only fully digital high school library.
Our small class sizes ensure individualized attention and close relationships between students and faculty.
There are many opportunities to thrive and succeed at La Pietra. For more information, visit lapietra.edu or call 922-2744 to inquire about a guided tour
or shadow visit.