Hawai'i Kids Who Have Overcome
They faced medical emergencies, physical challenges and life-changing surgeries. But these local kids and their families turned adversity into achievement.

Photo: Karen DB Photography
Left: Jillian Madanay with her mom, Lauri. Right: Daniel Lau with his sister, Clara, and mom, Noelle.
As a parent, we know that every child will deal with challenges. We can prepare for academic trouble, friend drama and bullying. But when a medical problem changes or even threatens your child's life, it can be the most heartbreaking and frightening moment you'll ever face as a parent. Getting past it can be one of the most inspiring. We met six young people diagnosed with physical disabilities and life-threatening illnesses who not only survived, but are now thriving.
Daniel Lau
6, beats physical limitations with his "lucky hand."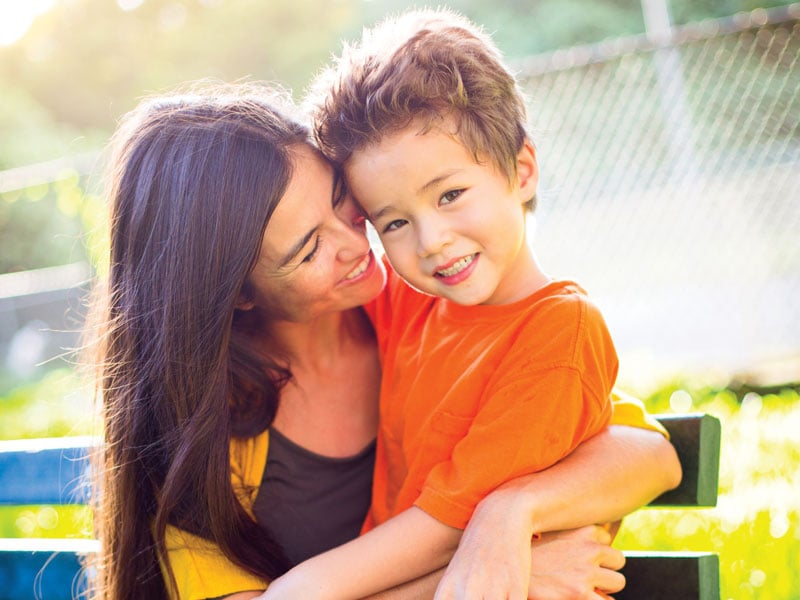 Photo: Karen DB Photography
Daniel Lau is running around a playground, swinging on the bars and showing other kids how to climb a tree. The 6-year-old looks just like the other children, digging up bottle caps and pretending they're gold coins. One thing does set him apart.
"I'm happy I have my lucky hand," he says.
Daniel's left hand is about 60 to 70 percent smaller than his right, his pinky is bent and three nubbins, or tiny fingers, sit where full-size fingers should be. Daniel was born with symbrachydactyly. The artery carrying blood to his left pectoral muscle, arm, hand and fingers was compromised. Not enough blood reached his hand for it to fully form.
"My husband said, 'Don't worry, he'll be fine,'" says Daniel's mother, Noelle Lau.
"I wanted to believe my husband but I knew how cruel kids can be and thought about all the challenges he would face."
Lau's grandma said Daniel was such a handsome baby that the missing fingers wouldn't matter. Her brother-in-law told her all about professional athletes with missing digits. Even with the family's support, Lau says she subconsciously hid her baby's hand. She even kept his newborn mittens on much longer than with her first two children.
It took a conversation with a good friend whose daughter was born with two different-colored eyes to feel like someone understood her situation.
"(My friend) said to me, 'For whatever reason, God sent you Daniel and he knew you would have the ability to be the best mother to help him with this challenge in life,' and for me that was a real turning point," Lau says.
Surgery was an option. At Shriner's Hospital for Children, orthopedic surgeon Dr. Gary Blum said he could remove three of Daniel's toes to use as replacements for the underdeveloped fingers. But, those "fingers" would not be functional, so the operation would only be cosmetic. The loss of toes could also cause stability issues. The hand specialist reassured the family that Daniel would be "fantastic" without surgery. They decided not to operate.
Daniel's doing great. In fact, he's doing better than great.
"Dr. Blum said he can do just about anything with the exception of maybe the monkey bars," Lau says.
Daniel even beat that. He loves to swing from bar to bar using his wrist instead of his fingers.
His parents have taught him a basic medical understanding of his condition. Daniel occasionally gets tired of kids asking about his hand. But, his mom says, at least so far, kids appear to be curious, not mean.
It also helps that his parents have taught him to have a sense of humor.
"We joke that 'symbrachydactyly' sounds like a dinosaur and you think about the T-Rex and his little hands," his mom says.
The family sometimes calls it his "shaka hand" or "lucky hand," in reference to the clownfish with one smaller fin in the Disney movie Finding Nemo.
Daniel says it's definitely lucky.
"It's so lucky that I always get the best Pokémon cards," he says.
Skylar Soares
15, turned her struggle with autoimmune diseases into a nonprofit to help others.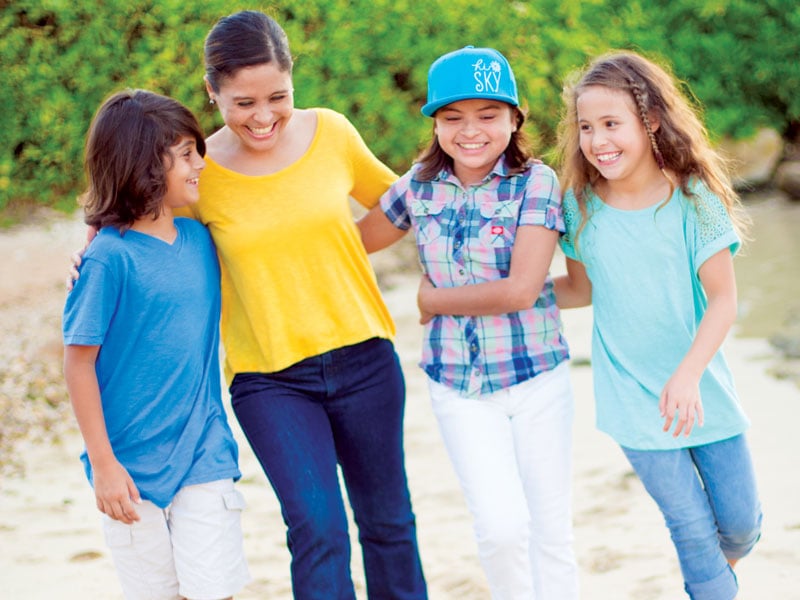 Photo: Karen DB Photography
Skylar Soares, wearing a HISky hat, surrounded by her family: brother, Kalei, mom, Irma Baptiste and sister, Kalai.
"When I was in second grade, I fell asleep in class. They carried me to the nurse and she couldn't wake me up," Skylar Soares says.
Skylar's parents rushed her to Kapi'olani Medical Center for Women and Children. She had been diagnosed with an autoimmune disease a year earlier. But, as she lay unconscious, doctors couldn't figure out why her condition was deteriorating so rapidly.
"It went from zero to 90 so fast," mom Irma Baptiste says.
"I went from completely fine on a Tuesday to complete organ failure on Thursday," Skylar says. "My family was told to prepare for the worst."
The 7-year-old was unresponsive. Her heart stopped twice.
Then, Baptiste saw a hospital therapy dog in the hallway. Knowing how much her little girl loved animals, she asked if he could visit her. Tucker was scrubbed up and allowed in the isolation unit. He put his head on Skylar's hand. Her hand twitched.
It was a moment of hope for her family. She started to respond to treatment and amazingly pulled through. With the good news came bad. Skylar was also diagnosed with a second life-threatening immunodeficiency: hemophagocytic lymphohistiocytosis, or HLH, which causes her immune system to attack her own body.
Eight years later, doctors are working through her symptoms and are uncertain of her full diagnosis. The now 15-year-old has been diagnosed with lupus, arthritis and eczema and is allergic to "everything," including wood, metal and microbes in the air.
UV rays damage her kidneys, her vision fluctuates wildly and she is frequently hospitalized for viruses and infections. She takes 14 pills a day, has monthly blood transfusions and has undergone chemotherapy.
"It's never predictable," says Baptiste. "It's been a very humbling experience to learn to roll with whatever happens and to not have expectations."
When she was younger, Skylar says her eczema was so painful, even baths hurt.
"I would kick and scream and say, 'Why did this happen to me,'" she says. "As I got older, I learned to do things to work around it and also to incorporate it into my life."
That's exactly what she did when Make-A-Wish Hawai'i approached her when she was 11. She "wished" to give back to the community by combining two of her passions that stem from her illnesses: sun safety and art. Skylar has to wear sunscreen and hats at all times, even indoors, and uses drawing to distract herself from her itchy skin.
"Our skin is the biggest organ in our body, so I wanted people to learn to take care of it," she says.
Make-A-Wish helped her set up her own nonprofit line of fashionable sun-safe hats and visors called HiSky. Skylar was named the youngest-ever Small Business Hawai'i Entrepreneur of the Year in 2013.
Three years later — and despite the recent, sudden death of her father, moving houses, changing schools and more hospitalizations — HiSky is still in business.
For every hat purchased, she makes another hat to give to people involved in her favorite charities, many of which have helped her and her family. Those include Assistance Dogs of Hawai'i, which is where Tucker the hospital therapy dog came from, and Make-A-Wish.
She also gives talks to students about sun safety, entrepreneurship and finding your calling in life. In addition, she volunteers at her church, school and library and teaches swim lessons. And, although her joints ache from arthritis, she races an ATV in Kahuku on the weekends.
Skylar intends to study art and medicine and become an infectious disease doctor like those who have helped her so much.
"You can't let your diagnoses hold you back from what you really want to do," she says.
Ayden Ahokovi
13, doesn't let multiple surgeries stop him from playing sports.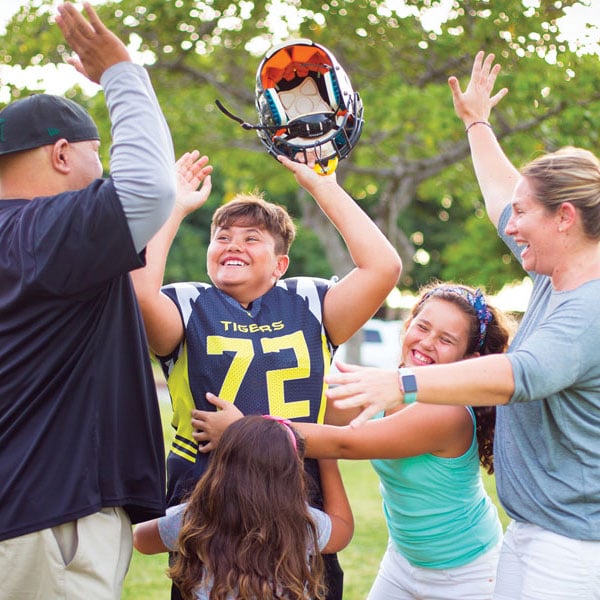 Photo: Karen DB Photography
Ayden Ahokovi is a lineman on his football team, plays first base on his baseball team and enjoys shooting hoops with his basketball team. The seventh grader has traveled to Japan to compete in sumo wrestling and even attended a training session at sumo star Musashimaru's stable.
"I'm slower and not as strong as the other kids on my teams but it doesn't stop me playing," he says.
Several physical challenges almost did.
Ayden was born with an extra toe. It took two surgeries–one when Ayden was 3, the other when he was 6–to remove it and fix that part of his foot. But, after it healed, he had a limp so noticeable that a family friend recommended his parents take him to Shriner's Hospital for Children.
Doctors there discovered hip dysplasia on Ayden's right side. His hip bone did not fall into its socket properly, a condition that probably occurred while he was in the womb. Doctors were able to operate before his growth plate closed, which could have made the problem permanent.
For then 7-year-old Ayden, the hardest part was after the surgery.
"I couldn't walk or swim or even go upstairs for the whole summer," he says.
Ayden spent the hot summer months in a wheelchair and on crutches. His grandma and aunties entertained him with marble runs and dominoes and turned bath time into backyard water play.
But, during those inactive months, he gained weight. Kids at school teased and even bullied him. But his friends stayed by his side and joined him for lunch in a classroom when he couldn't walk to the cafeteria.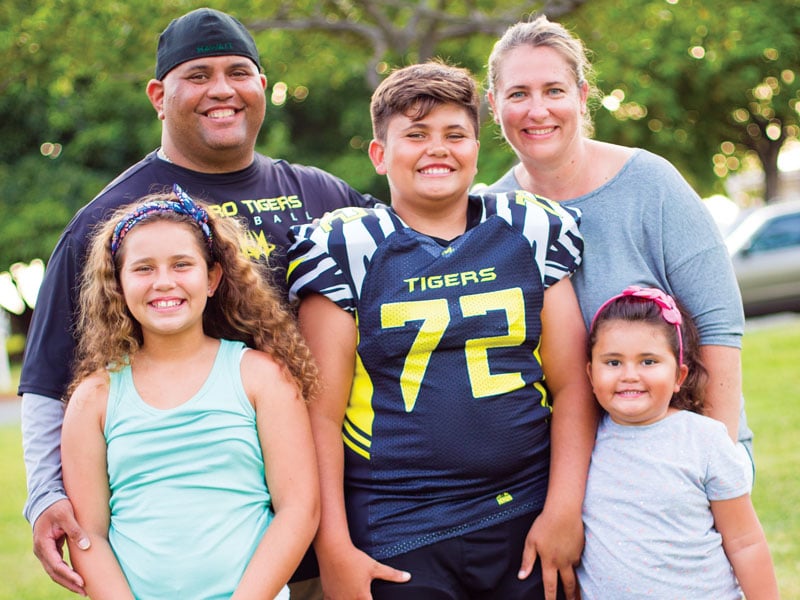 Photo: Karen DB Photography
Ayden Ahokovi with, from left to right, dad, John, sisters Averi and Ava and mom, Kalei.
Despite physical therapy, the 13-year-old still has a difficult time with some motions, including getting out of pools and sitting cross-legged. His right leg is shorter than his left, so he has orthotics made for his right shoe every five to six months to balance his legs out. Also, his toe surgery left the ball of his foot sticking out, which causes him pain when he plays sports.
Still, mother Kalei says the teenager has been brave through it all.
"If he gets down, we say, 'Well what can you do?' she says. "He probably won't be Usain Bolt but he can play baseball and football."
But Ayden believes his real future is in the sky. During his months of recovery, he loved watching planes fly over his 'Ewa home on the way to the airport. At 3, he could tell the difference between a C-3 and C-17 just by the sound of the engines overhead. Now, Ayden is saving up to attend aeronautical camp next summer and dreams of becoming a pilot.
For any kids going through a similar situation, Ayden's advice is: "Stay positive. Try not to get down about it, 'cause if you get down you probably won't be able to do as much later in life as if you accept it and move on."
Jillian Madanay
18, was born with cerebral palsy but loves to volunteer.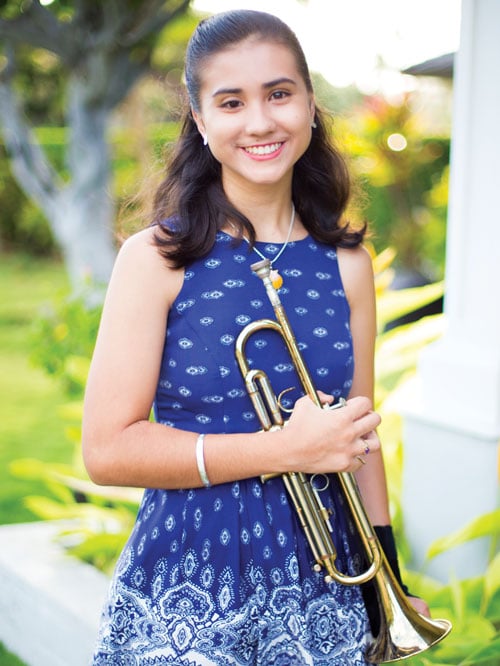 Photo: Karen DB Photography
The day Jillian Madanay was born, her parents were ready for challenges.
"The doctors told us they weren't sure if she'd ever walk or talk," Lauri Madanay says.
Ultrasounds first indicated an abnormality when Madanay was 6 months pregnant. It turns out the right side of Jillian's brain had not developed fully while in the womb. She was born with a small, blind right eye and cerebral palsy.
"We grieved and worried that she would have a harder life," Madanay says.
Now 18, Jillian does a lot more than just walk and talk. The Corben University freshman is living on her own in Oregon. But Madanay says it hasn't always been easy.
She asked the doctors if there was anything she could do to help her daughter's condition. The only advice they could offer was to "stimulate her and see what happens."
So, Madanay quit her job as a part-time nurse and tried everything she could to activate Jillian's brain and body. She massaged Jillian daily and bought so many children's music CDs the store owner thought she was a music teacher. All of this, in between multiple doctors appointments.
Jillian's left arm and leg are partially paralyzed. From the moment she learned to walk, she had to wear braces. She had surgery and Botox injections to open her clenched fist. She saw doctors and therapists in Hawai'i and traveled to the Mainland several times a year to meet with specialists. Doctors also replaced her underdeveloped eye with a glass eye that has to be taken out and cleaned nightly.
"It was our normal," Madanay says.
If keeping up with all of that wasn't enough, Madanay also had her two older children to take to school, practices and activities. As the baby of the family, Jillian tagged along and even bounced on trampolines with the bigger kids, leg braces and all. This regular family time was key to making her feel normal.
"[My brother and sister] always treated me like any other child," Jillian says. "They didn't give me any breaks because of my disability and I think that really helped me out."
But other kids often made remarks that hurt her feelings.
"Children would come up to us and say, 'What's wrong with her face? Why does she look funny?'" Madanay says.
"I didn't understand [why I had to go through this] when I was young. I was at the 'Why me' stage," Jillian says.
A turning point came as she was starting high school. She was volunteering at the Children's Justice Center, which assists victims of physical and sexual abuse. One week, Jillian put out dozens of stuffed animals, articles of clothing and toiletries for abused children. The next week, kids in need had taken it all.
"I didn't realize how many people are getting hurt. It made me realize I'm extremely lucky. I'm so fortunate," Jillian says.
That inspired a long-term commitment to giving back. Jillian began working for other nonprofit groups, including a hospital and one that cares for dogs while their soldier owners are deployed. Jillian also fundraises for and promotes HUGS – Help, Understanding and Group Support – an organization that assists the families of severely ill or disabled children. HUGS provided help to Jillian and her 'ohana when she was little.
Her work earned her awards, including the Prudential Spirit of Community Award. But, more importantly, it also helped her expand her interests. She played the trumpet throughout high school, sang in the choir, was involved in the drama club, student government, the Hawaiian club and the church ministry.
Jillian will have lifelong struggles. She will have a limp, must wear a wrist brace and will need to visit Dallas to resize and recolor her glass eye at least once a year. But, that hasn't stopped her from surfing with HUGs and skiing in Whistler, Canada.
"Since I've done so well with my disabilities, I've been able to give back to people and organizations who have helped me," she says.
She hopes to continue her volunteer work in Oregon.
With a smile, she quotes the bible: "To whom much is given, much is required."
Paris Chang
12, has a heart donor to thank for her active life.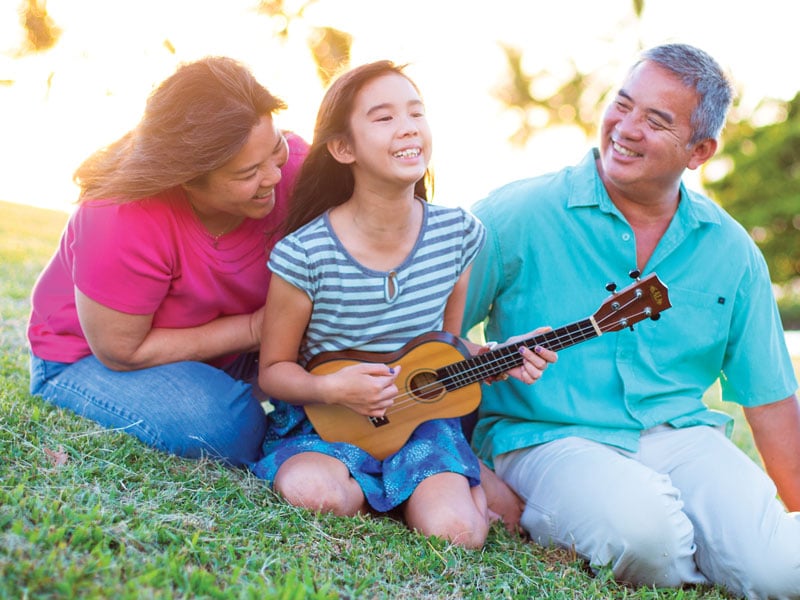 Photo: Karen DB Photography
Paris Chang with mom, Wendi and dad, Brian.
Forty-eight hours. That's how long it took for Wendi and Brian Chang's world to flip upside down.
One Friday morning, Wendi dropped off 10-month-old Paris at her parents' house on her way to work. When she picked her up, Paris' hands and feet were swollen.
Saturday morning, she took Paris to Kapi'olani Medical Center for Women and Children.
Sunday, doctors told the Changs that their infant needed a heart transplant.
Their little girl was diagnosed with cardiomyopathy, a condition that affects the heart muscle.
"As she started to grow, her heart couldn't keep up with her," Wendi Chang says.
Paris was taken straight into the ICU and medevaced the following Saturday to Stanford Children's Hospital in California. Then, all they could do was wait for a heart.
It took two months. Just two days before her first birthday, Paris received the heart of a 16-month-old boy named Charlie who passed away after suffering brain damage. The operation took less than six hours and she recovered well. But bringing her back to Hawai'i was scary for her mom and dad.
Paris' immune system was suppressed to keep her body from rejecting the heart. So her family was told to avoid large crowds and be cautious about any illness.
"She was supposed to wear a mask when we went out, but I couldn't get her to wear one," Chang says.
When she started preschool, she got sick all the time and was constantly on antibiotics. Then, Paris' adenoids and tonsils became enlarged. While that wouldn't be a big deal for most kids, it can be a symptom of cancer in post-transplant patients. She had both removed. Fortunately, biopsies showed no signs of cancer.
Giving their toddler her daily medications was also a nightmare. Most were in liquid form, but one they had to crush up and hide in applesauce. Another, she often threw up.
"It got much easier once we transitioned to pills," says Chang.
Paris is now 12 and in the seventh grade. She still takes seven pills each morning, one at school and seven more in the evening.
"I just take my medicines 'cause they're a part of my life," Paris says.
Some of her pills are for ADHD, which her mom believes may have been triggered by anesthetic exposure. She also sees a psychologist and a psychiatrist to help her interpersonal skills.
"We now have more challenges with the ADHD issues than the heart," her mom says.
That doesn't stop the active preteen. Paris practices volleyball five days a week, plays the 'ukulele, loves to sew pillows and blankets and enjoys sleepovers with her girlfriends.
"I get tired a little quicker," she says of playing sports, and she can't eat raw meat or sashimi. But, for the most part, "I don't really think about (the transplant)," she says.
"We don't know how long the heart will last as they don't have heart transplant kids living into their 80s yet, but we are thankful that she has done so well so far," Chang says.
To maintain her heart, Paris has frequent blood tests and returns to Stanford yearly for biopsies. The Changs make these California trips fun.
"We make cookies with Aunty Jennifer, one of the nurses from the heart transplant clinic, and play Minecraft and volleyball on her Xbox or swim in her pool," Paris says.
She also attends youth camps through Cardiac Kids, an organization for children with heart disease, and enjoys beach days and fishing and free diving with her dad.
"I speared a sea cucumber," she says, laughing.
It's hard to believe this sporty, musical, free diving preteen is the same baby that came so close to losing her life.
But her parents will never forget the family that gave her a second chance. They met Charlie's parents during two emotional visits. The Changs also volunteer to raise awareness and funds for organ donation in the hopes that more lives like their daughter's can be saved.
Angela Kroeger
22, says dealing with leukemia made her a better person.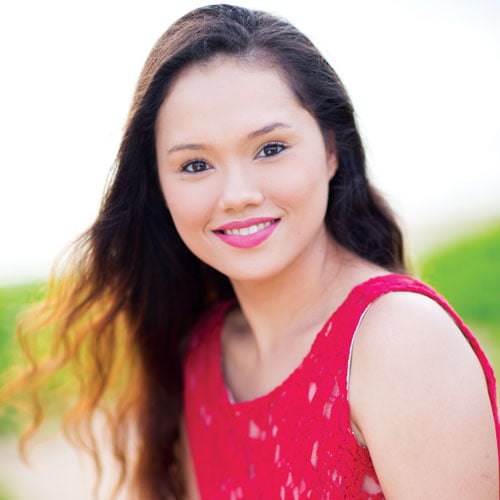 Photo: Karen DB Photography
Angela Kroeger says she is fortunate she had cancer.
"Having cancer has made me such a better person that I can't imagine who I would be if I hadn't had it," she says.
Angela was diagnosed with acute lymphoblastic leukemia, or ALL, a cancer of the blood and bone marrow, when she was 4 and a half years old. Chemotherapy caused Angela to lose her hair and feel tired and sick most of the time.
"In school, I was picked on a lot because kids can be cruel and they thought I was contagious," she says.
"I had bullies that would physically push me over."
She went into remission when she was 7. But, the intense drug treatments had damaged the cognitive learning parts of her brain and she needed to be in special education classes through the end of middle school.
When she reached high school, Angela finally began to realize her full potential.
"I was on the National Honor Society, I took honors and AP classes, I was a Varsity cheerleader," she says.
And she didn't stop there. She recently graduated from Hawai'i Pacific University with a major in Health Sciences and completed an 8-month internship at Make-A-Wish Hawai'i.
"It's the image of hope," she says of the organization.
Her "wish" to go to Disney World was the highlight of her childhood. It gave her whole family a break from the emotional and financial pressures of facing cancer, again. Her older brother had a tumor removed from behind one eye shortly after birth. Fortunately, doctors say both Angela and her brother's cancers were not genetic.
Although Angela has been cancer free for many years, its effects will last forever. Because of the drugs she took, she already has to be checked for early onset osteoporosis, tooth decay and cataracts.
"But, I'd still do it again," she says.
She says the disease made her appreciate her family and gave her perspective on life. While her peers look forward to parties, she's planning her future, which includes working with autistic children and earning two master's degrees.
"My ideal job is to inspire individuals to live healthily and to help them know that, even in the hard times, you can do anything you put your mind to," she says.