Kid-Tested and -Approved Lunch Recipes
Start the school year off right with healthy, kid-inspired dishes that will make your little ones anticipate the lunch bell every day. Don't take it from us: Our panel of kid taste testers tried the following dishes and gave us their nods of approval.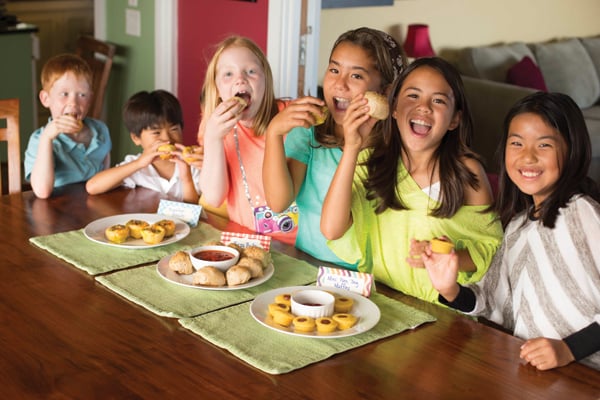 Seven kids, ranging from kindergarten to fourth grade, were asked to sample and vote on the following dishes. They were instructed to check off a green light if they thought, "Yes! I want to see this in my lunchbox!" A yellow light if they felt, "I'd eat this, but it's not necessarily my favorite," and a red light if they really wanted to say, "No, thank you."
The clear winner was our play on a "healthier" macaroni and cheese with unanimous green lights. The others all received six out of seven green-light approvals.
Following are the main dishes, side dishes, thermos options and snacks.
MAIN DISHES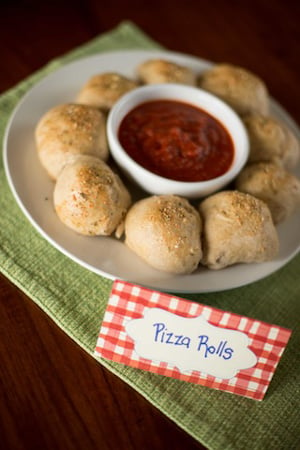 Made with fresh mozzarella, whole-wheat pizza dough and homemade turkey meatballs with Swiss chard. You could easily substitute pre-made turkey meatballs.
Comment: "More, please!"
Ingredients:
• 1 bag whole wheat pizza dough

• Baked turkey and spinach meatballs or precooked turkey meatballs

• 1 container of marinated mozzarella balls (or chunks of fresh mozzarella)

• 1 beaten egg

• Parmesan cheese

• Italian seasoning

• Garlic powder

• Marinara (pizza) sauce
Directions:
1. Heat oven to 375 degrees.
2. Roll out the pizza dough. Cut off a 2-x-2-inch piece.
3. Place ½ of a meatball and ½ of mozzarella ball onto the dough, wrap dough around items and seal edges.
4. Place seam side down into a greased pan.
5. Sprinkle with Parmesan cheese, garlic powder and Italian seasoning.
6. Bake 18 to 20 minutes or until golden brown.
7. Serve with marinara sauce.
Tips:
• Switch it up and add pepperoni, sliced turkey, or pre-made meatballs.
• Add a basil leaf.
• Substitute Pillsbury biscuits or crescent rolls for the whole-wheat pizza dough.
• Sneak some veggies into your marinara sauce.
• Steam and puree vegetables such as spinach, sweet potato, squash or cauliflower and freeze in ice cube trays. When you make pasta sauce, add a few cubes of vegetables.
We regularly substitute fresh, chopped Swiss chard for the spinach. Kale would work well, too. The kids like to make these meatballs with their hands.
Ingredients:
• 2 tablespoons olive oil

• 1 large onion, finely chopped

• 2 garlic cloves, finely minced

• 1 teaspoon salt

• ½ teaspoon ground black pepper

• ¼ teaspoon dried thyme leaves

• ½ teaspoon dried oregano

• ¼ to ½ teaspoon crushed red pepper flakes (adjust to your preference)

• 16-ounce frozen chopped spinach (defrosted, drained and squeezed to remove excess water).

• 2 tablespoons Worcestershire sauce

• 1/3 cup chicken broth

• 2 ½ pounds lean ground turkey

• ¾ cup breadcrumbs

• 2 large eggs
Directions:
1. Preheat oven to 400 degrees F. Line a baking sheet with foil.
2. In a frying pan on medium heat, heat olive oil until hot. Add onion, garlic, salt, pepper, thyme, oregano and red pepper flakes. Sauté until onion is tender.
3. Add spinach to pan and combine with onion mixture. Add Worcestershire sauce and chicken broth and mix well to combine. Cook until most of the liquid has cooked out (evaporated). Remove from heat and allow to cool to room temperature.
4. In a large bowl, combine the turkey, breadcrumbs, and egg. Add cooled onion/spinach mixture to the meat.
5. With your hands, create meatballs that are about 1- to 1 ½-inches in diameter and place them on the baking sheet. Leave a little bit of space between each meatball. When you are done shaping your meatballs, you will probably have about 40 to 42 meatballs from this recipe.
6. Bake until your meatballs are cooked through with an internal temperature of 160 degrees, approximately 30 minutes. Remove from oven and serve as desired.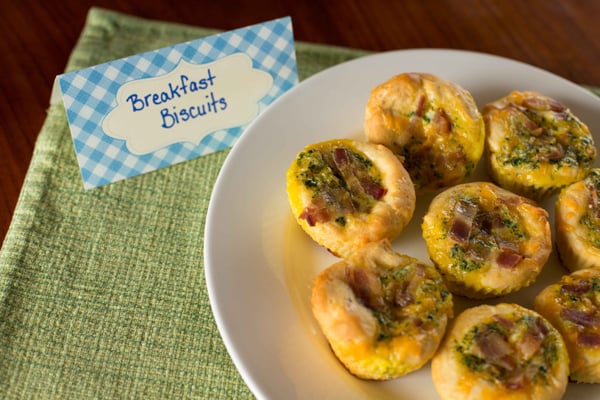 Biscuit dough (homemade or refrigerated) filled with eggs, cheese and bacon. Make your own biscuit dough or use Pillsbury biscuit dough. Either way the kids will love a little breakfast for lunch. You can also add pureed spinach to the eggs.
Comment: "Needs a little more flavor, but yummy."
Ingredients:
• Package biscuit dough (10 biscuits)

• 3 eggs

• 3 tablespoons milk

• 1/3 cup of shredded cheddar

• 4 slices bacon (optional: Substitute turkey bacon or veggie bacon)

• Salt and pepper
Directions:
1. Cook the bacon until it's almost done. Chop into small bits and set aside.
2. Preheat the oven to 400 degrees. Whisk eggs and milk, a pinch of salt and some cracked pepper to taste and set aside.
3. Roll out each biscuit until it's slightly bigger than the circumference of the muffin tin. Grease the tin with cooking spray and push one biscuit into the tin, being sure to push it all the way down and against the sides. Leave the ridge hanging over the edge.
4. Divide the cheese evenly in each tin, and then pour in egg, filling each cup only half way. Don't top them off. The biscuits will puff up.
5. Sprinkle bacon atop the egg and bake for 15 minutes or until biscuits are golden and eggs are set.
6. Use a butter knife to loosen each muffin.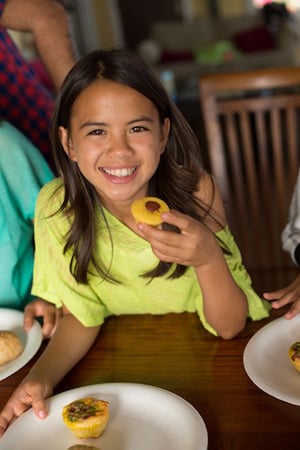 Cornbread and hot dogs baked in a mini-muffin tin. Luca discovered mini corn dogs while dining in Michigan and peruses each restaurant menu in hopes of finding them again. Use nitrate free hotdogs to make it even healthier.
Comment: "Tastes really good with ketchup."
Ingredients:
• ¼ cup melted butter (or 1/8 cup butter, plus 1/8 cup unsweetened applesauce)

• ¼ cup sugar

• 1 egg

• ½ cup buttermilk

• ¼ teaspoon baking soda

• ½ cup cornmeal

• ½ cup all purpose flour

• ¼ teaspoon salt

• 4 all-beef hot dogs cut into 1-inch bites
Directions:
1. Preheat oven to 375 degrees.
2. Combine butter and sugar in a bowl, and whisk to combine.
3. Add egg and whisk to incorporate, and then add buttermilk and whisk.
4. In a separate bowl, combine baking soda, cornmeal, and flour, salt and stir to combine. Whisk into wet ingredients in two batches.
5. Spray a mini muffin tin with non-stick spray, then spoon one tablespoon of batter into each mini muffin cup. Place one hot dog bite into the middle of each cup.
6. Bake for 12 to 14 minutes, or until golden brown. Cool in tin for 5 minutes before serving. Store leftovers in the refrigerator.
7. This recipe makes 24 mini corn dog muffins.
*Tip: Don't have buttermilk on hand? Make your own. Fill a measuring cup almost to the ½ cup line, then add some vinegar to the ½ cup line, and let it sit for several minutes.
SIDE DISHES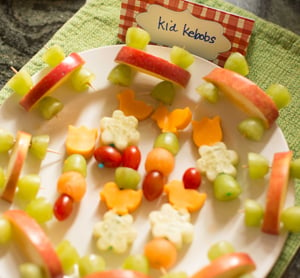 Fruits and cheese cut into shapes and served on toothpicks. The kids especially liked the racecar-shaped apples and grapes.
Comment: "I love fruits and racecars!"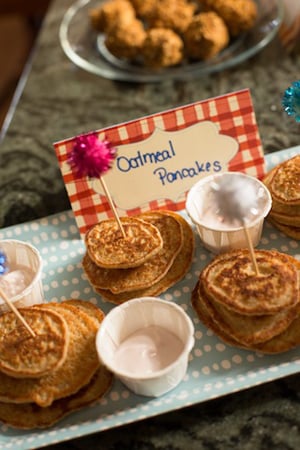 These pancakes are full of protein. Double the recipe and make a big batch. Freeze them on parchment paper then store them in a freezer bag. They will thaw in the lunchbox by the time your little one is ready to eat. Add some flavored Greek yogurt in a small container for dipping.
Comment: "These are good! I like the dipping sauce."
Ingredients:
• 6 egg whites

• 1 cup rolled oats, dry

• 1 cup cottage cheese

• 2 teaspoons sugar

• 1 teaspoon cinnamon

• 1 teaspoon vanilla
Directions:
1. In a blender or food processor, blend all ingredients until smooth.
2. Heat a griddle or large non-stick skillet over medium-low heat. Spray with non-stick cooking spray.
3. For each pancake pour ¼ cup of batter onto griddle. Flip when they start to bubble.
4. Cook until golden brown. Repeat with remaining batches, spraying the griddle as needed. Makes about ten pancakes.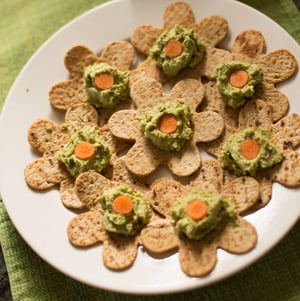 A dip made from steamed broccoli and cream cheese or tofu. Served with flax wraps brushed with coconut oil and toasted lightly on a griddle.
Comment: "Now that I know the green (color) is broccoli, it is a little too much broccoli."
Recommendation: Don't mention the identity of the green ingredient.

 

Ingredients:

• 3 cups chopped broccoli

• 2 tablespoons green onions

• 1 teaspoon olive oil

• 2 ounces fat-free cream cheese (or silken tofu, goat cheese, sour cream or cashew cream)

• ¼ teaspoon chili powder, if your kids like spice, otherwise omit

• 1 tablespoon cilantro

• ¼ teaspoon salt

• ¼ teaspoon black pepper

• ¼ teaspoon garlic powder
Directions:
1. Cook the broccoli in lightly salted water until very soft.
2. Drain broccoli well.
3. Transfer to a food processor. Add the remaining ingredients and process until smooth. Add additional olive oil for a smoother texture.
THERMOS ITEMS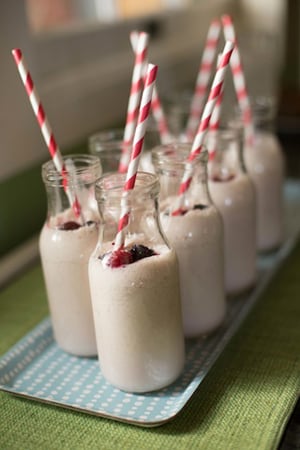 Vanilla yogurt and frozen raspberries. Use less milk to make the recipe thicker and add a little container of granola to sprinkle on top for a parfait. To create a smoothie, add more milk to thin it and add a straw.
Comment: "Could be colder and thicker, but I loved the fruit flavor."
Ingredients:
• 1 cup frozen fruit (raspberries, strawberries, mango)

• 1/3 to ½ cup milk of choice (depending on desired thickness)

• 6 ounce plain or vanilla Greek yogurt of choice
Directions:
1. Blend all ingredients in a blender or magic bullet until smooth.
2. Pour into a Thermos.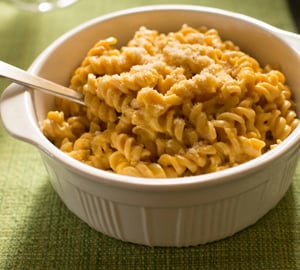 This creamy macaroni and cheese was made with whole-wheat pasta, cheese and pureed squash. You could substitute pumpkin, sweet potato or cauliflower puree.
Comment: "I'd love this in my thermos."
Ingredients:
• 1½ cups dry whole-wheat macaroni elbow noodles, cooked according to package directions

• 2 tablespoons butter

• ⅓ cup + 1 tablespoon heavy cream, divided

• 1¼ cups freshly grated cheese of your choice

•  ¼ teaspoon salt

•  Pepper, to taste
Directions:
1. In the pot used to boil the noodles, melt butter over medium-low heat.
2. Stir in ⅓ cup of cream until well combined.
3. Turn down heat to low and add noodles, cheese, salt and pepper and cook while stirring until cheese melts.
4. Stir in the last tablespoon of cream at the end.
5. Season with black pepper and serve immediately.
SNACK ITEMS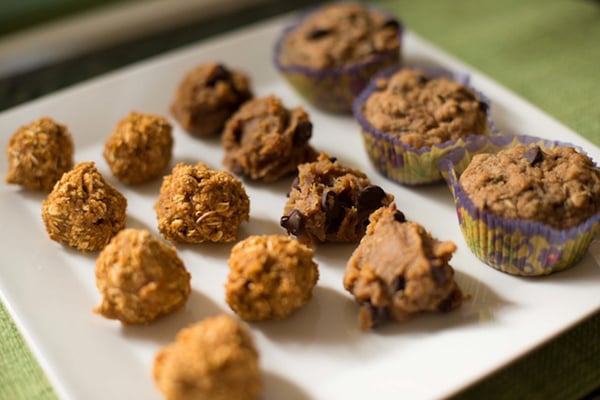 Soft little cookies made from chickpeas, peanut butter and chocolate chips. Concerned about cookies made with chickpeas? Don't knock it until you try it. These are especially good when warm!
Comment: "The chocolate melts in my mouth!"
Ingredients:
• 1¼ cup canned chickpeas, well-rinsed and patted dry with a paper towel

• 2 teaspoons vanilla extract

• ½ cup + 2 tablespoons natural peanut butter, SunButter or almond butter

• ¼ cup honey

• 1 teaspoon baking powder

• A pinch of salt if your peanut butter doesn't have salt in it

• ½ cup chocolate chips
Directions:
1. Preheat your oven to 350 degrees. Combine all the ingredients, except for the chocolate chips, in a food processor and process until very smooth. Make sure to scrape the sides and the top to get the little chunks of chickpeas and process again until they're combined.
2. Add the chocolate chips and stir it if you can, or pulse it once or twice. The mixture will be very thick and sticky.
3. With wet hands, form 1½-inch balls. Place onto a Silpat or a piece of parchment paper. If you want them to look more like normal cookies, press down slightly on the balls. They don't do rise much. Bake for about 10 minutes.
Made from oats, flour and pumpkin puree. A perfect breakfast cookie, snack, or after school treat.
Comment: "The cinnamon-y flavor is good, but a little too much oats!"
Ingredients:
• ¾ cup quick oats

• ½ cup oat flour

• ¼ teaspoon salt

• ¼ teaspoon baking soda

• ¼ cup sugar

• ¼ teaspoon cinnamon (optional: a pinch pumpkin pie spice as well)

• Optional: handful mini chocolate chips

• 1/3 cup canned pumpkin (or sweet potato puree)

• 2 to 2 ½ tablespoons milk of choice, as needed

• 1 tablespoon oil

• ½ teaspoon pure vanilla extract
Directions:
1. Combine all dry ingredients and stir very well.
2. In a separate bowl, combine all liquid (including pumpkin).
3. Then stir to combine and form into balls.
A healthy little muffin with grated zucchini and applesauce. My family LOVES these, so we make big batches on the weekend. These thaw easily in time for lunch.
Comment: "I don't like chocolate, but, if I did, I would eat these!"
Ingredients:
• 1 and ½ cups spelt flour (all-purpose also works)

• ½ teaspoon baking soda

• ¾ teaspoon salt

• 1/3 cup plus 1 tablespoon sugar

• ½ cup chocolate chips

• ½ cup applesauce

• 1/3 cup coconut or vegetable oil

• 1 teaspoon white or apple cider vinegar

• 1 ½ teaspoon pure vanilla extract

• 1 cup grated zucchini
Directions:
1. Preheat oven to 350F and place 10-12 cupcake liners in a muffin tin.
2. Combine all dry ingredients in a mixing bowl, and then set aside.
3. In a large measuring cup, combine all liquid ingredients (including zucchini).
4. Mix wet into dry, and immediately portion into the baking cups and place in the oven.
5. Bake 19 minutes, and then allow the zucchini muffins to cool before removing from the tray.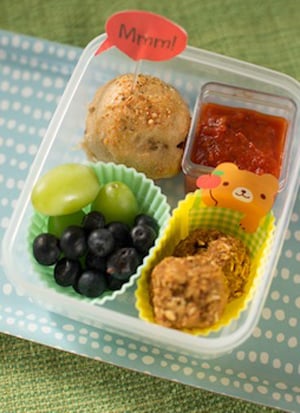 SUPPLIES AND ACCESSORIES
Kids are visual (cute) creatures. They will appreciate the extra touches and time you spend making their lunch boxes look inviting. Try some of these handy dandy lunch-making tools:
• Silicone muffin cups

• Egg molds

• Cookie cutters

• Toothpicks

• Bento separators

• Sandwich shape cutter

• Cereal container
BLOGS AND WEBSITES TO INSPIRE
Everyone needs inspiration. Here are two great blogs I follow and recommend to my peers, along with websites I referenced for these awesome recipes: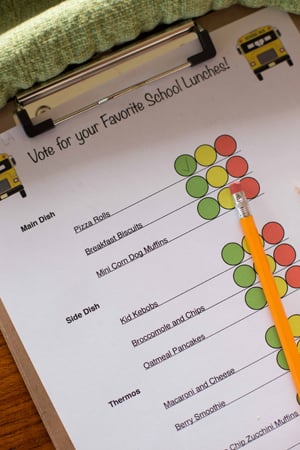 QUICK TIPS
• Add milk ice cubes to thermos.
• Squeeze lemon juice on apple slices to prevent browning.
• Make lunch the night before.
• Cut sandwiches with a cookie cutter or cut in triangles or sticks.
• Keep two sets of lunch containers so a clean one is always ready in the morning.
• Visit Whole Foods deli to try a few new foods, without breaking the bank.
• Switch up the way you makes sandwiches.
• Use different breads. English muffins, mini whole-wheat bagels, flax wrap or waffles.
• Wrap ham and cheese inside Pillsbury crescent rolls and bake as directed.
• Make a bunch of muffins and freeze them. They will thaw in time for lunch.
THE SECRET VEGETABLE
Even the most finicky eater won't object to veggies that are "hidden" in dishes they love.
• Check out Deceptively Delicious, by Jessica Seinfeld, and The Sneaky Chef, by Missy Chase Lapine, for creative ways to sneak healthy vegetables into your child's meals.
• Sauté a container of baby spinach in a couple of tablespoons of water until just wilted. (If you use the big container from Costo, do half at a time). Puree the spinach in a food processor, then freeze in ice cube trays. These cubes can be added to pasta sauces and scrambled eggs.
• Steam and puree sweet potato or cauliflower, freeze it ice cube trays, and mix in pasta or macaroni and cheese.