Keiki Craft: "Penny" Doll Favor
Find a penny, pick it up. All day long, you'll have good luck.
What if you were given this "lucky" penny? The best way to start off the New Year is with lots of luck. Penny for your thoughts for 2011. Though we may not always want people's "two cents," this is a fun project to do with all those pennies collected in 2010.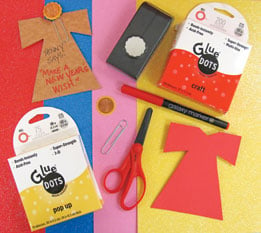 Penny Doll Favor
Supplies:
• Jumbo paper clip
• Pop-Up glue dot
• Craft glue dot
• 1-inch circle punch (or scallop circle)
• Two pennies (preferably shiny, new ones)
• Cardstock
• Scissors
• Marker or crayon
Directions:
1. Punch two 1-inch circles from cardstock for the head of the doll. Place a craft glue dot on one side of each circle and place a penny on each glue dot.
2. On the other side (without the pennies) of one of the circles, place a pop-up glue dot in the center.
3. Press and secure one paper clip into the pop-up glue dot. (Note which way the penny is facing on the other side. You don't want the head upside down.)
4. Place another glue dot on the paper clip.
5. Take the other circle cardstock with penny and align with the paper clip one (Note which way the pennies are facing). Glue together.
6. Cut out a body from cardstock.
7. Write the message "Penny says 'make a New Years' Wish.'" Or any special message you'd like to add to personalize it. Have a great 2011!
This month's craft is courtesy of Coby K. from Ben Franklin Crafts.
Stop by your local Ben Franklin Crafts store for even more ideas and inspirations. You can also pick up your copy of Island Family Magazine at any of the Oahu Ben Franklin stores!