Keiki Craft: The Beaded Worm Project
Inching Into Your Heart
Looking for new but old ideas for making crafts with your keiki? Here's one for Valentine's Day or even an everyday project.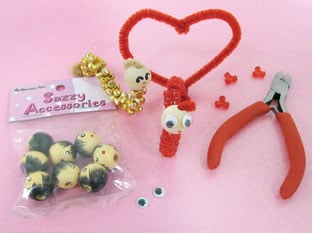 Keiki Craft: The Beaded Worm Project
Supplies:

• 16 mm kokeshi doll head

• Tri-beads (approximately 20-25)

• Chenille stem (pipe cleaner)

• Needle-nose pliers



Directions:
1. Cut chenille stem in half (about 5-inches in length). String the tri-beads (colors of your choice) onto the chenille stem.
2. On one end of the chenille stem, add the kokeshi doll head. At the top of the head, bend wire about 1/4-inch to 1/2-inch to keep the bead from coming off.
3. Using the pliers, bend and twist the ends of the chenille stem toward the body. Bend the body to stand on its own. Make a small loop at the opposite end of the head to help it stand on its own.
To personalize:
Supplies:
• 16 mm plain, wooden bead• Acrylic paints, pens and/or markers• Moving eyes (optional)• Heart-shaped cookie cutter (optional)Directions:
1. Instead of using the ready-made kokeshi doll head, paint or draw your own face on the 16 mm wooden bead. Or glue on moving eyes and draw a mouth.
2. To add a special Valentine's touch: Wrap a chenille stem around a heart-shaped cookie cutter and attach to the beaded worm.
This month's craft is courtesy of Coby K., from
Ben Franklin Crafts.
Stop by your local Ben Franklin Crafts store for even more ideas and inspiration. You can also pick up your copy of Island Family Magazine at any of the Oahu Ben Franklin stores!