Keiki Art Workshops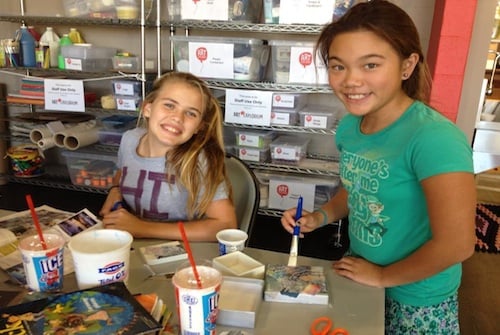 Got a budding Picasso in your family? Get your kids in touch with their creative sides with one of these children's art workshops.
Art Explorium
Open for just a couple months now, this non-profit organization in Kaimuki holds open studio hours, so walk-ins are welcome. They provide art stations that rotate weekly. For example, you could find a decoupage station, make-your-own-comic book station, or a "trash to treasure" station, featuring items that normally would be thrown away (think: corks, wire hangers, plastic six-pack holders). The idea is for kids to be totally self-directed; Art Explorium provides the materials, your kids use their imaginations. There's also whiteboard, chalkboard, and magnet walls to play with, which are a hit with the younger kids. The target age is 3 and up, but all ages are welcome. Right now they're offering an introductory price of $5 per person (parents don't have to pay if they're just supervising, but if they'd like to join in the fun, they can be a paying guest as well.) Stay tuned for workshops and birthday parties to be offered in the future.
Art Explorium, 1142 Koko Head Avenue, Honolulu, 312-4316, www.artexplorium.org
Treehouse
Since first writing about Treehouse in October, I've been eagerly awaiting the start of their art workshops. Registration is open for their first one, a Block Printing Workshop on Sat., Feb. 9 from 10 to 11 a.m. The cost is $10, which includes materials. It's recommended for ages 6 and up; a parent should accompany children under 6. Bonus—while you're there, you can stock up on arts and craft supplies, plus super-adorable tees and hats, for both kids and adults. Stay tuned for monthly workshops. Click here for workshop info.
Treehouse, 250 Ward Avenue Suite 233,Honolulu, 597-TREE, www.treehouse-shop.com
Adventures in Art
Registration is now open for the February workshops at this art center in Waipio Business Center. The classes are divided by age ("Navigators" are 4 to 6, "Inventors" are 6 to 11, and "Tyros" are 11 and up) and each month has a theme. In February, budding artists will make spiders, fantasy landscapes and shapes with mixed materials. Cost is $55 for the four-week session and includes all supplies. NOTE: What's great for parents is that you have the option to stay with your kids (which most do with the younger set) but you can also drop them off for the hour and get some errands done – Costco and other shops are nearby! Classes are available year-round, including summer day camps. Click here for more info.
Adventures in Art, Waipio Business Center, 94-1388 Moaniani St. #307, Waipahu, 223-7946, www.advinart.com
Honolulu Museum of Art School
Here, kids of all ages and adults alike have dozens of art choices: ceramics, painting and drawing, cartooning, parent/child classes, art exploration, spring break art camps and more. But hurry, word is these fill up fast. For more info, click here.
Honolulu Museum of Art School, 532-8741, www.honolulumuseum.org
Hawaii Nature Center
Little nature-lovers will have a blast at the Hawaii Nature Center's workshops, which incorporate the great outdoors into art activities. Coming up on February 9, kids will have the chance to make their own handmade paper made from materials they'll gather on a short hike. In March, make some bamboo crafts, and look out for a "Wearable Art from Nature" workshop in April. Click here for more info.
Hawaii Nature Center, 2131 Makiki Heights Drive, Honolulu, 955-0100, www.hawaiinaturecenter.org
Living Art Marine Center
Beyond their regular tours, this center offers lots of workshops for creative kiddos. (I can personally attest my 5-year-old daughter loved beading her own shell necklace here.) On February 10, they're offering a Valentine's Day craft workshop—just click here for a coupon to show on your mobile device for free admission. You can choose from crafts like shell carving, jewelry making, t-shirt printing and glass etching, with materials starting at $5. There are also individual workshops just for making your own shell jewelry, Gyotaku shirt-printing, and keiki photography. Click here for more info.
Living Art Marine Center, 3239 Ualena St #100, Honolulu, 841-8080, www.livingartmarinecenter.com
Hawaii State Art Museum
At Second Saturday on February 9, from 11 a.m. to 3 p.m., bring your kids to make handmade Valentine's Day art. The Hawaii Watercolor Society will provide guidance. For more info, click here.
Hawaii State Art Museum, No. 1 Capitol District Building, 250 S. Hotel St., 2nd floor, Honolulu, 586-9958, www.state.hi.us/sfca
Ashley de Coligny is the proud mother of Ella (5) and Charlie (2). She usually has applesauce in her hair and can name all of the My Little Ponies. You can reach her via email, Twitter, Facebook, or via her personal Honolulu Mom blog.