Keeping the Tiki Torch Burning: La Mariana Sailing Club, Sand Island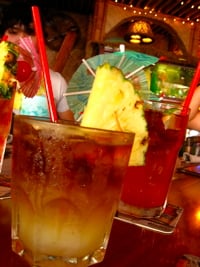 You forget. La Mariana Sailing Club is still going strong.
It survived the death in 2008 of Annette Nahinu, the woman whose force of will kept it alive, through five decades, two moves, assorted financial crises and tidal waves. The last tidal wave, following Japan's March 2011 earthquake, wreaked havoc with the boats at the docks, but La Mariana still shines.
To find it, you more or less have to know where it is (first right after the first light on Sand Island Access Road). But when you walk in, you're suddenly not on Sand Island anymore. You're not even in the 21st century.
It's still 1955 at La Mariana.
The decor is the last word in Eisenhower-era exotica. Tapa-print tablecloths, shell chandeliers, tikis, canoes, lighted glass fishing floats suspended in nets. Lauhala wall coverings, koa trim carved before koa got scarce.
It's Trader Vic's, South Seas, Kon Tiki, Tahitian Lanai—literally. When those nightspots fell to fashion, their furnishings found new life at La Mariana.
This is the place to drink like it's 1955. Have a Mai Tai, a Zombie, a Tropical Itch. The Blue Hawaii, despite its off-putting neon blue coloring, is rich with coconut.
One of the younger members of our party arrived late, thought he might have a beer. You could, we said, if you wish to defy the entire spirit of the place. He ordered a Hawaiian Sunset, which turned out to be vodka-based and surprisingly palatable.
The food? Solid bar food. For $20, you can a large platter of tako and ahi poke and adequate sashimi. Or a massive stack of heavily sauced ribs. We got both and four of us could hardly finish.
The food and drink are fine, but they pale beside the entertainment. Blind piano player Ron Miyashiro once played at the legendary Tahitian Lanai. Like a magnet, he attracts singing talent that's amateur only in the sense that it's unpaid.
"If you're over 50, and too good for karaoke, this is where you end up," said one of party. The songs range from Hawaiian classics to the standards from Great American songbook to doo-wop.
It's almost unnerving the first time someone solos, and from the tables all around the room rise perfectly layered harmonies and soprano glissandos.
Everyone knows the words, everyone hits the notes. A woman who only identified herself as Lei, told us she was 88 and sang with bands during WWII. Her voice is 50 years younger than she is.
La Mariana is so old-fashioned it's cool again.
When was the last time you were in a cocktail lounge when at the end of the evening everyone stood up, held hands and sang Hawaii Aloha and Hawaii Pono'i, with America the Beautiful and My Maile Lei thrown in for good measure.
Anytime you need a dose of the real Hawaii, rapidly disappearing, La Mariana is keeping the tiki torch burning.
50 Sand Island Access Rd., 848-2800, www.lamarianasailingclub.com.