Kailua Magazine 2005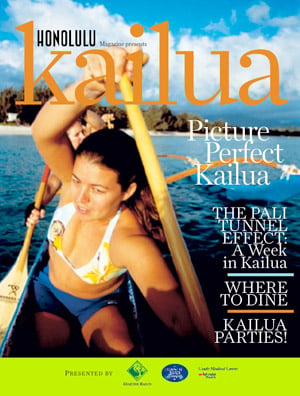 Kaneohe Ranch extends a warm aloha to the readers of HONOLULU Magazine as this issue features the people, places and things that make the town of Kailua one of the most diverse, distinctive and delightful communities in our Islands. Residents will tell you our town's natural beauty and country feel make Kailua an ideal community in which to live, work and play.
We are grateful to the thousands of Kailua residents who participated in our 2004 community planning survey and who shared their ideas in the series of planning meetings we held in preparation for drawing up a master plan for Kailua's future. Kailuans gave generously of their time, thoughts and energy to assist us and the dialogue that has resulted will benefit our town enormously.
We learned a great deal from the survey and the meetings about what matters most to the people of Kailua. Two major themes emerged. First, residents place a high value on living in a place where diverse, multi-generational families can flourish and enjoy a real sense of community. Second, Kailuans are committed to caring for and improving the health of Kailua's wonderful natural surroundings, such as Kawainui Marsh, which the Ramsar Convention on Wetlands recently designated a Wetlands of International Importance, while at the same time safely and carefully enhancing public access to these areas.
We are responsible for caring for this land, in the spirit of Harold K.L. Castle, who, in the pre-World War II era, owned much of today's Kaneohe and Kailua and who had a vision of a community planned in harmony with its natural surroundings. Today, we manage more than a thousand acres owned by the Castle family trusts and the Harold K.L. Castle Foundation, the largest private foundation based in Hawaii.
The results of our community survey confirmed what we believed to be important to residents. The people of Kailua want better walkways, restaurants with outdoor seating and evening recreational activities. They also want to keep Kailua "Kailua." To ensure this happens, we envision refurbishing buildings in ways that retain that familiar country feeling, creating what we think of as new "old" buildings. This is what matters to the people who call this town home.
Aloha,
Kaneohe Ranch
HONOLULU Magazine editor John Heckathorn moved to the Windward Side
for a week to get a feel for life in Kailua. This is what he found.
By John Heckathorn
Backyard barbecues, radio-controlled helicopter flights, Kalapawai Market—
HONOLULU Magazine contributing editor Guy Sibilla captures a typical day in the real Kailua.
Photo essay by Guy A. Sibilla
What to eat and where to eat it. A guide to Kailua's eateries.
By Lori Anne Tomonari
The "I Love Kailua" festival has become one of the Island's best block parties.
Here's what's happening this year.
By Diana Nomura