Kahala Beach Apartment for $85,000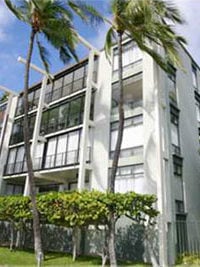 Actor Jack Lord of Hawaii Five-O fame called the Kahala Beach apartments home, as have numerous celebrities over the years, due largely to the building's prestige Kahala Beach location. At one time, units in this building sold for upwards of $2 million. But now it's possible to purchase a high-floor, two-bedroom/two-bathroom apartment here for $85,000, the result of the building's imminent leasehold expiration.
Far less prevalent on the Mainland, leaseholds gained popularity in Hawaii during the 1960s and '70s as a way to make condo ownership affordable. Many leasehold buildings have since converted to fee simple, but there are several in Waikiki and Honolulu that have not changed over and are coming up on their lease-expiration dates, including the Kahala Beach apartments.
The Kahala Beach apartments occupy a prime piece of land on Kahala Beach next-door to the Kahala Hotel & Resort and Waialae Country Club. When the building was constructed in 1967, the landowner, Kamehameha Schools, signed a 60-year lease, which expires in 2027. Because lease agreements usually have a surrender clause, when 2027 rolls around, owners will likely have to surrender and move out. To top it off, the lease is up for renegotiation in 2018, so the lease rent will likely increase.
For the two-bedroom/two-bath unit listed at $85,000, which is pictured below, the current monthly lease rent is $2,042, the monthly maintenance fee is $958 and property taxes are $325 per month. "Even before you put any food in your mouth, it costs $3,400 to live there," says Sachi Braden, the owner and principal broker of Sachi Hawaii-Pacific Century Properties, which has the listing. According to Braden, the last lease hike was prior to 2008 and, before that, in 1998, when the lease rent jumped up 80 percent. "Even if you decided, 'eh, I don't mind paying $3,400,' in 2018, another hike will happen and we don't know how much it's going to be," says Braden. "So we're talking about another 16 years of use, and you still need to pay the owner's upkeep of $3,000 to $4,000 per month or more, which is why everyone is selling at such a phenomenal cost."
The price drops are indeed astonishing. In the 1990s, units often sold in the millions. As few as five to seven years ago, many sold for $500,000. To see units priced as low as $85,000 is jaw dropping, to say the least. "It's a phenomenal price for a Kahala Beach apartment," says Braden. "Right now, the value of the property is dropping exponentially, to the point that people are literally giving it away."
Despite the looming lease expiration, people are still buying. According to Braden, six units have sold in the last six months, including a beachfront apartment for $775,000, and a four-bedroom/four-bathroom waterfront unit that sold for $850,000. "The agent who listed the $85,000 unit is showing it several times a day," says Braden. "People will always be attracted to Kahala Beach, and a property that used to cost a million or more that you can now buy at $85,000 attracts people, too."
Contact: Listing agent Junko Yamada, Sachi Hawaii-Pacific Century Properties, 596-8801, info@sachihawaii.com.