June 2011: Where to take Dad for Father's Day, Honolulu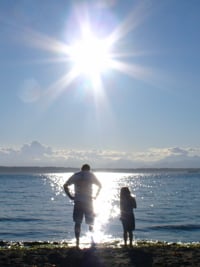 "It takes creativity and passion to be a chef. It takes so much more to be a father."—Roy Yamaguchi
None of the Starwood properties in Waikiki are doing anything special for Father's Day; they don't get much action.
People, people, what's wrong with you? Don't you want to reward Dad extravagantly for all the gray hairs you gave him growing up?
Here are a number of places where you can wine and dine him (or whiskey and steak him, if that's what Dad likes).
Roy's Restaurants on the Mainland are giving Dad a $20 gift card with Dad's Day dinner. Not so in Hawaii, but Dad may like to be treated to Roy's shortribs anyway. Regular menu. 396-ROYS.
What Dad wouldn't like Kim Chee Pork Belly Tacos with Quail Eggs? That's just one of two dozen or so items, including Maui Cattle Co. prime rib, available at the Pineapple Room Dad's Day Buffet, 9 a.m. to 3 p.m., $47.50, $23.75 per child (6 to 12 years, children under 5 complimentary). 945-6573
If Dad hates to get up early for brunch, Alan Wong's on King Street is promising a special Dad's Day menu, details not announced.
Dad may well enjoy local-style pork chops with fresh eggs for breakfast, or for lunch or dinner, broiled rib-eye with fresh asparagus, both Father's Day specials at Big City Diner. Plus Big City knows what Dad likes: Big City Golden Ale at $4 a pint all day Saturday and Sunday, multiple locations.
Is Dad's motto: Go Big or Go Home? Wolfgang's Steakhouse has deal for him. For $64.95, you can get Dad an extra thick slice of Wolfgang's (seriously tasty) Canadian Bacon, plus a 24-26 oz. Bone-in Ribeye Steak (right), mashed potatoes and creamed spinach, and a big glass of Beringer Napa Valley cab. Plus a gift of three golf balls. 922-3600
If Dad likes golf balls, but not steak, take him to Il Lupino, which will gift him with a Nike golf ball, and feed him with things like fresh Fanny Bay oysters with lemon panacotta ($14) and Cioppino with diver scallops, Alaskan King Crab legs, clams, mussels and fresh fish, in a spicy pomodoro sauce ($42). 922-3400
The Kahala Hotel's Plumeria Beach House has both Father's Day Brunch (11:30 a.m. to 2:30 p.m., $52 Adults; $26, children ages 4 to 7, $39, children ages 8 to 12) and a Father's Day buffet dinner (5:30 to 10 p.m., $52 Adults; $26 children ages 4to 7, $39 children ages 8 to 12).
Similarly Hoku's has both brunch, starting at 10 a.m. ($60 Adults, $72 Adults with champagne, $39, children ages 8-12) and dinner from its regular menu. If you really want to spoil Dad, also get him a 75-minute sports massage at the resort's spa for a mere $240.
The Willows also has both Father's Day brunch (10 a.m. to 3 p.m.) and dinner (4 to 9 p.m.) buffets, both at $39.95. The carving station alone includes roasted lamb chops, prime rib and (at dinner) smoked pork belly with pickled pepper relish. 952-9200
In celebration of Father's Day, Dads will receive a $20 Gift Card from Ruth's Chris Steak House and be eligible to win "A Day Fore Dad": Dinner for four at Ruth's Chris and a round of golf at one of Hawaii's premier golf resorts. You can also feed him well for $68.95 per person, a four-course special menu, including a choice of Bone-In Ribeye, a New York Strip topped off with grilled Jumbo Shrimp or a Filet Mignon and Crab cake. Five Hawaii locations.
The two Romano's Macaroni Grill locations are offering a similar chance to win dinner for four at the restaurant and a round of golf. Regular menu.
If outdoor grilling comes to mind when you think of Dad, House Without A Key will have its Sunset Kiawe Grill menu from 5 p.m. on Sunday, June 19, 2011 in honor of Father's Day. (Sunset Kiawe Grill is usually offered Tuesdays and Thursdays.)
If Dad can wait until Monday night to celebrate, on June 20, 12th Avenue Grill may well have what Dad likes: six remarkable beers (smoked lager, Belgian strong ale and fruit lambics, Norwegian coffee stout, American strong ale and so forth) plus four courses of bold flavors from the kitchen, $48. 732-9469.