We Tried It: Jumping in to Keiki Parkour
Parkour in the Park: get your kids on a roll with this cool new class.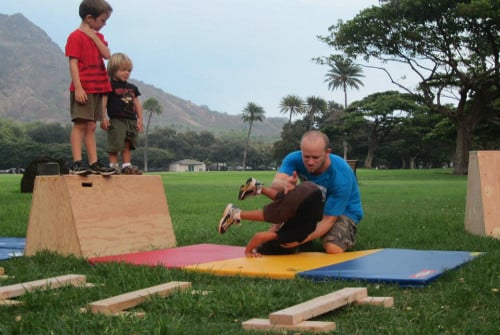 Photo: Ashley de Coligny
I'll admit, I had to Google "parkour" before starting this blog post. When I heard about the new Keiki Parkour classes being held at Kapi'olani Park, I was intrigued, but I wasn't familiar with the term. When the YouTube videos popped up in my search, I recognized it. Oh yeah, I thought, those guys who leap off buildings and flip off walls and stuff. Wait, they're teaching kids to do that?
That's exactly the misconception that Keith Mylett, certified American Parkour instructor, is trying to dispel with his Keiki Parkour classes. It's not about dangerous tricks, hurling off buildings, or crazy stunts. Parkour is about overcoming obstacles through creative movement, also sometimes called freerunning.
When I read more on the Keiki Parkour website, I was certain my active 5-year-old daughter, Ella, would love it. These classes teach kids how to do the movements they already love (running, jumping, rolling, climbing) safely, and in a fun, non-competitive way. The mission is to "increase children's strength, endurance, speed, agility, power, creativity, courage and health," while they "learn to overcome physical obstacles, and thus gain the confidence to overcome other obstacles in their lives."
When we arrived for Ella's first class, it was a beautiful afternoon in Kapi'olani Park. We found Keith unloading some mats, wooden barricades, platforms, and a trampoline, which got Ella and the four other boys all fired up. The class started off with some animal poses, as they stretched like giraffes and posed like dogs to warm up. Then they played a game similar to musical chairs. Keith blasted some Beastie Boys on his iPod while the gang ran like cheetahs, crab-walked, and leap-frogged their way around the circle. It looked like tons of fun – and like great exercise. Next, they practiced rolling safely by leading with their shoulders, not their heads, followed by a game of "ninja freeze tag." Then, they practiced "kong vaults" over the wooden barricades, and tried moves like the "tic-tac" and "cat hang."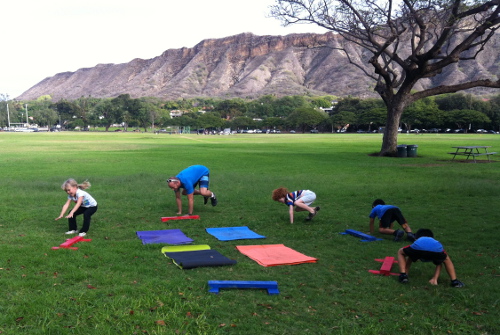 The class wrapped up with more stretches, and ended with everyone high-fiving each other (adorable). They finished off with a few jumps on the trampoline, and Keith handed out "You're a Keiki Parkour ninja!" certificates.
(Side note: You can tell that Keith is a teacher by day and father of a five-year-old himself. He was so patient and fantastic with the kids, always encouraging them and ensuring their safety. And he sure knows how to make it fun. He's even held a "how to survive the zombie apocalypse" themed class, where he dressed up like a zombie and taught the kids how to escape him.)
Bottom line, Keiki Parkour is simply a super-fun way for kids to get some exercise and to build their confidence. My daughter was laughing and smiling the entire time, and was so proud of herself for doing things she didn't realize she could do. At the end, Ella asked excitedly, "Can I come back again?" Yes, we'll be back. This is the most fun she's had in a while, by leaps and bounds.
For more info, visit www.keikiparkour.com, call 398-9045, email keith@keikiparkour.com, or visit their Facebook page.
Ashley de Coligny is the proud mother of Ella (5) and Charlie (2). She usually has applesauce in her hair and can name all of the My Little Ponies. You can reach her via email, Twitter, Facebook, or via her personal Honolulu Mom blog.