Japanese Kendo: How Life Can Imitate Cartoons In a Positive Way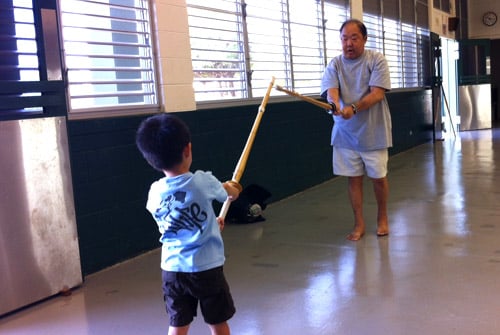 If you had told me in March that our son, Ensen, would be inspired to take kendo because of a visit to Legoland, I would have called you crazy. After all, what the heck do Legos have to do with Japanese martial arts? Well, as we've learned, quite a bit, actually.
Truth be told, it happened after a great day at Legoland in Southern California. As we were leaving the park, my mom told Ensen he could pick out a Lego set to commemorate the trip. Like a typical grandson about to be spoiled, his eyes lit up and he carefully walked the aisles of Lego heaven. I was sure he'd settle on a Transformers or Star Wars set since these were his favorites at the time. Wrong. He walked into the Ninjago: Master of Spinjitsu section, looked at a foam sword hanging from a rack and asked if he could get it. We questioned his selection of a $15 toy sword over and over. He was certain it was what he wanted. The rest, as the saying goes, is history.
Ensen strapped the sword to his back and wore it for the rest of the trip—to Disneyland, to the malls and to the restaurants. When we returned home, his fascination with Ninjago got him watching the shows on Cartoon Network. Kendo Cole became one of his favorite characters. Then Kelly and I thought, maybe this would be a good time to encourage him to try his hand at kendo, a sport Kelly's uncle taught and her cousins had been doing for years.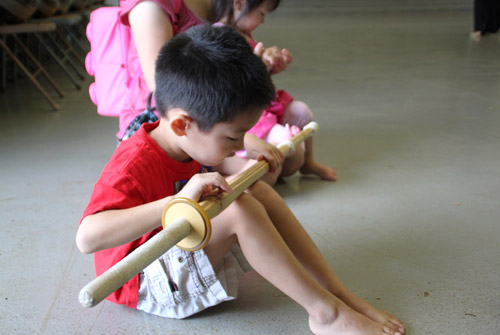 It took some convincing to get Ensen to his first kendo practice at Waipahu Seibukan in April. He was a bit shy at first, training with the older kids and adults, which was not unexpected. But with Uncle Jerry's patient teaching style and the opportunity to hold a shinai (bamboo sword) and bokken (wooden sword) like Kendo Cole, he has kept with it for several months now and is enjoying it more each week.
Aside from kendo being a good physical activity (it involves quite a bit of running), we can also see that it's helping Ensen grow mentally and emotionally. His confidence level builds each week as he betters his skills. He's being taught discipline, how to listen and the importance of respecting others. The most satisfying aspect for Kelly and me is to hear the pride in Ensen's voice when he talks about what he has learned after each class.
What I've learned from this experience it is that you never know where kids will find their inspiration or how their curiosity will motivate them to try new things and take on fun adventures and challenges. The best we can do is keep open minds and continue to give our kids opportunities to grow and to support them every step of the way.
Now, cue the Ninjago theme song ! Five bucks says after you hear it once, you won't be able to stop singing it. Ninjago! Ninjago!
Nathan Kam is a Honolulu public-relations executive, husband and a proud daddy of two incredible kids, Ensen (5) and Avery (2), who enjoys cooking, gardening, traveling, blogging and golfing. You can reach him via email, Twitter, Facebook, LinkedIn or via his personal Kam Family Blog.