Japanese food! Sake! Taste of Marukai, Apr. 7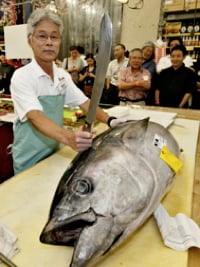 Would you pay $95 for a party at a grocery store?
Nearly 900 people showed up for last year's "Taste of Marukai." This year's is Thursday, Apr. 7, 6-9 p.m. at Marukai's Dillingham location.
What's the draw?
How about an abundance of King Crab legs, fresh-cut sashimi, Big Island abalone and nigiri sushi?
Japanese food prepared Nobu Waikiki chef Robin Lee and the Marukai chefs under the direction of Katsu Fujita.
50 different sakes, including this year those from one of Japan's most famous sake breweries, the 340-year-old Otokoyama Brewery in Asahikawa, Hokkaido, the coldest city in Japan.
Beers from Kirin and Suntory
A traditional kagani biraka, or sake barrel breaking ceremony, mochi pounding, Japanese dance and even a demonstration of amezaiku, the Japanese art of candy sculpture.
"It's a celebration of Japanese food, drink and culture," says Marukai's Roy Ishihara. "Plus it brings people into the store. That night we give everyone a discount card, some up to 50 percent off."
There are also door prizes, including a trip to Japan for two. "That's been popular, but we will have to see if anyone wants to go to Japan, this year," says Ishikawa. The store will be accepting donations for its Japan Relief efforts.
Tickets are $85 until Apr. 1, $95 after and at the door. You do not need to be a member of Marukai to attend. For tickets, call (808) 845-5051.
Marukai has changed policy over the last year. Non-members can shop there; they just have to pay more than members.
Marukai Wholesale Mart, 2310 Kamehameha Hwy., (808) 845-5051, www.marukaihawaii.com