Japan Meets Hawaii Loa Ridge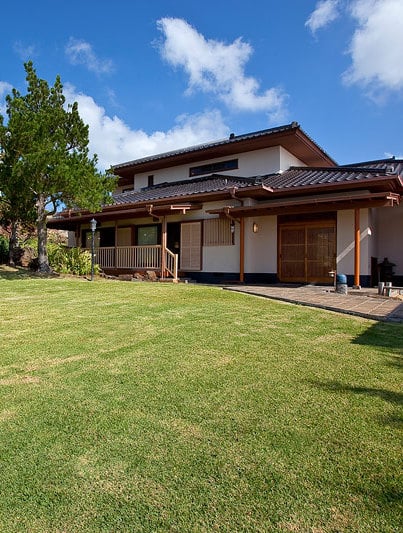 Traditional Japanese homes are fairly common in Hawaii, though with 3,441 square feet of livable space, this authentic Japanese estate in Hawaii Loa Ridge is done on a much grander scale than most. For authenticity, Japanese contractors and builders were hired to construct the house using building materials and accents imported from Japan. According to the listing agency, Sachi Hawaii, the builders also followed common Japanese building code, which emphasizes minimal but strategic use of nails to prevent waste without sacrificing the home's structural integrity.
The home adheres to Far Eastern traditions without skimping on the luxuries that buyers in this price point expect. Authentic details, such as Japanese gardens, a tatami tearoom and tokonoma—a raised alcove where Japanese art, such as hanging scrolls or flower arrangements are displayed—play nicely with the home's modern amenities. The open layout and floor-to-ceiling windows frame the views of Koko Head and Oahu's south shore, views made possible by the home's precipitous perch along the eastern side of Hawaii Loa Ridge. And, of course, there's the panoramic viewpoint from the large wood deck that wraps around the backside of the house. The view itself is worth the price of admission.
Money talk: The house is listed at $2,480,000.
Contact: Sachiyo Braden, Sachi Hawaii. 596-8801, sachi@sachihawaii.com.