It's Children's Mental Health Awareness Month
8 ways to show support for keiki (wear green and attend a free film fest!)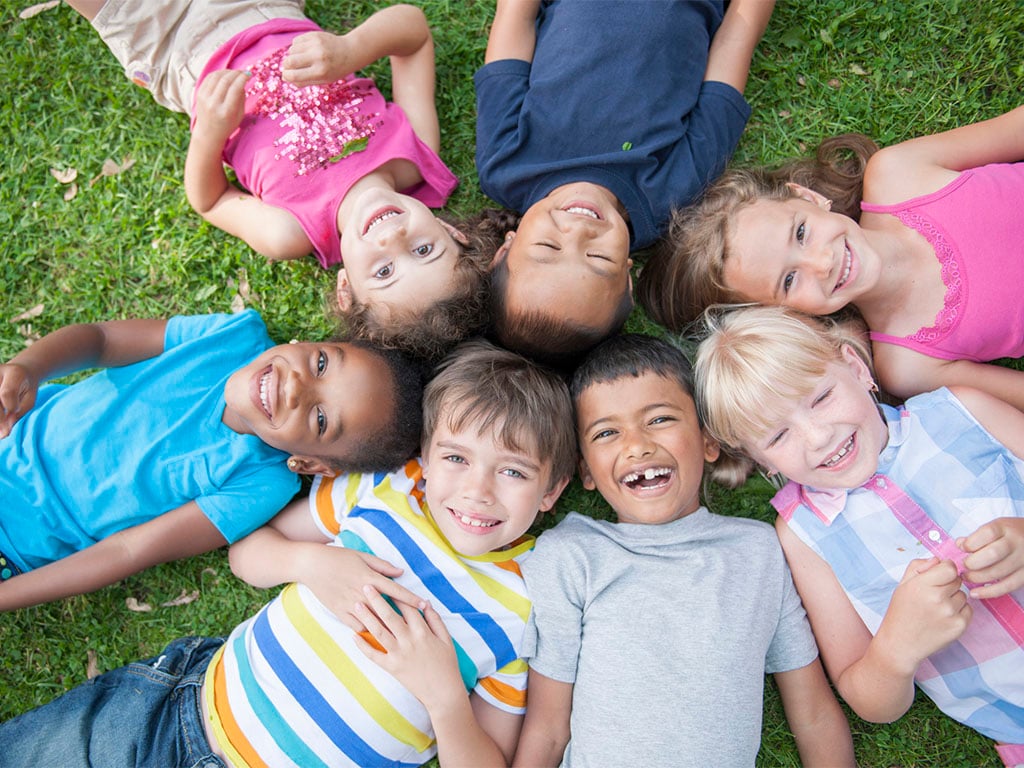 Photo: Getty Images
Every night at 6 p.m. through this Friday, Honolulu Hale and the IBM Building at Ward Village will light up in green as a reminder to take care of children's mental health—a movement that's growing in Hawaiʻi as adults understand its positive effect on schools, families and communities.
Nationwide, one in five kids ages 18 and younger has a diagnosable mental health condition, described as "serious changes in the way children typically learn, behave or handle their emotions, which cause distress and problems getting through the day," according to the U.S. Centers for Disease Control.
But not every child receives treatment due to various reasons, including: lack of awareness by adults closest to the child; unavailable or unaffordable mental health services; and stigma, denial and embarrassment. Locally, 10 percent of high school students in the state of Hawaiʻi have attempted suicide in the past year, according to a 2017 survey by the CDC. Approximately 16 percent of high school students in that same survey have seriously considered taking their own lives.
These numbers are reminders to seek help. "The emotional and behavioral well-being of our keiki is as important as their physical health," says Dr. Stanton Michels, administrator for the state Department of Health's Child and Adolescent Mental Health Division (CAMHD). "The first step is knowing wher­­e to start, what's available and how to access services."
May is Children's Mental Health Month, and this year's theme is "Suicide Prevention: Strategies That Work."
Here's how your family can participate in events:
1. Monday, May 6 to Friday, May 10. From 6 to 11:30 p.m. Snap a picture of green-lit Honolulu Hale or the IBM Building. Share your photo with the hashtag #keikimentalhealthmatters to show your support. 530 S. King and 1240 Ala Moana Blvd., Honolulu.
2. Thursday, May 9. All day. It's National Children's Mental Health Awareness Day. Encourage family members and friends to wear a green ribbon or shirt (green is the national color symbolizing mental health awareness.) This might help start conversations with family, colleagues and friends.
3. Thursday, May 9. From 10 a.m. to 1 p.m. Attend a mini resource fair at Kapolei State Office Building to learn more about children's mental health. And join others in a sign-waving campaign in front of the building. All ages welcome. Wear green. 601 Kamokila Blvd., Kapolei, (808) 692-8227.
4. Thursday, May 9. From 10 a.m. to 2 p.m. Hold signs and wave at drivers and pedestrians fronting ʻAiea Shopping Center to spread awareness about children's mental health. And visit the mini resource booth for more information. All ages welcome. Wear green. 99-115 ʻAiea Heights Drive, ʻAiea, (808) 453-6762.
5. Thursday, May 9. From 2:30 to 4:30 p.m. Wave and hold signs in front of the Hawaiʻi State Capitol fronting Beretania Street. Make your own signs at home or school, or use provided poster boards to make signs there (while supplies last). All ages welcome. Wear green. There will not be a resource fair, but nonprofit groups will have a table with information. 415 S. Beretania St. (808) 733-9346.
6. Friday, May 10. From 5:30 to 7:30 p.m. Join others at Impact Hub Honolulu to watch a Mental Health Short Films Showcase, followed by a talk-story session with the filmmakers and organizers. The seven featured films are Pretty Good Start, Skin Deep, Two of a Kind, @MiaSheaffer, Phones Off Friends On, In My Head and Senioritis. All ages are welcome but childcare will not be provided. The talk-story session will include Aaron Kandell, writer and producer known for Disney's Moana and Adrift; Dr. Trina Orimoto and Scott Shimabukuro, clinical psychologists; Vera Zambonelli and other filmmakers. Please RSVP here for limited tickets. 1050 Queen St., Honolulu, 808-733-9228 or (808) 664-3306.
7. Anytime. Know the signs of mental health conditions in children. Get help if these symptoms persist for several weeks and interfere with the child's daily life, according to the National Institute of Mental Health.
Young children:
Have frequent tantrums or are intensely irritable much of the time.
Often talk about fears or worries.
Complain about frequent stomachaches or headaches with no known medical cause.
Are in constant motion and cannot sit quietly (except when they are watching videos or playing video games).
Sleep too much or too little, have frequent nightmares, or seem sleepy during the day.
Are not interested in playing with other children or have difficulty making friends.
Struggle academically or have experienced a recent decline in grades.
Repeat actions or check things many times out of fear that something bad may happen.
Older children and adolescents:
Have lost interest in things that they used to enjoy.
Have low energy.
Sleep too much or too little, or seem sleepy throughout the day.
Are spending more and more time alone, and avoid social activities with friends or family.
Fear gaining weight, or diet or exercise excessively.
Engage in self-harm behaviors (such as cutting or burning their skin).
Smoke, drink or use drugs.
Engage in risky or destructive behavior alone or with friends.
Have thoughts of suicide.
Have periods of highly elevated energy and activity, and require much less sleep than usual.
Say that they think someone is trying to control their mind or that they hear things that other people cannot hear.
8. Find resources.  Reach out to these local groups that can help your family.