Investing in a Better Hawaii for Your Keiki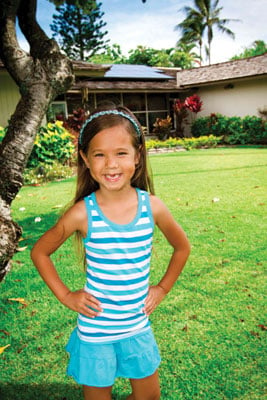 RevoluSun
Imagine having a hand in creating a cleaner, healthier future for your children. How about making the world a better place in which to live and saving thousands of dollars of your hard-earned income each year with one decision?
An affordable investment in solar technology can make this happen. Solar is a clean-energy source that reduces pollution while creating clean, renewable energy for future generations.
RevoluSun, Hawaii's leading residential and commercial solar provider, is committed to educating residents about the benefits of solar energy and helping families achieve some financial freedom.
Huge Savings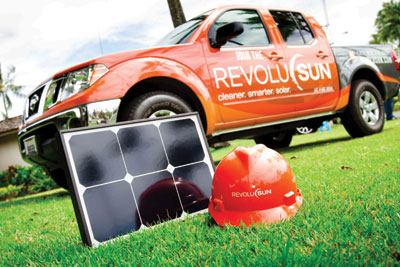 RevoluSun
The savings are tremendous. "A typical Hawaii family spends around $200 per month on electricity. If you take that number and project it out 25 years and factor in the annual increase of energy costs, that number is a staggering $140,000," says Eric Carlson, principal of RevoluSun. That equates to almost 12 years of private-school tuition or the cost of four years at a Mainland college. "Families can reduce their annual electric bill by thousands of dollars by installing a photovoltaic (PV) system," says Carlson.
Sheryl Lock and her husband worked with the professional team at RevoluSun to come up with a plan to save money and become more energy efficient by customizing a system that best met their needs. Ultimately, they decided to invest in a photovoltaic system to reduce their carbon footprint and to create a better, healthier world for their daughter.
Being a large solar-energy company enables RevoluSun to work directly with solar-panel and -component manufacturers and purchase equipment at the best prices available. This allows them to offer top-quality products at reasonable rates.
"The common misconception that homeowners have about solar is that it is not an affordable option," says Carlson. "This is not true. First, prices have come down significantly over the last few years and, second, homeowners can take advantage of the state and federal incentives that pay back 65 percent of the upfront cost," says Carlson.
Passion, Commitment and Experience
Hawaii-owned RevoluSun was founded in 2009 by seven partners who are now all fathers. "A big part of why we started this company was to provide a better future for our children and their families," says Carlson. The company is owned and operated by a group of seasoned construction and finance professionals who have taken their decades of high-volume construction experience and applied it to the solar industry. RevoluSun uses only highly qualified project professionals, with SunPower-certified developers, NABCEP-certified designers and installation teams that undergo extensive solar training.
Top-Notch Customer Service
Key to RevoluSun's success is great customer service. "Customer satisfaction, comfort, schedule and needs are put above all else," says Carlson. Earlier this year, RevoluSun became the first solar firm in Honolulu to be accredited as a SunPower Elite Dealer by SunPower Corp. "Only a handful of firms nationwide have achieved this status," says Carlson.
To book your free home-energy analysis, call 748-8888 or visit RevoluSun.com.
Photos: Karen DB Photography