Introducing the Good Health Blog
As a family of four, I anticipate we encounter challenges most Hawaii families deal with on a daily basis.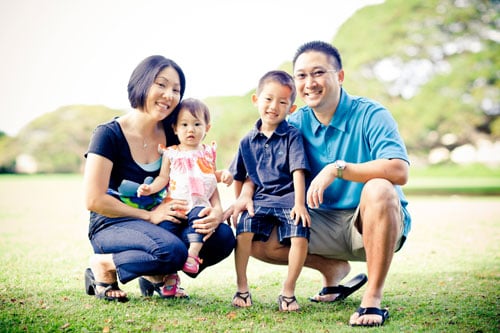 I'm not sure there's anything in life that can truly prepare someone to become a parent. My wife, Kelly, and I thought raising two cats would be somewhat similar to the day-to-day responsibilities of being a great mom and dad. Give them unconditional love, even though they scratch up the couch, get out of bed and feed them at 4 a.m., clean up the litter box daily and pick up their toys. It should be the same, right? Boy, were we wrong!
Five years ago, life as we knew it changed forever (and for the better) with the arrival of our son, Ensen, now 5 years old. I still tear up a little when I think about seeing him for the first time and holding him in my arms. Kelly's motherly instincts kicked in right away with confidence and certainty. I was overwhelmed with both joy and anxiousness. The realization of growing up and being a good dad eventually settled in. I was ready for the challenge and, three years later, we welcomed our daughter, Avery, 2 years old.
As a family of four, I anticipate we encounter challenges most Hawaii families deal with on a daily basis. Keeping a positive work/life balance and spending wisely, for example. However, good health and nutrition have been increasing areas of importance for us since Ensen and Avery were born and I'm excited to be able to share our family's experiences and advice here in this new blog on HonoluluFamily.com. I'll be covering our approach to food and sensible eating, physical activity, keeping our kids' creativity and minds growing, and how we're walking the walk as parents.
Personally, the threat of diabetes a few years ago was the catalyst to changing my poor eating habits. My expanding waistline and watching the documentary Food, Inc. solidified my resolve to take on a healthier lifestyle. As two working parents, it's definitely been a challenge. That Kelly has a job with set hours helps balance my uncertain schedule as a public relations executive. But, the reality is we've learned it isn't impossible to make incremental changes to keep the family on a path to better health.
I look forward to sharing more stories here with you here each week and thank you in advance for taking the time to read them.
Aloha,Nathan KamYou can also find me here:Kam Family Blog: http://kamfamily.wordpress.comTwitter: http://twitter.com/nathankamFacebook: http://facebook.com/nathankamInstagram: nathankam