Inspired Keiki 
As parents, we strive to inspire our keiki; when our keiki inspire others, it is amazing and beautiful. "Inspired in Hawaii" did just that.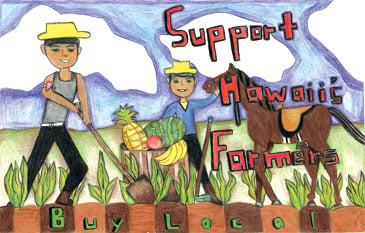 "Support Hawaii's Farmers" by Kekaren Enita (grade 6) of Dole Middle School.
More than 400 Hawaii keiki put their ideas on posters, shot videos and penned essays as part of a statewide "Inspired in Hawaii" contest. With more than $10,000 in cash and prizes at stake, the students offered a rainbow of ideas about how to tackle problems that concerned them most. Entries came from 43 schools across the Hawaiian Islands.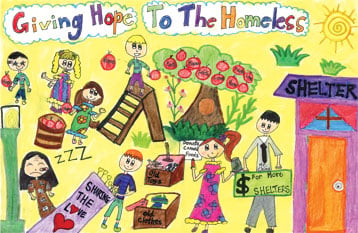 "Giving Hope to the Homeless" by Isabella Chung (grade 3) of Nuuanu Elementary School.
"We are proud of this contest because we believe these youth are our state's future leaders," says Steve Gilley, president of the Clarence T.C. Ching Foundation. "We are excited this contest celebrates their effort and also thank parents and the educators for inspiring students to dream big."
Youth perspectives and passions were plenty: the environment, homelessness, housing, drugs, bullying, teenage pregnancy, littering, community building, sustainability, education, recycling, positive attitudes, teenage homelessness, obesity, sports, alternative energy, small businesses, taxes, trash, Neighbor Island medical care and more.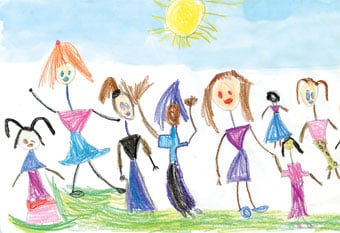 "Untitled" by Gabriela Byrne (grade K) of St. Francis School.
To enter the contest, they needed to also learn about Ching, who was raised by Chinese immigrant farm workers, overcame an early childhood illness and had the opportunity to attend St. Louis School, where he rose to become a championship boxer and two-time student body president. He became a successful developer, community leader and humanitarian. He established one the most generous foundations in the state, which, since 2007, has committed nearly $40 million in grants to Hawaii schools and nonprofit organizations serving Hawaii's needy.
Twenty-nine students won first-place prizes for their grade levels and are now finalists for grand prizes. The award program is open to the public on Wednesday, Jan. 19 from 5 to 6 p.m. at Center Stage Ala Moana, featuring emcees Carole Kai and Kimo Kahoano.
"Their ideas are wonderful," says Gilley. "From assisting homeless teens to creating a sustainable future, these students have shown a great deal of care for their state and offered many fresh, innovative solutions."
One of the winners, Isabella Chung, a third-grade student at Nuuanu Elementary School, made a poster entitled, "Giving Hope to the Homeless," and featured Clarence T.C. Ching welcoming the homeless to a community shelter. Chung and her family live in Kukui Gardens, an affordable-housing development made possible by Ching.
"Inspired in Hawaii" was open to all state residents from kindergarten to 12th grade. First-place winners at all grade levels won $100 each and grand-prize winners will receive $500 to $1,250 in cash prizes, with additional awards provided by Barnes & Noble and Jamba Juice.
For a list of the winners and their posters, videos and essays, visit: clarencetcchingfoundation.org.