Inside Look: ʻUkulele Festival Hawaiʻi 2018
What to expect at the world's largest ʻukulele festival.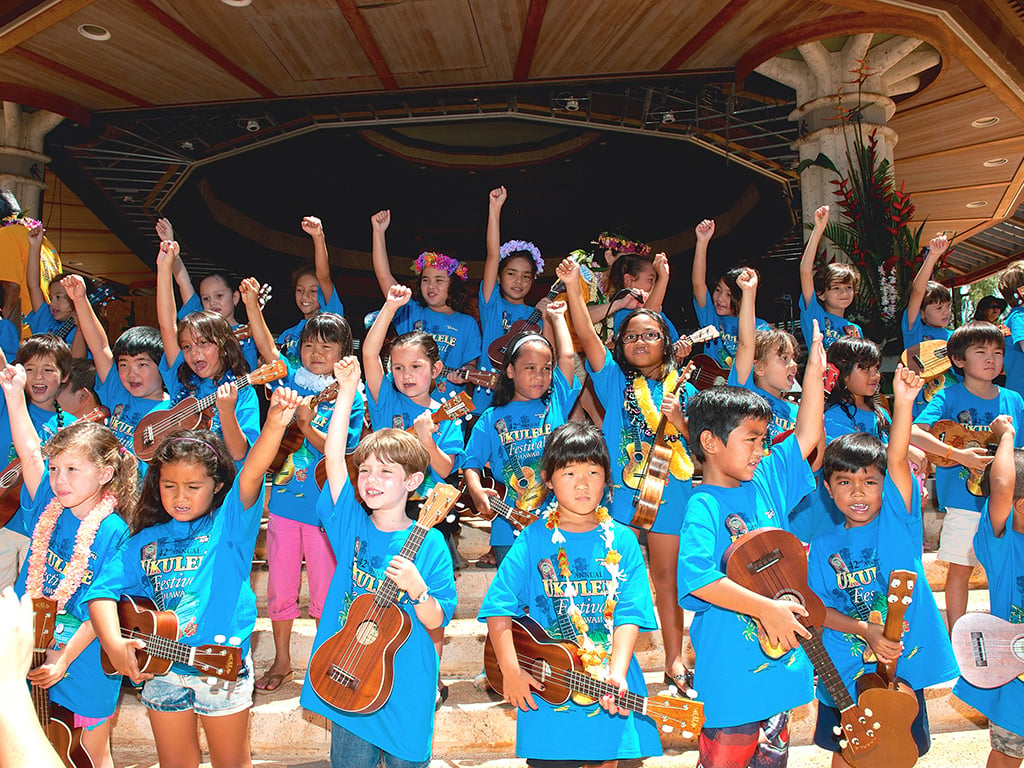 Photo: Courtesy of 'Ukulele Festival Hawaiʻi.
A performance by Roy Sakuma students was always one of the highlights of the 'Ukulele Festival in the past.
Follow the sounds of ʻukulele music and kids singing in Waikīkī this Sunday, July 15, when the ʻUkulele Festival Hawaiʻi takes to the Kapiʻolani Bandstand. The free concert showcases 600 local students from Roy Sakuma ʻUkulele Studios, and celebrity musicians from the Mainland, Japan, Hawai'i and New Zealand. In addition to the live music, there are also keiki activity booths, food vendors and giveaways.
"You're going to experience something you've never experienced in your life that has brought joy to so many people around the world," says Roy Sakuma, who founded the ʻukulele festival in 1971 and now organizes events on the Big Island, Maui and Kauaʻi with his wife, Kathy, and their friends. "There's nothing quite like it. Hundreds of smiling faces … tiny fingers strumming and picking … creating joyful, melodies that fill the air."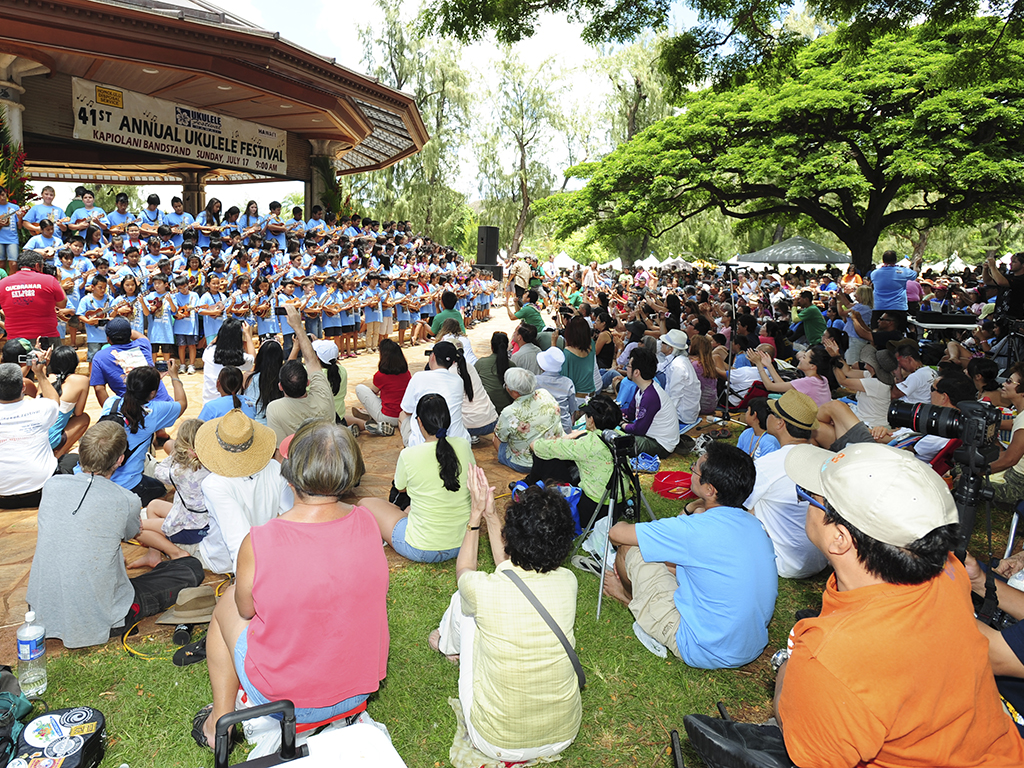 Photo: Courtesy of ʻUkulele Festival Hawaiʻi
Nearly 10,000 people attend the annual ʻUkulele Festival Hawaiʻi. This year marks the 48th anniversary.
The festival kicks off at 10:30 a.m. and runs through 5 p.m.
Our Eight Tips
1. Prepare for (limited) parking: It's Waikīkī. It's mid-summer. Parking might be difficult. An easy solution is to park your vehicle in Kapiʻolani Community College's parking lot and ride the free, air-conditioned shuttle bus to the festival. Shuttles start at 7:30 a.m., and the last pick-up is at 6:15 p.m. If your family doesn't mind walking for 20 minutes, you might score parking near Honolulu Zoo and Waikīkī Aquarium, or along Paki Avenue and side streets.
2. Enter multiple times to win prizes all day. There are multiple ways to win ʻukuleles and other giveaways at the festival. Kids ages 5 to 12 years old can enter to win free ʻukuleles by completing an art activity at the coloring tent. Participants of all ages can win LEGO sets or ʻukuleles if they visit the LEGO tent and build a music-themed creation. Drawings for free 'ukuleles also will also take place at sponsor booths KoAloha ʻUkulele, Kanileʻa ʻUkulele, The ʻUkulele Site and Kala Brand Music Co. Winners must be present when their names are announced onstage.
3. Pack for a day under the sun. To keep cool and avoid sunburn and bug bites, it might help to bring repellant and sunscreen, sunglasses, hats and chilled drinks. There is a limited number of benches in front of the bandstand, so consider bringing low-back lawn chairs, or picnic mats and beach blankets to watch the concert.
4. Have fun with family. Explore the festival grounds. There are kid-friendly activities throughout the site, including two inflatable bouncers and a giant slide, a LEGO tent, coloring booth, CD sales and autograph signing, and free ʻukulele lessons.
5. Bring cash. To the far left of the stage are 14 food vendors accepting cash only. For desserts, choose from Roselani Ice Cream, Country Shave Ice, Franny's Hawaiian Ice Pops, Leonard's Bakery and Royal Hawaiian Donut. Heartier meals from nine food booths include local-style plate lunches, Teddy's Bigger Burgers, and Thai and Filipino foods. Next to the food stations is a tent with tables and chairs for dining, plus a second stage with more entertainment. If you don't have cash, ATMs are to the left of the bandstand next to the keiki activity booths (as you face the stage).
6. Keep an eye on your kids. Wandering toddlers and little kids easily can get lost in large crowds. Behind the bandstand, there is a water-filled pond with ducks. Please keep your little ones safe and within arm's reach–especially near the water. The first-aid station is to the right of the bandstand (as you face the stage), next to the security/lost-and-found booth and bathroom trailers.
7. Know where to go. Restrooms are in two locations. The portable units are behind the 'ukulele sponsor booths to the left of the bandstand. The larger bathroom trailer is to the right of the bandstand, in between the parking lot and Leonard's Bakery truck. It might help to bring your own paper towels or a cloth towel to wipe wet hands.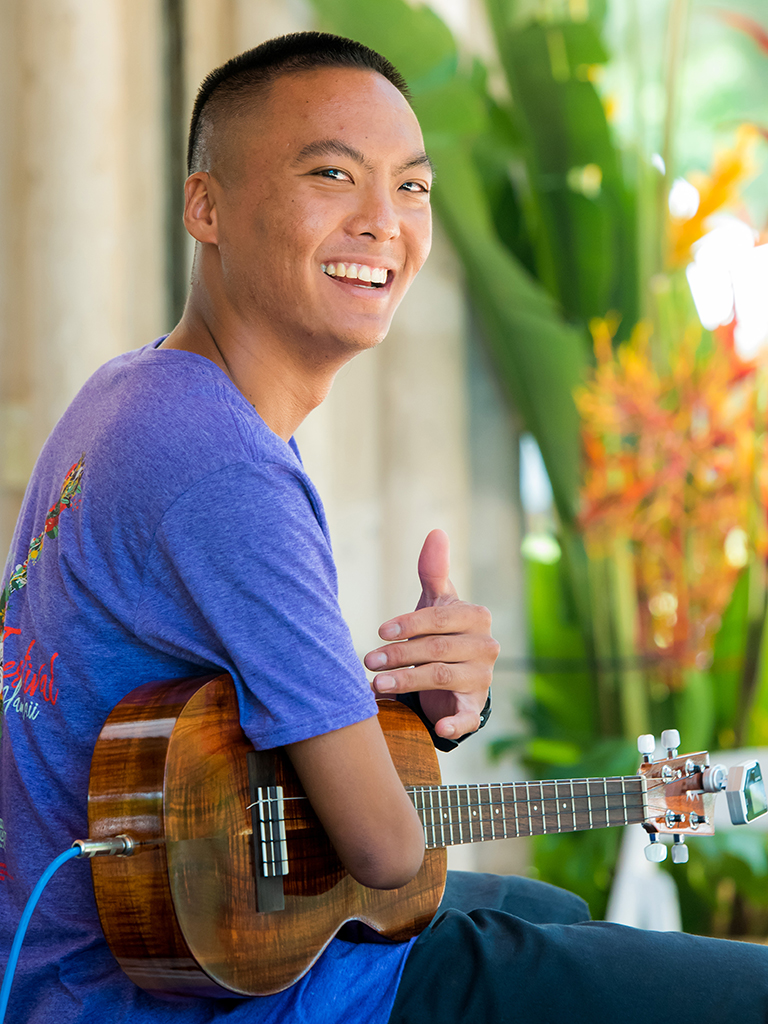 Photo: Courtesy of ʻUkulele Festival Hawaiʻi and Tina Mahina
8. Choose your performances. With seven hours of non-stop music, you might wonder when is the best time to go. If you want to watch Nick Acosta (right), an ʻukulele musician who plays with one arm, get to the festival by 11 a.m. The cutest performances begin at 1 p.m. when the preschoolers and lower-elementary kids go onstage. They'll be introduced by "Ambassador of Aloha," Danny Kaleikini, who will be honored at the festival gala dinner on Friday evening for lifetime achievements. Ashlyn and Arianna Ito, 10- and 12-year-old sisters, also will play a few tunes between 1 and 2 p.m. If you want to watch local celebrities, here's the line-up: Raiatea Helm at 2 p.m., Josh Tatofi at 3 p.m., and Jake Shimabukuro at 4 p.m.
The 48th annual ʻUkulele Festival Hawai'i is from 10:30 a.m. to 5 p.m., Sunday, July 15, in the Kapiʻolani Bandstand. Kapiʻolani Park, 2686-2882 Kalākaua Ave. ukulelefestivalhawaii.org