Inside Look: Sweet: A Tasty Journey at Bishop Museum
Top 8 Fun Stops for Kids at This New Exhibit
You've heard the phrase "Like a kid in a candy store." That's how we feel about the Bishop Museum's new exhibit all about treats. Sweet: A Tasty Journey opens Saturday, March 12 and takes people through the history and art of creating, shipping and marketing some of our favorite sweets.
The interactive display is separated into five parts. The main Rock Candy Mountain presents different sides in every section, using special effects such as "smoke" and a working "mine" to help tell the sweet storiesThe Factory & Candy Types area walks you back in time to meet famous candy makers as well as explains how candy and chocolate is made. Then there is the self-explanatory Ingredients section, Delivery displays all the ways your favorite eats gets to you and includes a variety of vintage vending machines and the Celebration area, which talks about sweets influence on pop culture. You'll find large games, photo ops and a chance to taste some rather interesting jelly beans.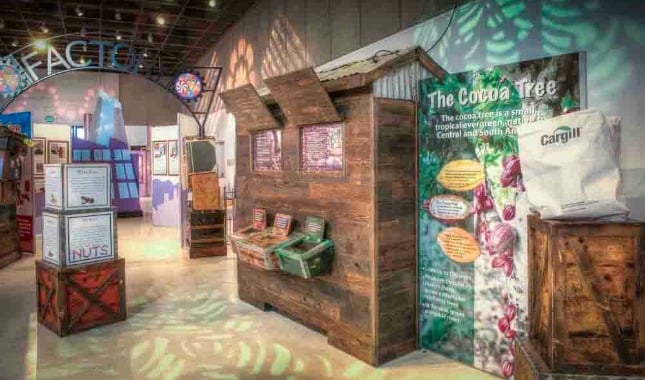 the factory section, photo: Stage nine exhibitions
Parents are guaranteed to feel nostalgic walking through images of their small kid time favorites. We asked the Bishop Museum staff for their "must-see" list of stops in Sweet. Here are some of their top picks.
1. Make a Stop-Motion Animation Clip. It's simple. All you need to do is hit a button to capture up to 300 frames of a candy-themed toy piece. Then, it'll play back a short movie of the piece moving.
2. Play Candy Land. Even the smallest visitor will have fun wandering through this super-sized version of the classic childhood board game.
3. Taste a Grass-Flavored Jellybean, Or Not. Take a spin on the Beanboozled wheel for your chance to try a yummy, or yucky jellybean such as lime or lawn clipping.
4. Take a Photo With Your Sweetheart in an oversized Sweethearts box, of course.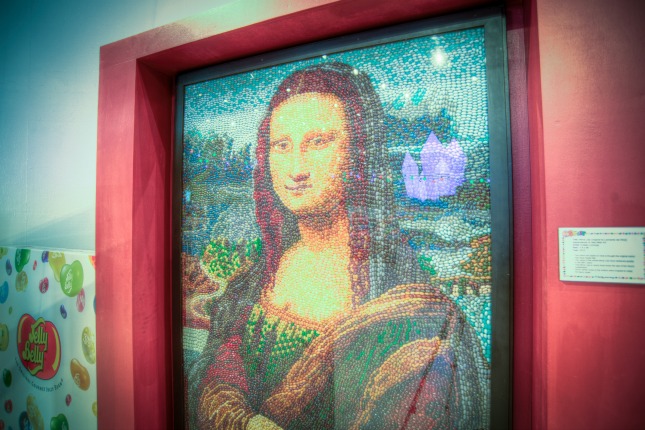 candy art. photo: stage nine exhibitions
5. Check Out Candy Art. Gingerbread houses are just the beginning. Wait until you see the Mona Lisa done in jellybeans.
6. See How Sweets are Made. Videos will explore how favorites create everything from ice cream to donuts and candy canes. Plus, find out about candymakers' secret ingredients as well as rare and odd treats you may have never seen before.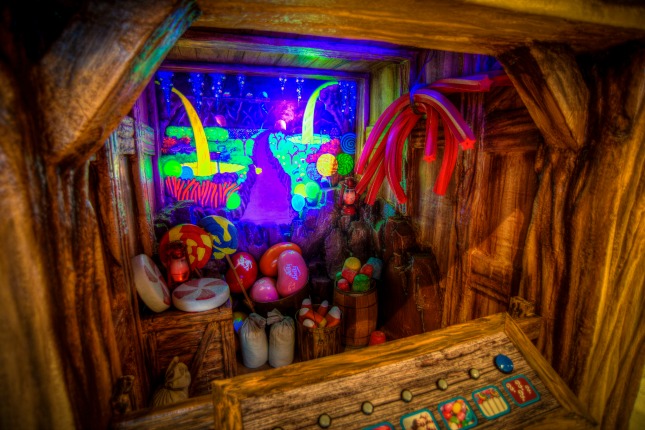 an interactive part of rock candy mountain. photo: stage nine exhibitions
7. Visit Rock Candy Mountain. As you wander around this centerpiece, watch for buttons that help set off flashing lights, motion and more.
8. Read About Real Life "Willy Wonkas". Kids may be surprised to find famous brands like Hersheys and Mars are actually the names of candy trailblazers. Read the biographies of them and what impact they had on history.
Sweet: A Tasty Journey opens at the Bishop Museum on Saturday, March 12 and runs through Monday, May 30. Kamaaina and Military admission is $14.95 for adults, $10.95 for kids 4 to 12 years, kids 3 and younger are free. General admission ranges from $14.95 to $22.95. Call 847-3511 or go to bishopmuseum.org for more information.