Inside Look: Planet Shark: Predator or Prey at Bishop Museum
A preview of Bishop Museum's newest exhibit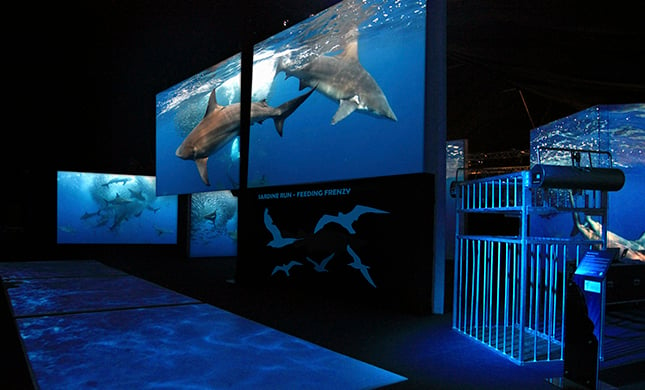 Planet Shark: Predator or Prey. Photo: Grande Exhibitions
The predators of the sea are swimming into Bishop Museum. This summer, Planet Shark: Predator or Prey takes over the Castle Memorial Building for a large-as-life look at the history, science and threat to the shark population. For parents of shark aficionados, that's all we need to say. But we asked Bishop Museum for a closer look at what you'll find, experience and play with at its newest exhibit.
Planet Shark is divided into five separate section which examine sharks' biology and hunting strategies, human and shark encounters–including ways humans have protected themselves–shark satellite tagging programs and conservation as well as collections of shark fossils, shark cages and other gear.
Here are Bishop Museum staffers must-see list for families at Planet Shark.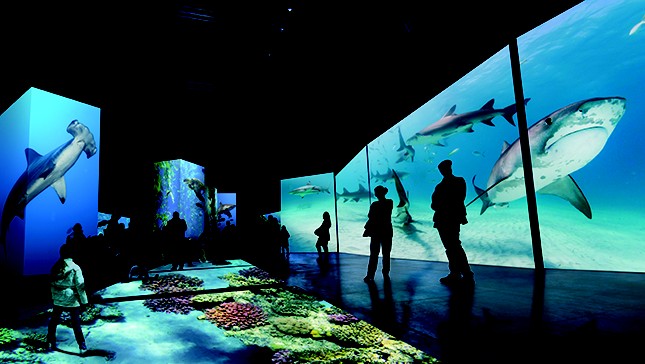 Sensory4 cinematic gallery. Photo: Grande Exhibitions
1 – The Sensory4 cinematic gallery. You can expect to spend an hour in this immersive area. High-definition projectors show footage of sharks swimming underwater. Families can watch the sharks swim at actual size with cinema-quality surround sound projected on multiple screens.
2 – Full-scale models of real sharks. This may be the closest you'll get (hopefully) to examine a real fish. Kids can see a Tiger, Thresher, Hammerhead, Great White sharks and more.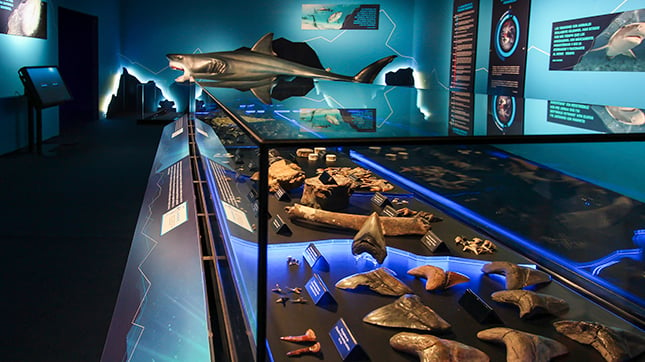 fossil display. Photo: Grande Exhibitions
3 – Real fossils and shark jaws. Some of the fossils are as old as 370 million years. Kids can examine the differences between the varieties of sharks including the Megaladon, the largest shark believed to have ever lived. It disappeared 1.6 million years ago, but in the exhibit, you can get an up close look at the 50-foot creature's jaw and teeth.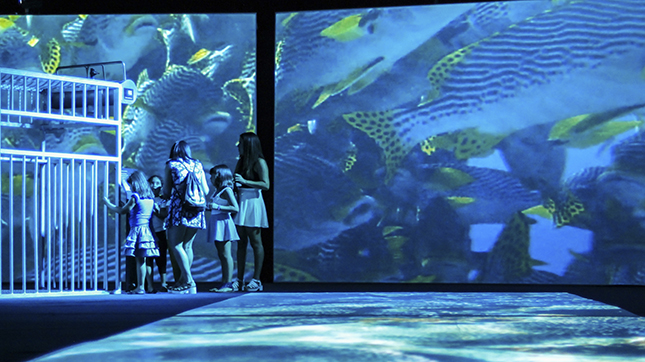 The Shark Cage. Photo: Grande Exhibitions
4 – Shark cages and artifacts. Step inside a full-size shark cage, feel chainmail suits, examine shark pods and other technology used to keep the animals away.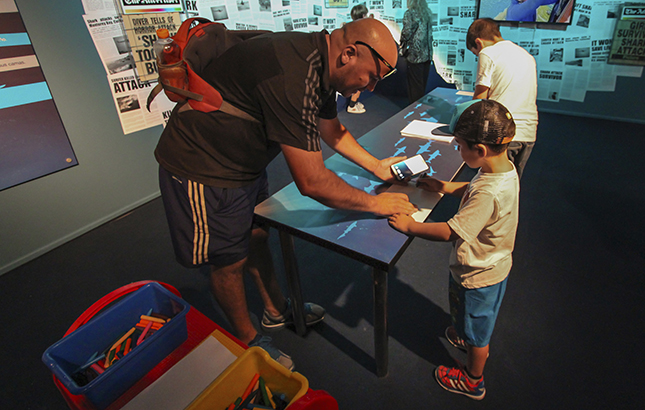 touchscreens and interaction. Photo: Grande Exhibitions
5 – Interactive displays and games. Younger children can get more hands on fun with jigsaw puzzles, a shark flipboard, a shark board game and ring tossing game. Kids of all ages will get some interactive learning through touchscreens with shark trivia.
We'll be sending our families through the exhibit this weekend. Watch for our experience next week.
Planet Shark: Predator or Prey runs from June 11 through September 5 at Bishop Museum, 1525 Bernice Street. The museum is open daily from 9 a.m.-5 p.m. General admission is $22.95, kamaaina and military with ID are $14.95. Kids are $14.95, $10.95 for kamaaina. Kids 3 years and younger are free. Don't forget parking is $5 a car. 847-3511, bishopmuseum.org