Inside Look: Leeward Discovery Fair 2018
Our nine tips for finding the best parking, trying lava lamps and exploring at this free family activity day.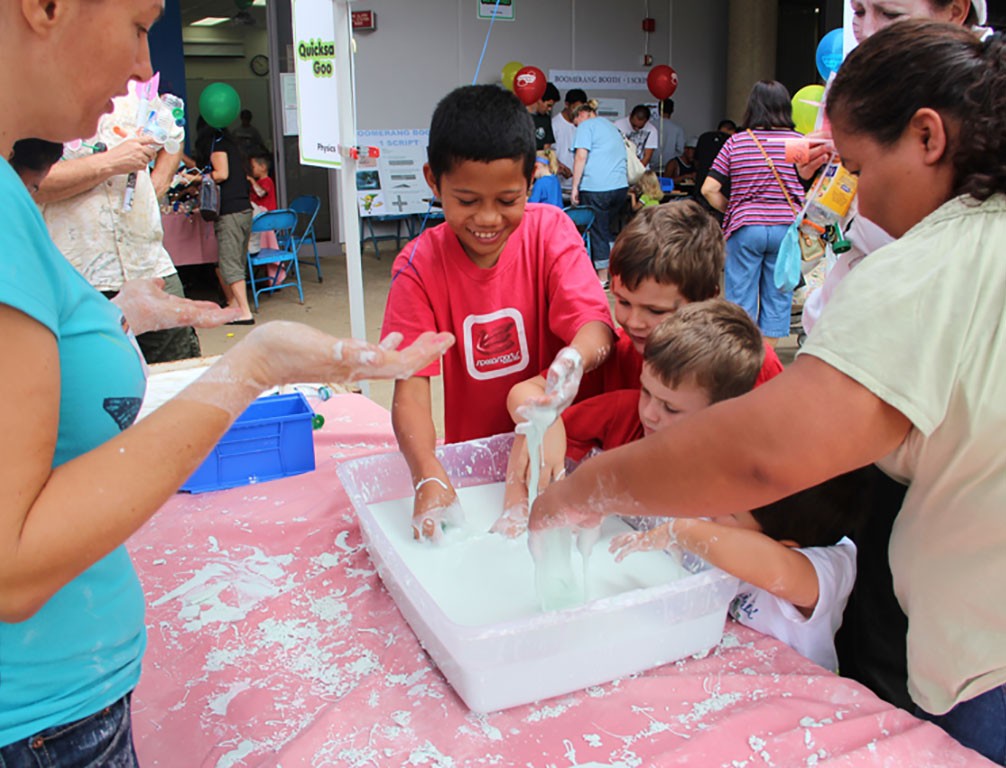 Photo: Leeward Community College
The slime booth is always a popular spot at this free annual event.
We love free activities. We love places where our kids can run around and play. We love a place to sit in the shade. Leeward Community College's annual Leeward Discovery Fair has all of the above, which is why it is probably a destination for about 5,000 parents and kids every year.
This year's education-focused fair is Saturday, Nov. 3 from 9 a.m. to 3 p.m. and offers more than 50 hands-on activities and exhibits, food booths, a book sale, emergency vehicles, canine police officers, a virtual fire fighting exhibit and Keiki IDs. For my girls, it's known as the big fair with the giant bubbles, vats of quicksand goo, newspaper hats and rockets.
In years past, you had to pay to try some of the most popular science experiments. Now all educational activities are free. Some games and, of course, all food vendors will cost money. But, in honor of Leeward Community College's 50th anniversary, some food will be just 50 cents. Here are our tips for navigating this big day of free fun.
Our Tips
1. Get there before the fair for the best parking. Leeward Community College has a big parking lot, but it does get full. The spots on the outer edges are also a bit of a walk for smaller kids. Organizers suggest showing up a little before the fair begins at 9 a.m. to get up close. The busiest time is around noon.
2. Arrive early. Seasoned parents know this is a no-brainer for most free family days. But this year, for the 50th anniversary of LCC, the first 500 families will arrive will receive a bonus gift. Prize packages range from school supplies to up to $50 gift certificates to places including Anna Millers, CPK, McDonalds, Subway, Cheesecake Factory and more. You do need to check in at the information table to be eligible.
3. Visit the top level activities first. When we visited, the upper level was particularly crowded because there are fewer activities so families aren't as spread out as much as they did downstairs. So start there before the crowds come. Begin by picking up a free used book outside the Learning Commons. Earlier families will get a better selection. Then hit the polymer worms, slime, science magic, test tool skills in the Lightning Bolt Challenge, and try out the new activities including Lava Lamp and Skittles Art booths and making music with everyday objects in Banana Bongos. Once you are done, then go down the stairs to walk through the interactive fire station, make Gyotaku prints, examine beetles and plants, try the pottery wheel and play with the always popular Quicksand Goo. The complete map is not yet posted on the website, but you can see last year's layout at leeward.hawaii.edu/fair-map.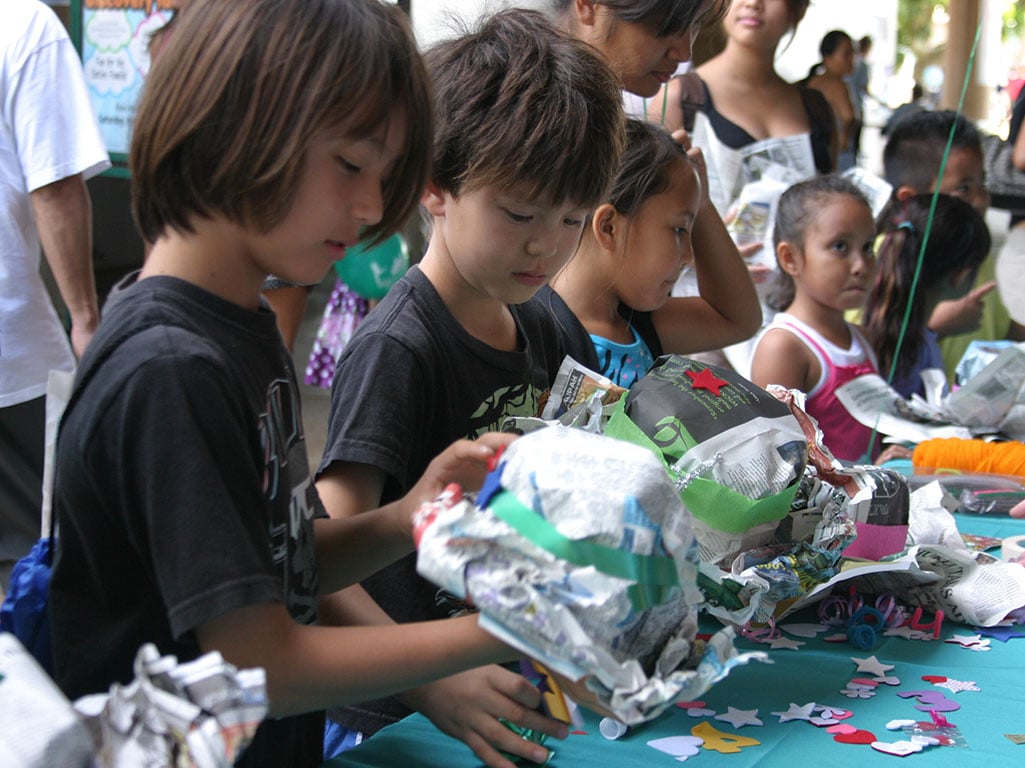 Photo: Courtesy of Leeward Community College
The Mad Hatter station.
4. Be ready to wait for a paper hat or to fire a rocket. The Mad Hatter activity lets kids build custom hats out of newspaper and recyclable materials. My daughter received a fairy headband, with cascading ribbons, that she wore for days. It is one of the most popular activities and does take a while to complete, so be ready to wait. Also popular are the rocket blasting and the giant kid-encasing bubbles at the Bubblicious Geometry. Bubblicious Geometry and the Mad Hatter are both in the Eucalyptus Courtyard on the ground or bottom level. Rockets are a few steps down. Note: Keiki IDs usually also take some time, so be ready to wait there too.
5. Bring a recyclable bag for each child. It's easy to be juggling art projects, hats, handouts, crafts and more after just a few stops. Have each child tote their own bag of goodies so you don't have to sort them out later.
6. Bring water, lots of it. It can get hot at the fair and most of the activities are outside. Bring a water bottle (with ice!) for each child. There are water stations throughout campus for refills.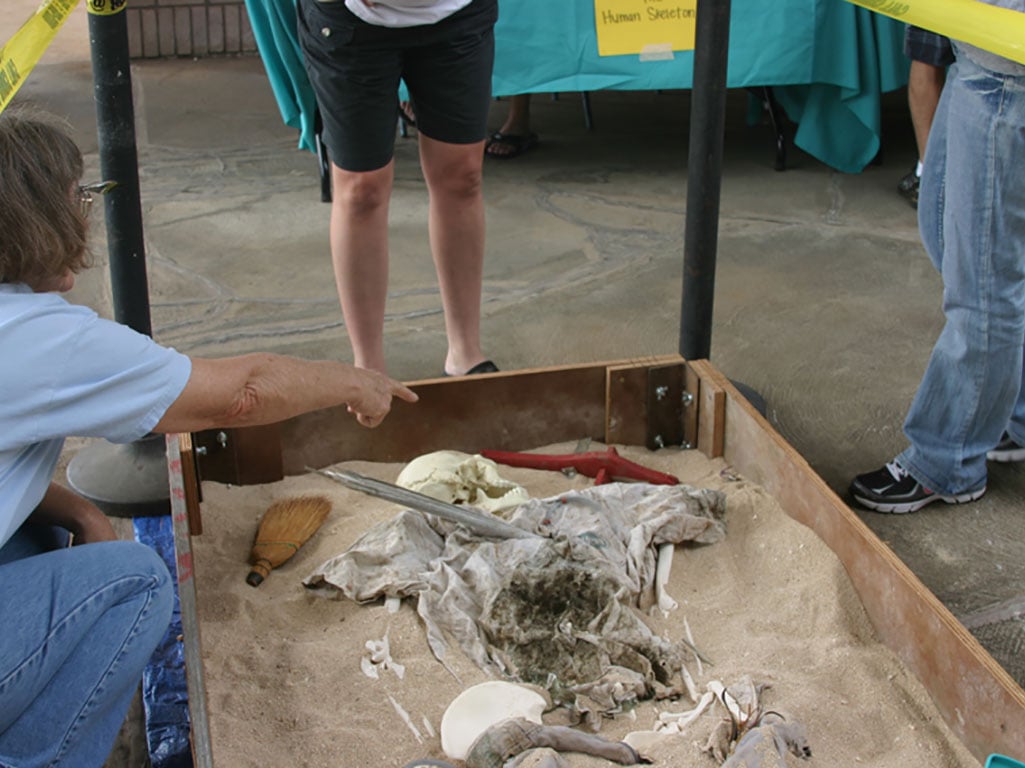 Photo: Courtesy of Leeward Community College
The fossil dig area.
9. Pack a picnic or bring cash for food vendors. There are benches and shady spots throughout campus. A dining tent on the lower level will have areas for you to eat. In the past, the lines at food booths were fairly short.
10. Find the bathrooms before there is an emergency. There are several restrooms throughout the college campus, but it can be confusing to navigate the buildings if you are not familiar with the layout. In general, the restrooms are located on the edges of the activity, in the AM and LA buildings, the Learning Commons and Campus Center. Overall, if you are having trouble identifying buildings, look at the pillars nearby. Many have the building names listed there.
Leeward Discovery Fair, Saturday, Nov. 3 from 9 a.m. to 3 p.m. Leeward Community College, 96-045 Ala Ike St., Pearl City. leeward.hawaii.edu/Fair.