Inside Look: 2019 HONOLULU Family Fun Run
Our 9 insider tips for taking on our third keiki dash and family run.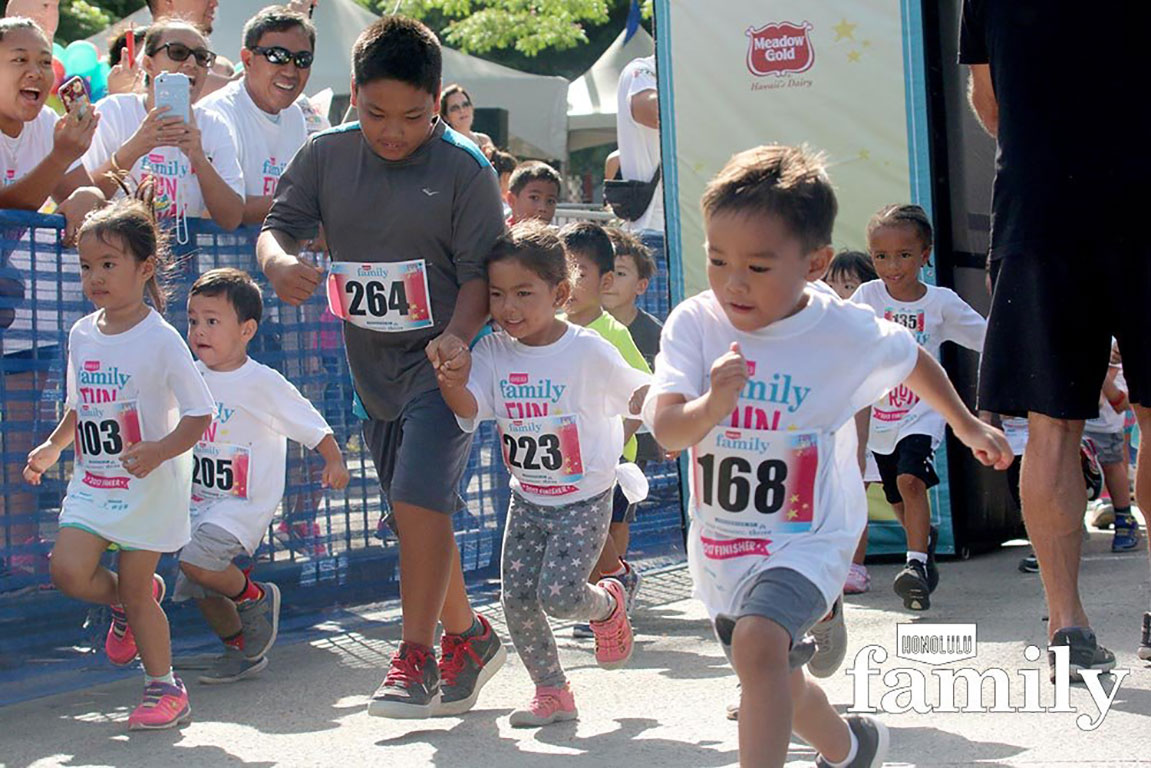 Photo: Gregory Yamamoto
As parents, we spend most of our week running around. Grab breakfast, dash to school, to work, race against the clock there, try to beat traffic back to school for pick up, then run to sports, music and dance lessons. Finally, we rush home to speed through homework and dinner preps before bedtime. Phew.
Here's a fun way to dash around with the kids. Saturday, March 2 will be HONOLULU Family's third Fun Run and Keiki Dash, presented by Mobi, around Ala Moana Beach Park. The 500-meter dash for kids 10 years and younger and 5K run for everyone is being organized by the parent team of HONOLULU Family, so you can expect a full Keiki Fun Zone as well as a few touches to make the event fun for the entire family. If you're a competitive runner, the fastest time could even earn an iPhone or iPad Pro.
Online registration closes today! But you can also register onsite Saturday starting at 5 a.m.
Here are our 9 tips for a day of fun:
1. Know where to go. This year Ala Moana Beach Park is being renovated. So we've moved the running route just across the road from Magic Island. The good news is there is plenty of parking in that lot, then just cross the street to find the registration table, keiki fun zone and all the activities.
2. Start early. Last year, the 5K happened after 8 a.m. and it was hot! This year, fortunately, chillier weather and a 7 a.m. start time for the 5K should ensure your family stays cooler on the 3.1-mile route. The Keiki Dash will follow, so kids will have a shorter distance to run (500 meters) as the day heats up. And, of course, they'll be rewarded with a medal! This earlier start time, however, also means the road will close earlier. So make sure to get in before barriers go up at about 6:40 a.m.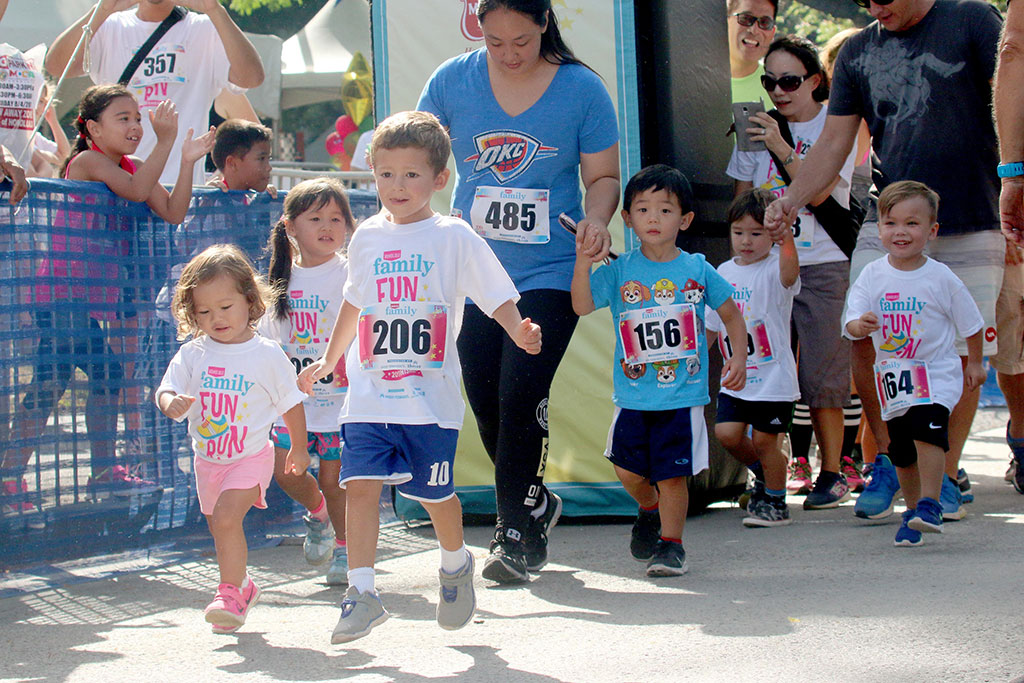 Photo: Gregory Yamamoto
3. Bring wheels for younger kids. Just one registration fee gets kids a spot in both the Keiki Dash and the 5K run. So if, day of, you decide not to tackle the longer course, you didn't waste any money. However, little ones can ride in a stroller or wagon with the family if they want to save their legs for the all-adorable dash.
4. Be ready to stop, but don't worry about packing a bag. My kids always need incentive to go the distance. So we've designed our course with a few fun stops which will include toys, snacks and lots of bubbles. This year, our presenting sponsor Mobi is also providing drawstring knapsacks for everyone, so kids can carry their own treats. (And parents won't won't have to run while juggling bottles of water and fruit!)
5. Tired? Don't be afraid to take an escape route. Let's face it, 3.1 miles can be long for little legs. Especially when the keiki dash is coming up. So this year, we've made our route a more family-friendly two laps around the same path. This means that if you don't care about your time, you and your kids can quit after crossing the finish line once (about 1.5 miles) and have time to rest, take advantage of the activities and be ready for the next run.
6. Planning to skip the 5K? No problem. The Keiki Fun Zone will open at 7 a.m. when the first runners take off. So families who opt out of the bigger race can spend that first hour playing. The fun includes:
A photobooth sponsored by Mobi
Hawai'i Dance Bomb's silent disco
i9 sports activities
Balloon Monsoon
Bananas from Le Jardin Academy
Face Painting
Pictures with Ariel and Captain America
Girls on the Run
Fit 4 Mom
A HONOLULU Family prize wheel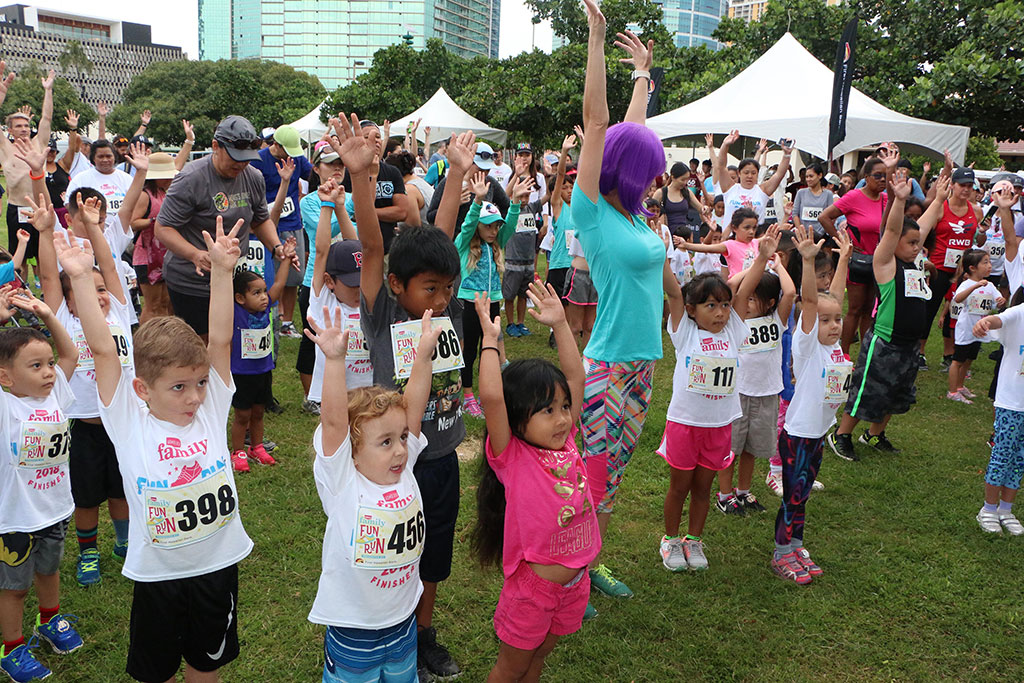 Photo: Gregory Yamamoto
7. Bring a camera. Ariel and Captain America will warm up the kids for the dash around 7:55 a.m. Then you'll want pictures of your keiki crossing the finish line (trust us). Hashtag it with #HFFunRun19 and we may share your cute runner on honolulufamily.com or in the pages of HONOLULU Family magazine!
8. Be ready to run along. We encourage parents to let keiki tackle the dash by themselves—you would be surprised by how excited even 3-year-olds can get when they run with other kids. But, if your child is a little more shy in a crowd, feel free to take their hand during the Keiki Dash and run along so they can earn that medal.
9. Pack a swimsuit. We can't think of a better way to end a morning workout than to cool off with a jump in the water. After all, you already found parking!
The HONOLULU Family Fun Run is Saturday, March 2, 7-9 a.m. at Ala Moana Beach Park. The 5K begins at 7 a.m. with the Keiki Dash to follow around 8 a.m. hnltix.com.