Inside Look: 2019 Midsummer Night's Gleam at Foster Botanical Garden
Our nine tips for parking, playing and exploring at this free, illuminated family event.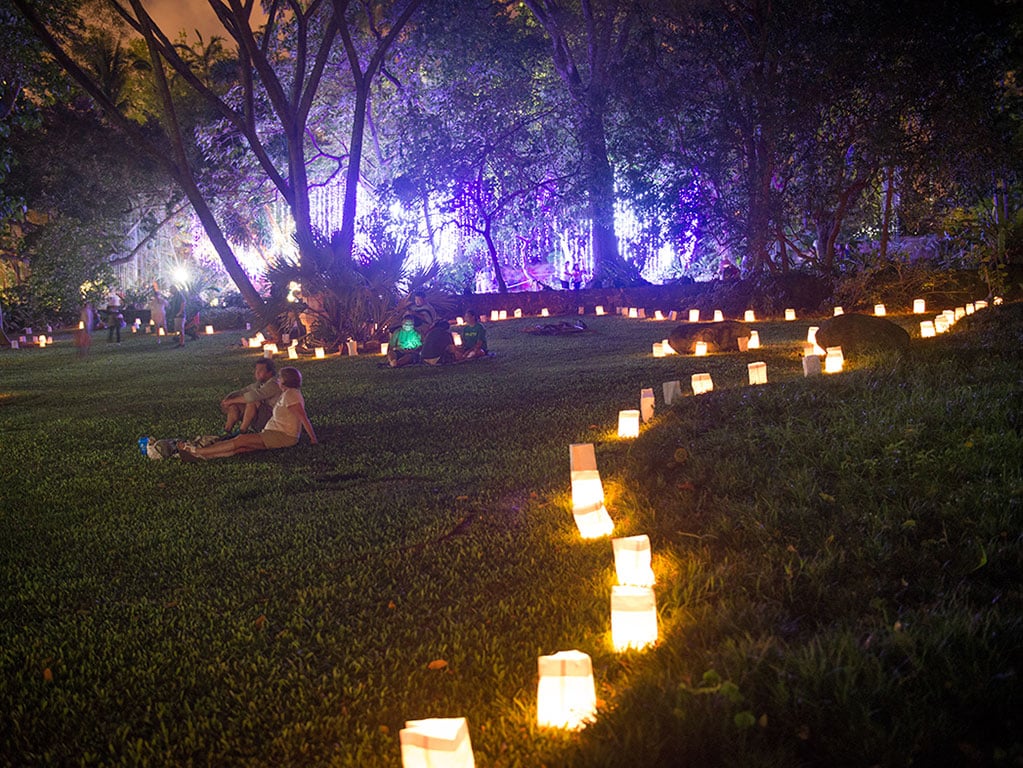 Photo: Courtesy of Honolulu Department of Parks & Recreation
After sunset at a Midsummer Night's Gleam at Foster Botanical Garden.
Foster Botanical Garden is about to light up the night. The Best of HONOLULU Family-winning Midsummer Night's Gleam is a favorite free event for several parents on our team who love the arts and crafts, activities and thousands of luminaries through the garden grounds.
The event began in 1970 and has run almost annually since. This year's will be held Saturday, July 20, from 4 to 9 p.m. The theme for 2019 is "Stars Above the Sahara Sky." We asked organizers for the inside scoop on finding parking, where to play and what to pack for your night out.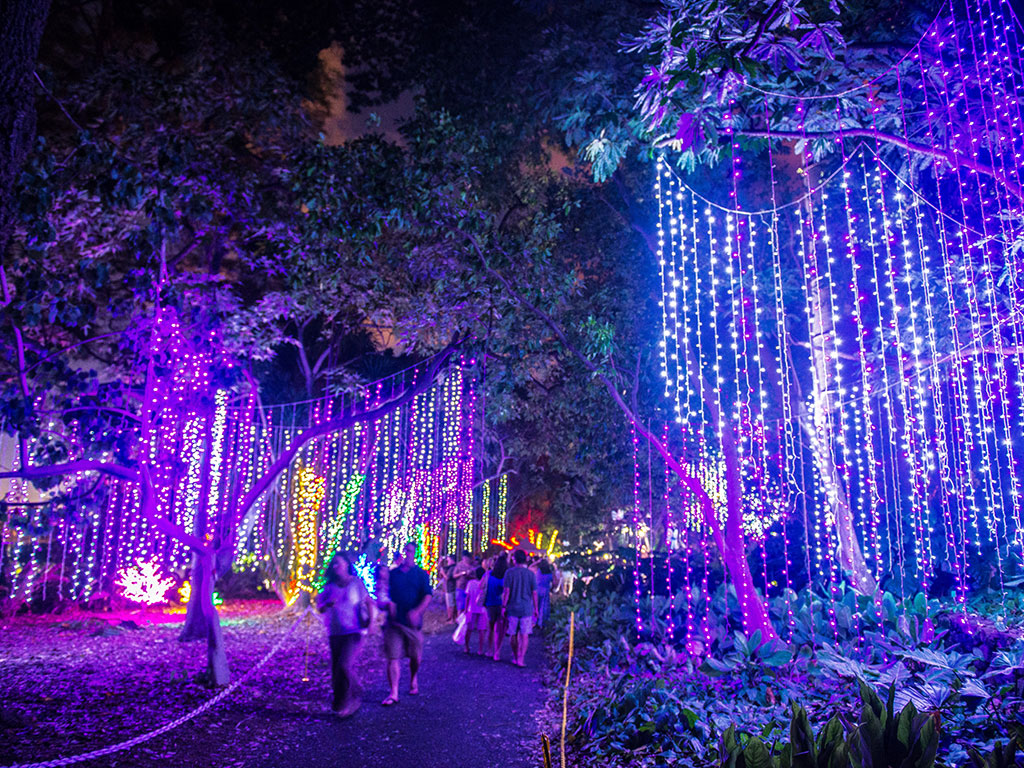 Photo: Courtesy of Honolulu Dept. of Parks & Recreation
Our 9 Tips
1. Get there early and prepare to wait for kids' activities. There is usually already a line of keiki waiting to get in when the gates open at 4 p.m. That's because the activities only run until 6:30 p.m. Pick up a map of all the things to do at the main entrance. You might want to make a beeline to the balloon animals because there is always a crowd. Other popular activities include archery and martial arts with the Golden Horde, the bubble area right across from the balloons and the botanical painting. This year, 'Aina Haina Boy Scouts Pack 115 will help kids make paracords, keiki can make plastic bottle planters with 808 Green Thumbs, LEGOs and other arts and crafts.
2. Be ready to walk from your car or take the bus. Foster Botanical Garden is an urban garden, so parking can be difficult. In fact, that was the biggest challenge and complaint from parents on our Facebook page. Free parking is available at the garden's small lot, Kauluwela School and Borthwick Mortuary. Those are often full in just a few hours. Thankfully, the Department of Parks and Recreation provided a map of other parking places (and rates!) in a very nearly hand drawn map. Donʻt forget that there are also metered spaces of nearby downtown municipal parking lots.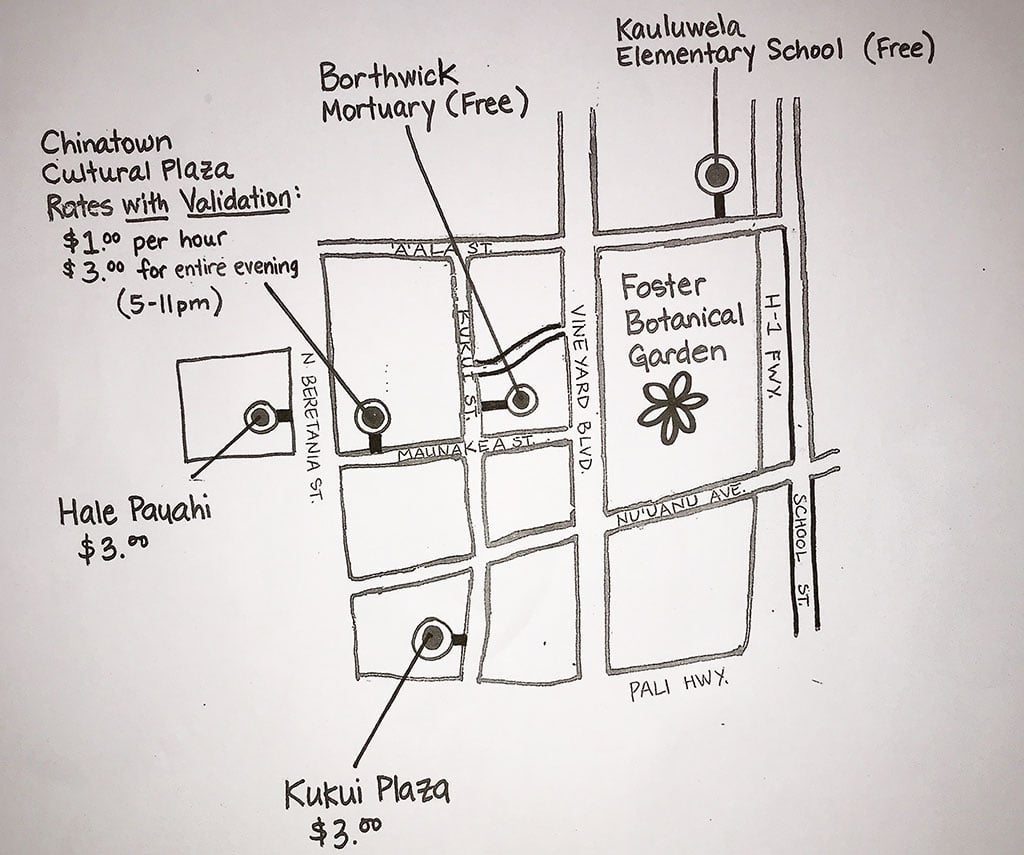 Dept. of Parks & Recreation
3. Reserve your spot on the upper terrace early. One of the parents who go regularly suggests laying a blanket in front of the mainstage before heading out to the activities. Bring bentos or a picnic dinner or you can buy food from Simply 'Ono, Olay Thai, Jamba Juice or Indian bread from the O'ahu Intertribal Council. No large coolers, pets or high-back chairs are allowed.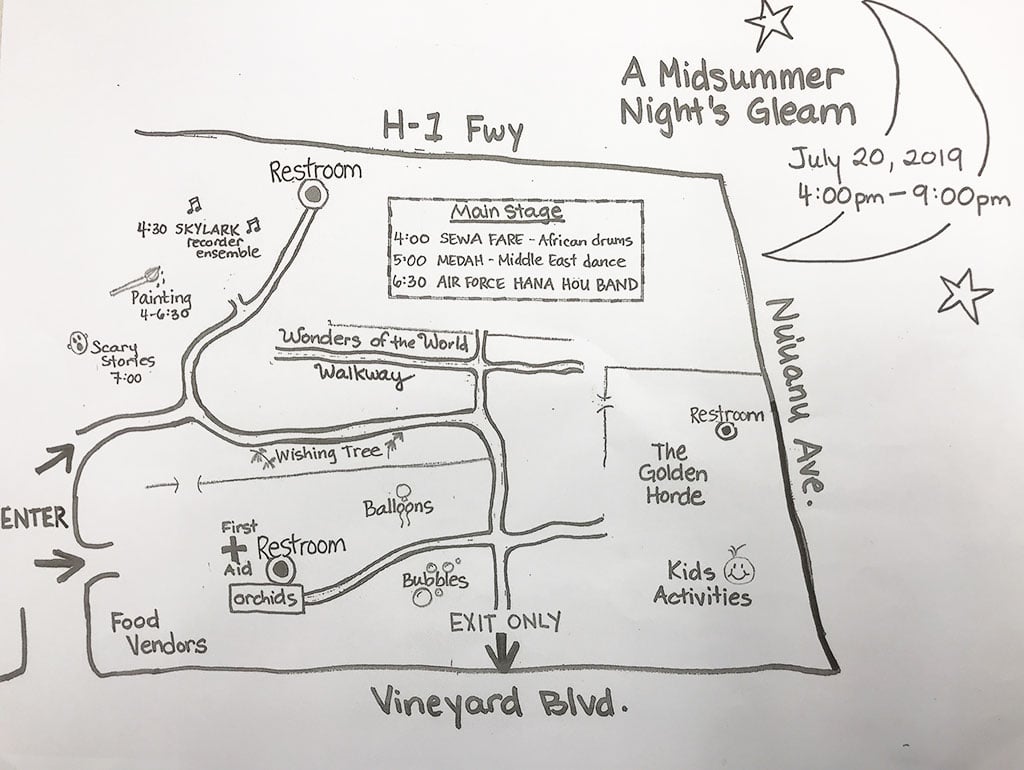 Courtesy of City and County of Honolulu Dept. of Parks & Recreation
4. Stick around after sunset. Activities end at 6:30 p.m., but another crowd comes in around 7 p.m. when the sun goes down and the garden lights up. Bring glow sticks and let the kids wander through the luminary-lit paths.
5. Be ready for low lighting photos. You know it happens. The luminaries look great but you can't see your kids at all. Taking pictures of these glowing evening events can be tricky. We asked our HONOLULU Family photographers for tips for this winter's light garden at Ward Village, which should also work this weekend.
6. Bring a flashlight and keep tabs on your kids. Some areas of the garden are not well lit. So bring your own light and make sure young keiki don't wander away in the crowds.
7. Leave enough time to explore. The arts and crafts are great. But there is a lot for keiki to explore in the 14-acre park. And there is no line for that. See Our Guide to Foster Botanical Garden.
8. Pack repellent. It is a garden after all and many mosquito species are most active at dusk.
9. Leave a donation at the door. The event is run by volunteers and all donations go to the nonprofit Friends of the Botanical Gardens.
Bathroom note: Facilities are available at the Rock Room in the back of the garden and Conservatory located right behind the gift shop. See a map of the garden here.
Midsummer Night's Gleam, Saturday, July 20, 4 to 9 p.m. Foster Botanical Garden, 180 N. Vineyard Blvd. (808) 522-7060, honolulu.gov/parks/hgb.html.