Inside Look: 2019 Ellison Onizuka Day of Exploration
Our 7 tips for getting into full workshops, paying for parking and trying hands-on activities at this free event by Aloha Council Boy Scouts of America.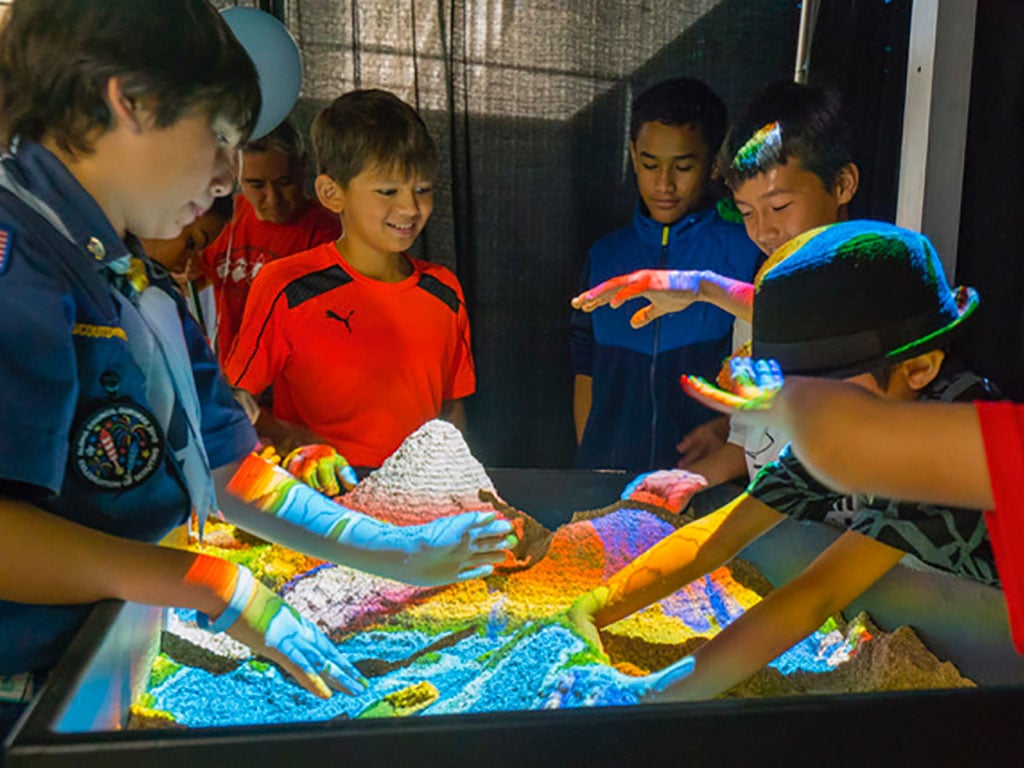 Photo: Courtesy of Aloha Council Boy Scouts of America
This Saturday, April 27, is the 2019 Ellison Onizuka Day of Exploration, hosted by the Aloha Council Boy Scouts of America. It's a day of free hands-on activities and workshops to teach keiki about science, technology, engineering and math in honor of Hawai'i astronaut and Eagle Scout Ellison Onizuka.
This popular STEM fest will be from 9 a.m. to 3 p.m. in the Blaisdell Exhibition Hall. The activities (and there are more than 100 of them!) are geared to children ages 5 to 14, but kids of any age will enjoy themselves, too.
Our 7 Tips
Know when and where you may have to wait. More than 10,000 people attended the event in 2018, and more than 15,000 are expected this year. The most popular activities last year are the augmented reality sandbox, obstacle course and LEGO car races in which kids can build, then race their own vehicles. The climbing wall usually has a line at events, because only a few kids can go at a time. Don't forget that getting into the parking lot at the Blaisdell will take time and costs $6.
Buy a Fast Pass to skip the line. Purchase a single Fast Pass for $3 to skip to the front of the line for the safe archery, elevated ropes course or the climbing wall. You can also buy a four-pack of Fast Pass tickets for $10, so you don't have to wait for any of these activities. You can buy the Fast Passes at the Greeting/Help Desk, right at the entrance to the Blaisdell Exhibition Hall.
Put your name on the workshop waitlist. More than 40 workshops, each 45 minutes long, will let kids and parents code cars, play with chemistry, experiment with kinetic energy, make bristlebot racers, learn to prepare for emergencies, create water filters and more. All sessions filled up during preregistration, but organizers say they will use the waitlist to fill seats if people don't show up. Click here to see the list of options, then stop by the registration desk to get on the waitlist. Volunteers will call about 30 minutes before the workshop if a space becomes available.
Stop by SPAWARS Virtual Reality. Keiki will have fun making balloon hovercrafts, catapults, 3-D glasses and slime–and assembling and launching rockets–at the 75 booths run by Boy Scout troops. And we've been told the Space and Naval Warfare Systems Command (SPAWAR) area should not be missed. Last year, kids could virtually move things with their arms, create waves powered by sound and play with suspension bridges. Organizers say it was just cool.
Eat lunch early if you want to battle Kylo Ren. Lightsaber classes begin at 12:30 p.m. in the Pīkake Room and run until 2:30 p.m. Young Jedi knights-in-training (10 years and younger, please) may have to wait for their opportunity to put on a robe, grab a saber and fight the Star Wars villain. Meantime, astronaut Akihiki Hoshide will speak at 9:30 a.m. in that room. A Hurricane Hunter presentation by the NOAA (National Oceanic and Atmospheric Association) will begin at 10:45 a.m., also in the Pīkake Room.
Bring backpacks. Just a reminder, free hands-on activities alway result in armloads of things to carry. Why not have the kids carry their own things? Extra items can go in your recyclable tote.
If you are interested in Scouting, find your neighborhood troop. The information desk can point out the unit nearest to your home so you can meet the leaders, kids and even sign up on the spot.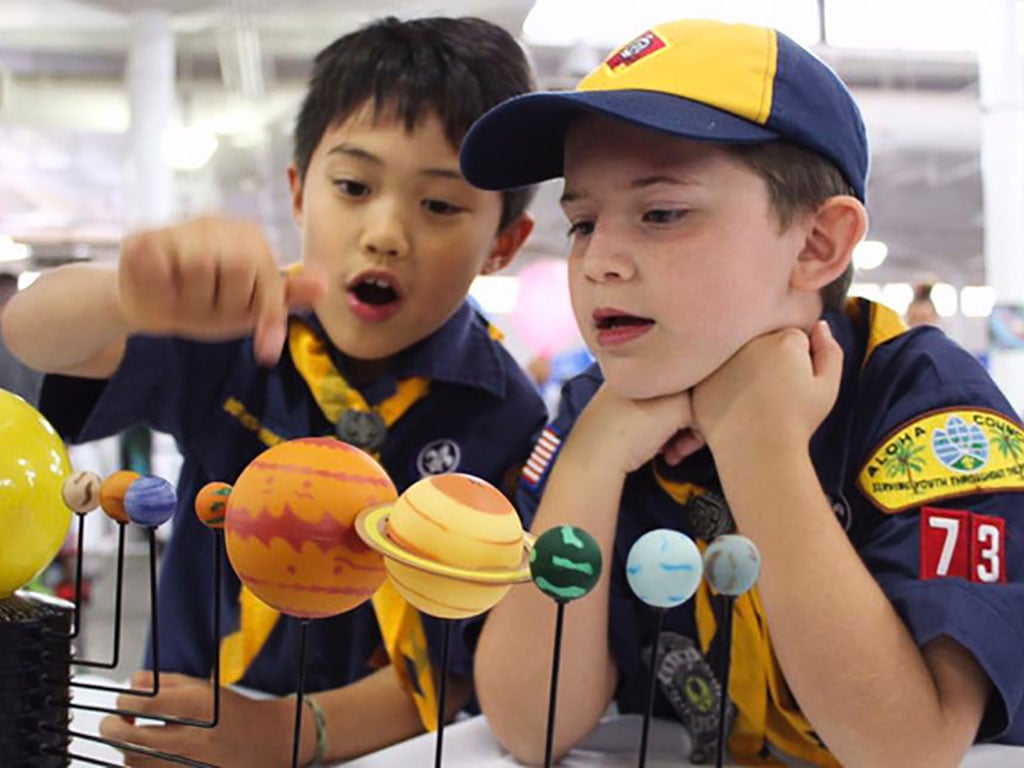 Photo: Reece Kilby, courtesy of Aloha Council Boy Scouts of America
Ellison Onizuka Day of Discovery is Saturday, April 27, 9 a.m. to 3 p.m. at Neal Blaisdell Exhibition Hall, 777 Ward Ave. scoutinghawaii.org/onizuka-day-exploration.