Inside Look: Best of Honolulu Festival 2018 presented by American Savings Bank
What you'll eat, enter to win and what activities you'll find for keiki at our annual family festival.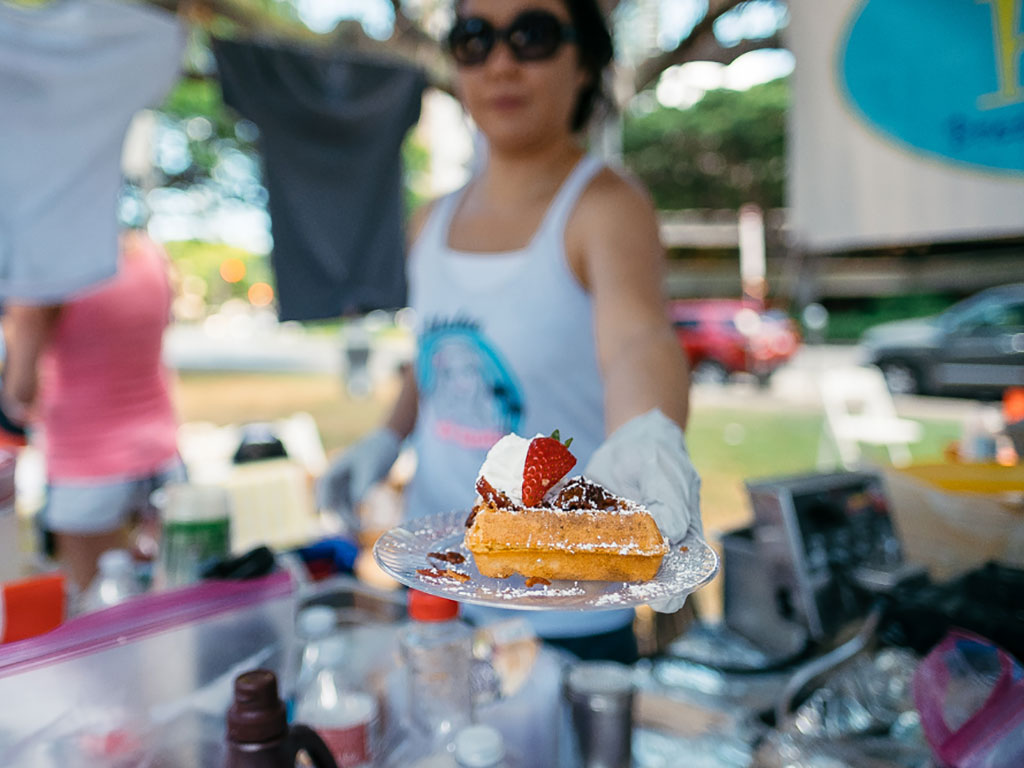 Photo: Tien Enga
My family has more fun at the Best of Honolulu Festival than I do. While I'm meeting hundreds of adorable kids at the HONOLULU Family booth (yes, we have free entry into our Cover Kids Search again this year) my husband and two girls love eating, shopping and running around the safe, grassy Honolulu Hale grounds.
So, we're all looking forward to this year's event set for Saturday, July 14 from 10 a.m. to 4 p.m. Hosted by HONOLULU and HONOLULU Family magazines, presented by American Savings Bank, we keep the free fest family friendly with free covered parking, big flat fields away from traffic and free keiki activities. Plus, it's an opportunity for busy parents to try more than a dozen different restaurants without reservations, searching for a kids' menu or hiring a babysitter. But, as with most festivals, it works best when you have a plan. Here are our tips for the big day.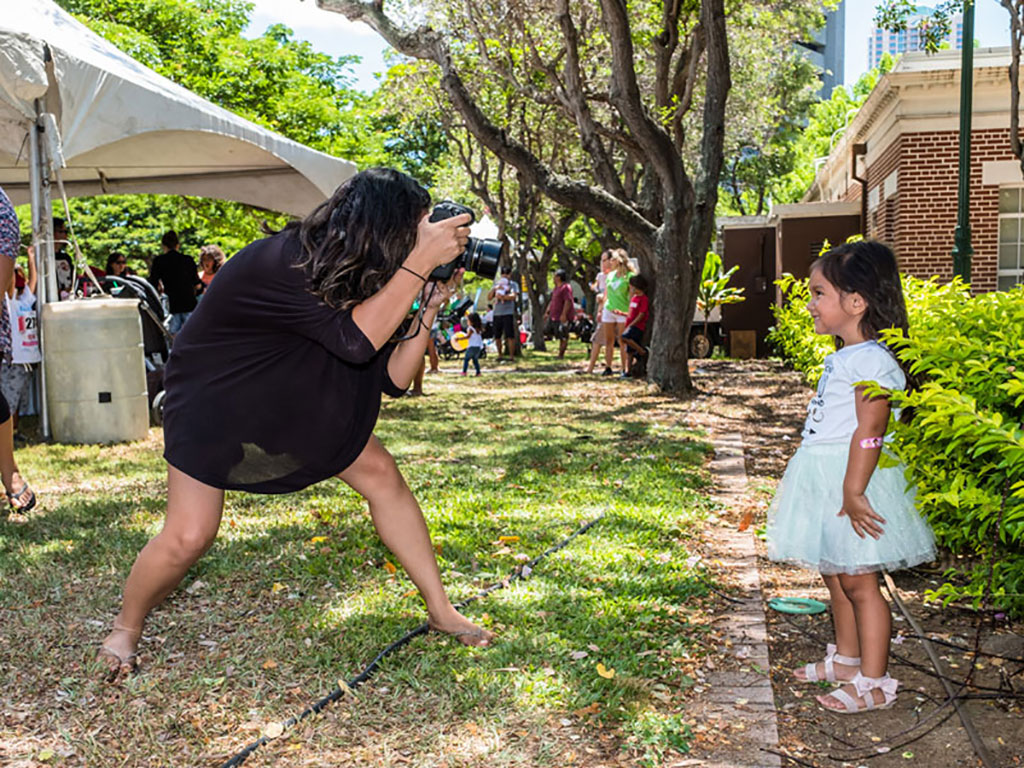 Photo: Tien Enga
Our 10 Tips
Start with a photo. If you are interested in entering our 2019 Cover Kids Search, which is how we find the keiki to feature on the covers of our magazines next year, go there first.
This year, the search stops at 2 p.m., two hours before the end of the festival and the earlier you come, the less you'll have to wait.
During the busiest time, at 11 a.m. or so, you may have to wait at long as 30 minutes.
We do let families leave and come back, but chances are the kids will return with a painting on their face, sweaty from running, or hungry.
You can always enter online, but that costs $10. Read our tips for taking the best entry photo.
Be ready to wait for activities. The Keiki Zone, presented by Kaiser Permanente, will host free fun for kids. You can always expect lines for balloon animals and face painting, so you may want to go with a friend so one adult can stand in line while the other takes impatient little ones wandering or to wait in the shade.
Know where to go. Food booths will be focused along South King Street. The HONOLULU Family booth, some of the Best of HONOLULU Family winning businesses, Keiki Zone and Extreme Fun rides–two bouncers, Lil Swings, Raiders Slide and one other attraction will cost money–will be between the auditorium and Honolulu Hale. Entertainment will be near the covered parking garage while shopping will line the pathway from the garage to the Keiki Zone.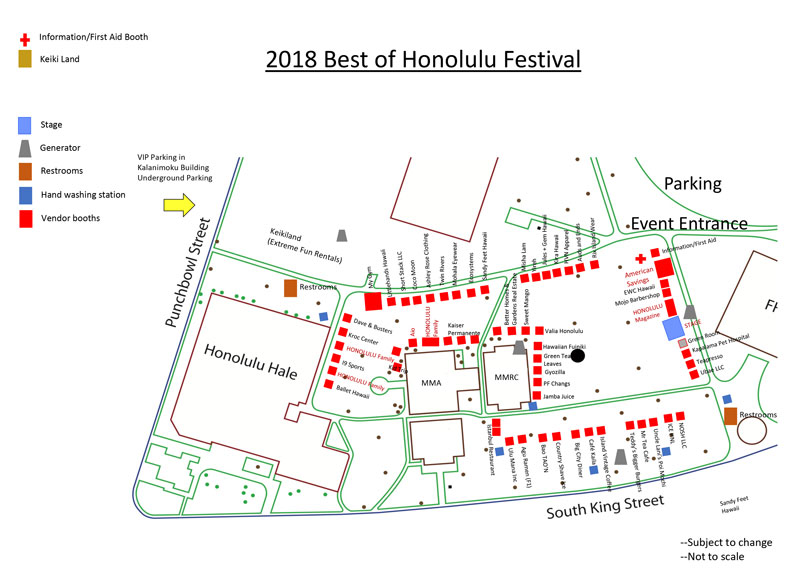 Bring a camera. A few special guests will appear for photo ops. Drac and Mavis from Hotel Transylvania will stop by between 11 a.m. and 1 p.m., courtesy of 97KUMU. Moana and Pikachu will hang out in the Keiki Zone from 10 a.m. to 2 p.m.
Plan your menu. More than 15 food vendors will offer everything from smoking drinks (Ice HNL) to bacon-wrapped mochi (Gyozilla). So, figure out what you want first before you're full: Café Kaila waffles with maple blueberry topping, Big City Diner's baby back ribs with guava-barbecue sauce, mango acai bowls from Island Vintage Coffee or 'ulu hummus from 'Ulu Mana. See the complete list of food booths, including which will accept credit cards, on honolulumagazine.com.
Enter to win $100. American Savings Bank is giving away $100 Amazon gift cards every hour. Stop by and enter to win, try the football toss and meet the team.
Bring a recyclable tote for each kid. Instead of toting around multiple water bottles, free giveaways, their food and everything else yourself let them carry their items. That way you have space in your bag for jewelry, swaddle cloths, mommy-and-me outfits and other items being offered for special discounts in our shopping area. See the list of deals and which vendors will accept credit cards on honolulumagazine.com.
Bring a blanket and save a spot. The shady space around the Alaska Airlines Visa Signature® Card and Mileage Plan stage can get crowded. That's a great place to eat and watch the live entertainment. Young 'ukulele stars Nā'ehu, Karlie Goya and Honoka & Azita will hit the stage as well as the Tonga Sisters, known for their appearance on Ellen. See the schedule and when you can watch the magic show on honolulumagazine.com.
Forgot the hand wipes? Don't worry. Handwashing stations will be set up by the restrooms and next to the auditorium. Bring napkins or paper towels for drying. In our experience, those can run out at public events.
Print out a photo. Post a picture of your family fun with hashtag #bestofhonolulu2018 and HONOLULU Magazine will print it out. Pick up the snapshot from the HONOLULU Magazine booth as a keepsake of the day.
Bathroom note: Honolulu Haleʻs restrooms will not be open. There will be portable toilets set up near the Extreme Fun rides and on the opposite side along South King Street.
The third annual Best of Honolulu Festival, presented by American Savings Bank, is Saturday, July 14, 10 a.m. to 4 p.m. Honolulu Hale. honolulumagazine.com/bestofhonolulu