Inside Look: Hawai'i State Farm Fair
Our tips for seeing livestock, riding a tractor, entering a giant-burger-eating contest, jumping on rides, inflatables and more.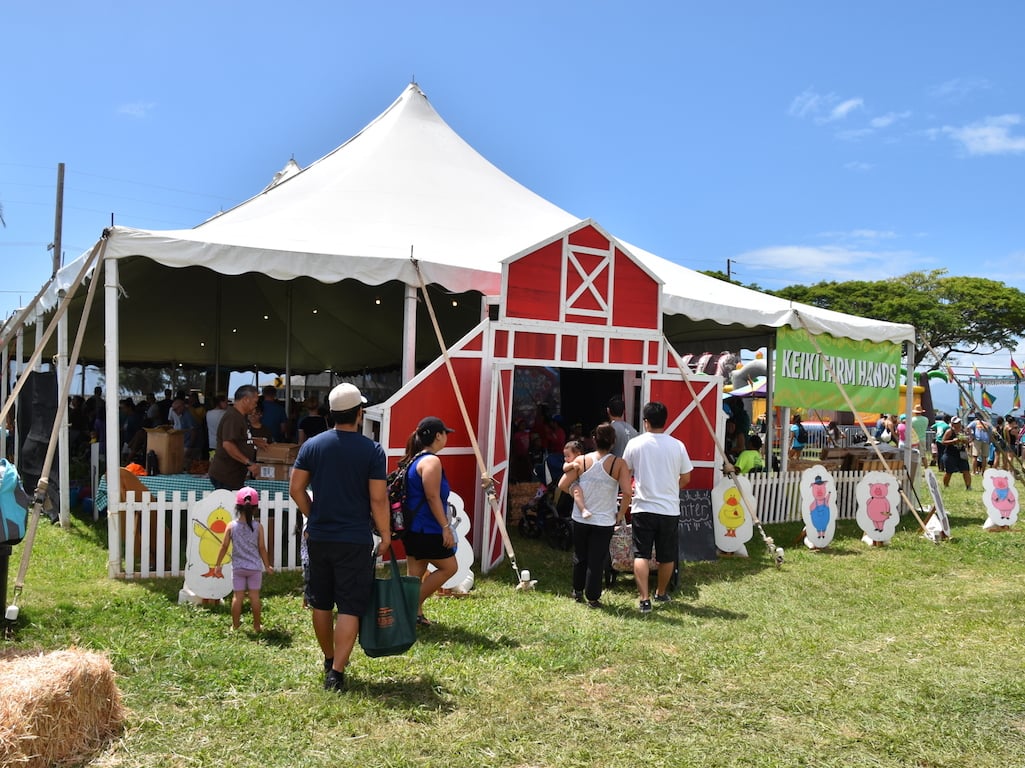 Photo: Hawai'i Farm Bureau
Enter the "Keiki Farm Hands" tent and you'll find dozens of chicks in an incubator and get to milk a life-size cow replica.
Editor's Note: This blog was updated on July 8, 2019.
Would you like to spend a day in the country showing your keiki farm animals, eating fresh produce and learning about agriculture? Throw in rides, inflatables, eating contests and plant sales and there's a lot to keep your 'ohana busy.
The Hawai'i State Farm Fair is now in its 57th year. But, since our family only moved back to O'ahu a couple of years ago, we haven't had a chance to attend the Kualoa Ranch event yet. My memories of the fair date back to petting Lani Moo and being wowed by the size of the 4-H pigs back when it was held at McKinley High School decades ago.
So, I got in touch with the organizers of the fair, which is put on by the Hawai'i Farm Bureau, Hawai'i State Department of Agriculture and Hawai'i State 4-H Livestock Council, to find out what to learn, pet, play, eat and buy at the Farm Fair this year. Hopefully their information can help you plan out your visit too.
Our 8 Tips
1. Hit the hands-on keiki activities. The fair aims to teach the public about farming and ranching in Hawai'i and this year's theme is "Growing For Your Future." Little kids can participate in the interactive Keiki Farm Hands tent where they can hop on to a kid-size tractor, see a chick incubator, milk a life-size replica of a cow, learn about different kinds of seeds and harvest vegetables from the play garden. Older children and adults can learn from 24 exhibitors, including the Hawai'i Cattlemen's Council, Hanalei Taro and Kamiya Papaya, in the "Buy Local, It Matters" Education Pavilion.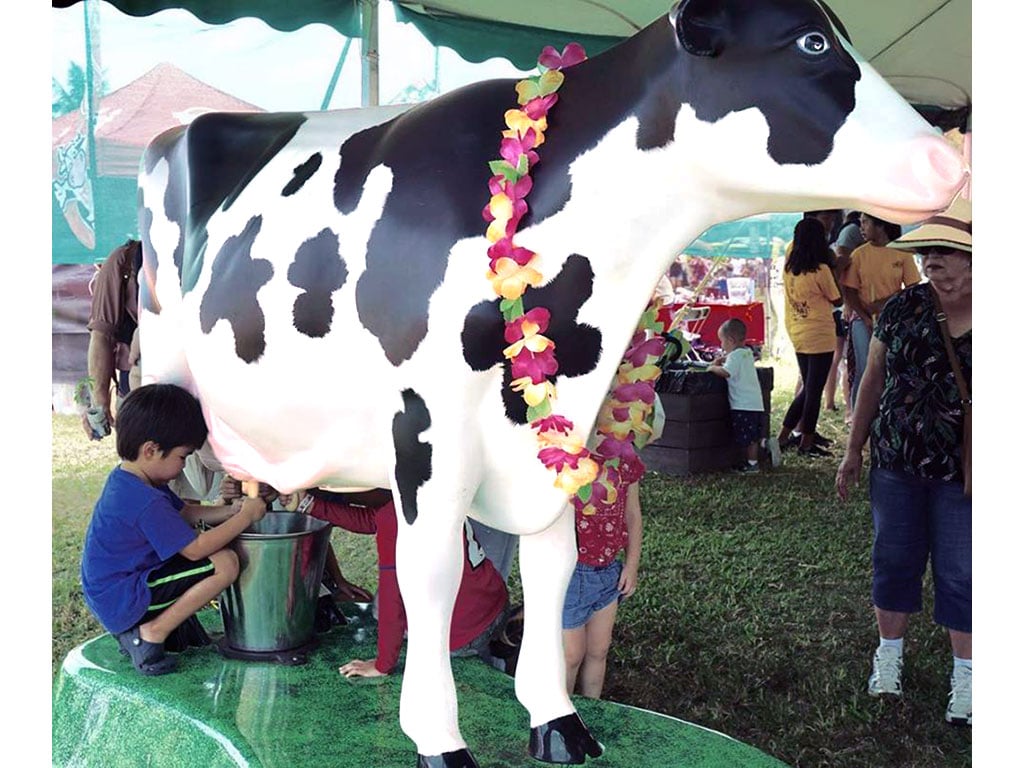 2. Avoid the crowds. The busiest time is usually between 10:30 a.m. and 2 p.m. when people arrive before lunch. Consider coming later and staying for dinner instead.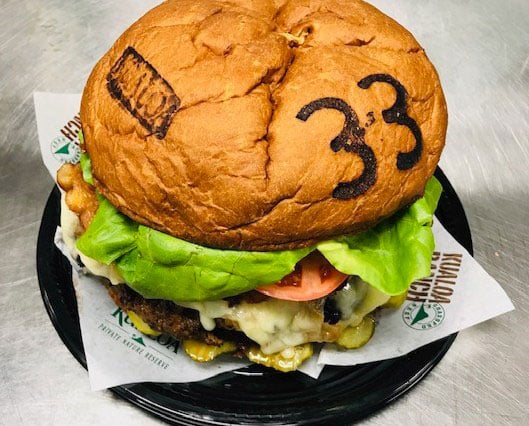 The 6-pound Jurassic Burger.
3. Bring a change of clothes for the eating contests. The kids-only Pie Find Contest, where keiki search for chunks of pineapples in a pie of whipped cream (scheduled for Saturday at 4:30 p.m. and Sunday at 2 p.m.), and the adult and child Watermelon-Eating Contest (Saturday at 2:30 p.m. and Sunday at 3 p.m.) are especially messy. This year, adults can also try to eat a 6-pound Jurassic Burger (right) in 10 minutes, that starts at noon on Saturday, 11:30 a.m. on Sunday. Other contests include corn-husking (Saturday at 10 a.m. and Sunday at 10:30 a.m.) and the adult-only chili-pepper challenge (Saturday at 3:15 p.m. and Sunday at 2:30 p.m.). Contests are entered on a first-come first-serve basis but participants are asked to enter only one to give others an opportunity. Another on-stage hit with the keiki is Steve-O the Clown, who is scheduled to perform on Saturday at 11 a.m. Local musician Shawn Garnett will take the stage Sunday at noon. See the Hawai'i State Farm Fair's website for the latest information.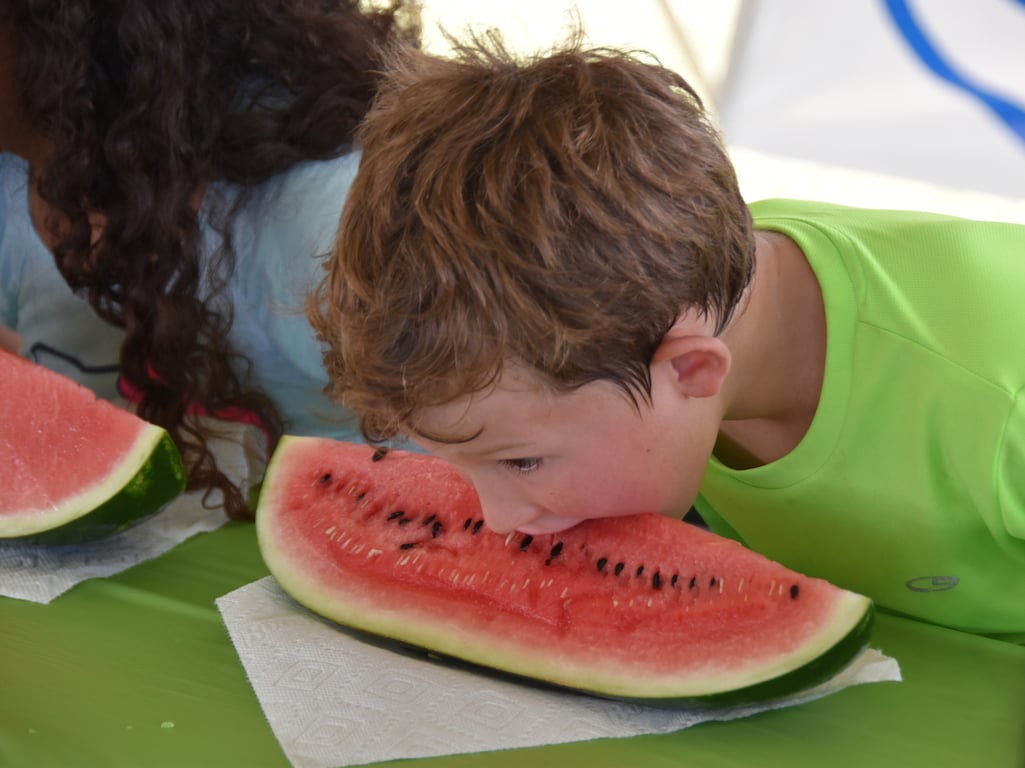 Photo: Hawai'i Farm Bureau
A boy competes in a watermelon eating contest.
4. Check out the animals in the 4-H Livestock Tent. Where else can you see steer, pigs, sheep, goats, rabbits, chickens and a guinea pig? You and your keiki can also watch animal showmanship events inside the 4-H tent and ask the young handlers questions. If your keiki wants to learn more, you can find out about 4-H branches and activities in your area.
5. Consider buying an all-day unlimited ride wristband. There will be Extreme Fun rides and inflatables. Each costs between $1 and $3 per ride. Or, you can buy a $20 unlimited ride wristband (for the day of purchase only.)
6. Stay for lunch or an early dinner. Kualoa Ranch's grass-fed beef burger is always popular. Other options include Hawai'i Pineapple Co., Beyond Burritos (Mexican), Imu Style (Hawaiian), Hibachi (poke), Grandma G's (smoked pork plate, sushi bowls and fresh 'ahi plates), 'Ono Yo Hawai'i (frozen yogurt and acai bowls), Filipino Fusions, Olay Thai, Uncle Lani's Poi Mochi, 'Ono Pops, Waimānalo Country Farm, Tat's Shaved Ice and 'Ono Kettle Pop.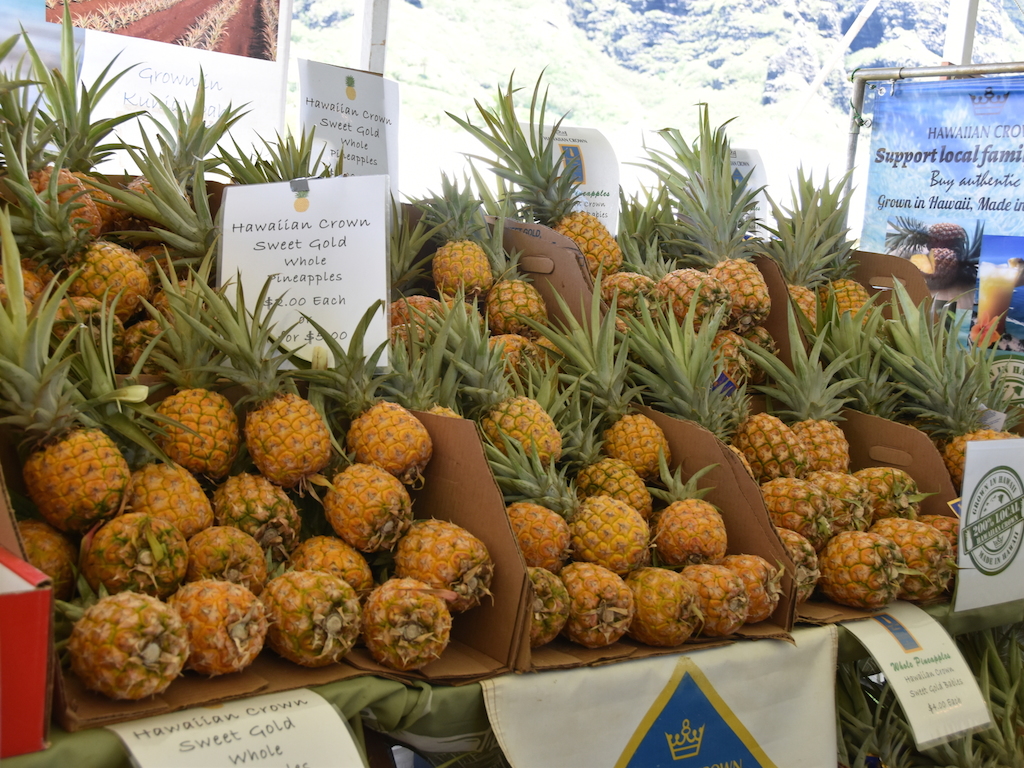 Photo: Hawai'i Farm Bureau
Pineapple are among the many fruits and vegetables you can buy and take home.
7. Buy fresh fruits, vegetables and plants to take home with you. Kamehameha Schools' Country Market and Plant Sale offers a huge variety of fresh produce and plants for sale. Some of the most popular are sweet and in-season pineapple, watermelon and corn.
8. Don't worry about parking or toilets. Parking is free and there is more than enough. There are lot of portable toilets as well as restrooms at the ranch.
The 57th Annual Hawai'i State Farm Fair will be held at Kualoa Ranch, 49-560 Kamehameha Hwy., Kāne'ohe, on Saturday, July 13, from 9 a.m. to 7 p.m. and Sunday, July 14, from 9 a.m. to 5 p.m. Entry costs $5 for adults and is free for children and students with a valid ID. hawaiistatefarmfair.org.