Inside Look: 26th Annual Filipino Fiesta
What to play and what to eat at this year's Filipino Fest.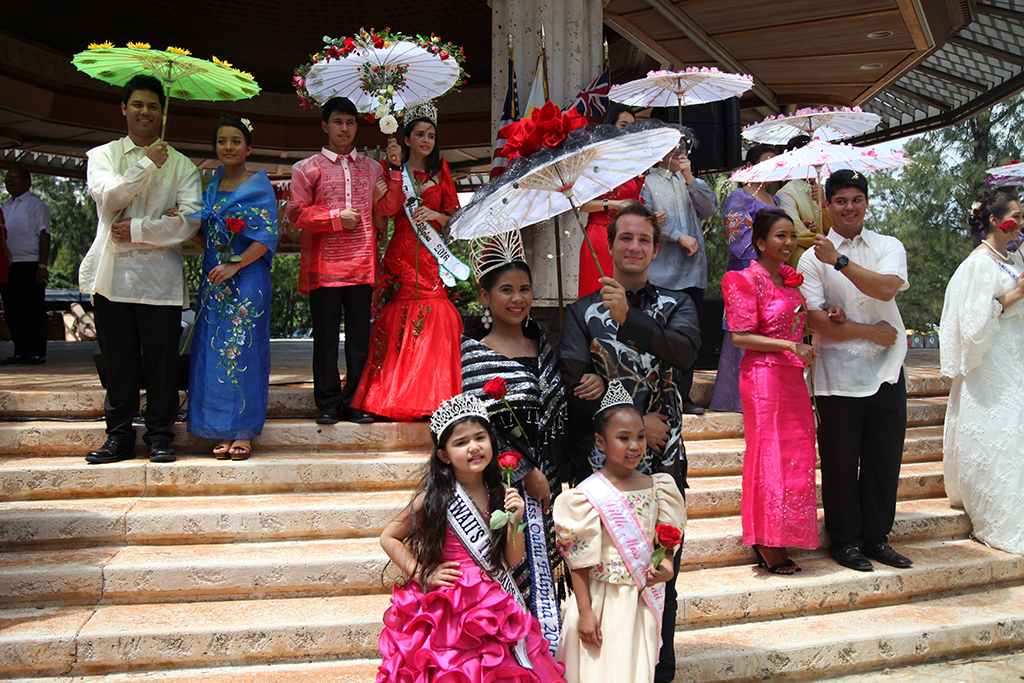 Photo: Courtesy of Filipino Community Center
Filipino Fiesta Court
Get your pancit and lumpia fix this Saturday, May 5, at the 26th annual Filipino Fiesta. After more than two decades in Waikīkī and Waipahu, organizers have moved this year's event to Kakaʻako Gateway Parks for easier access and parking. More than 5,000 are expected at the event, with crowds peaking at noon and at 4 p.m.
"The founder of L&L BBQ, Eddie Flores, started the Filipino Fiesta to showcase the best of our vibrant community and to allow people from other cultures to experience the bayanihan spirit," says Bryan Andaya, chief operating officer of L&L BBQ.
We asked event organizers from the Filipino Community Center for their tips for families.
Experience the culture: Look for booths with interactive programs. The "Kabataang Barangay" (youth area) will have native costumes for kids to try on, a photo booth to capture memories, and coloring activities and flower crafts. Volunteers will teach newbies how to play a matching game called "paris paris" and a shell game called "sungka."
Stay cool: Kaka'ako Gateway Parks is two grassy fields and a handful of trees. In other words, there is limited shade. Slather your family with sunscreen and consider bringing umbrellas to protect skin from the glaring sun. If you need to cool off, there will be purple ube ice cream from Magnolia and frozen treats from Island's Finest Shave Ice for sale.
Listen for announcements if you want to win a prize. Those will be given throughout the day, including round-trip tickets to the Philippines sponsored by Philippine Airlines and hotel accommodations by Sheraton Hotels & Resorts. Winners must be present.
Be ready to sit for live performances. Set up your own lawn chairs and picnic mats in front of the stage to watch the Tekniqlingz Crew dance group (2 p.m.), Filipino martial artists (1 p.m.), 'ukulele player Jordan Seguin (1 p.m.) and various vocalists (3 p.m.)
Look for your favorite or try new foods. In addition to the previously mentioned ube ice cream, lechon pork rinds and pancit noodles from Gerry's Grill, plate lunches from San Nicolas Chicharon & Sausage, and cakes and pastries from Red Ribbon will be available.
Our Tip: Plan some extra time to visit the Hawai'i Children's Discovery Center. The new interactive "Your Rainbow World" exhibit opens on the same day just across the street. We went on a preview tour and our kids had a great time playing with the new touch screens and other added activities in this mini version of a global village. Click here to read our inside look at the renovated exhibit
The 26th Annual Filipino Fiesta and 6th Flores De Mayo is from 9 a.m. to 3 p.m., Saturday, May 5, at Kakaʻako Gateway Parks, 650 Cooke. St. filcom.org/center/26th-annual-filipino-fiesta-and-6th-flores-de-mayo