Inside Look: 2018 HONOLULU Family Fun Run Presented by First Hawaiian Bank
Our 11 tips for beating the crowds (and the heat) at our second annual fun run.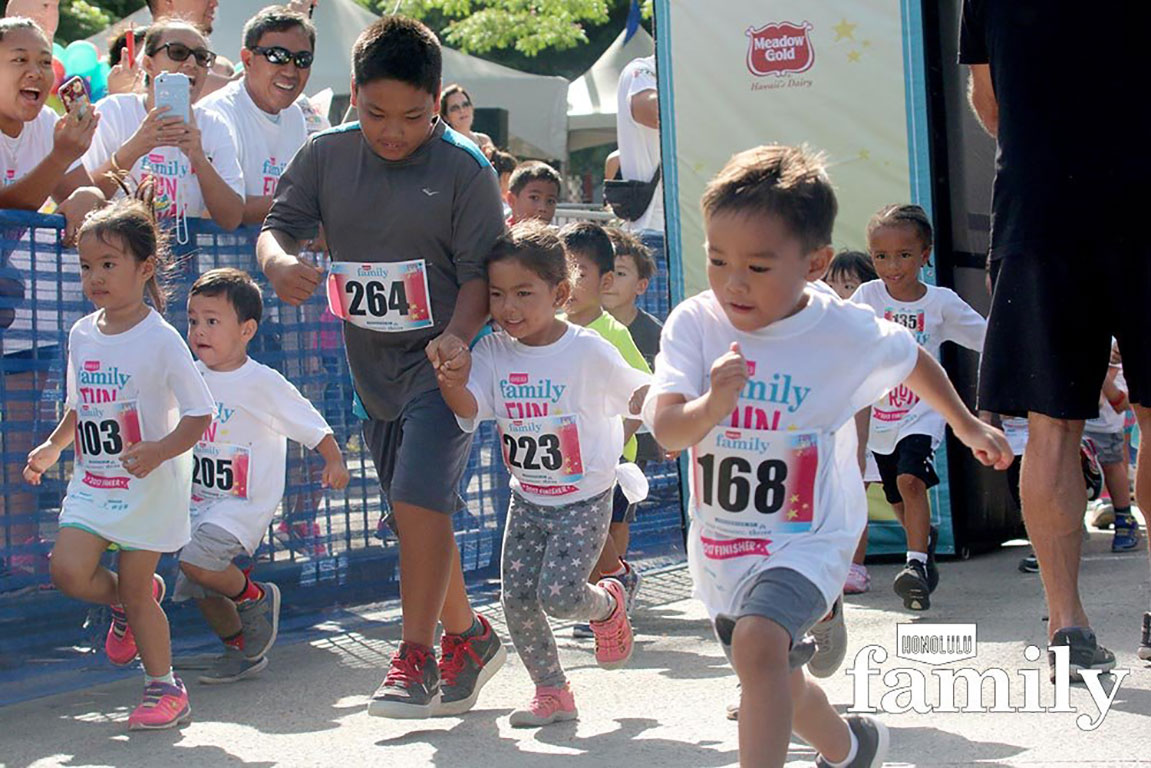 Photo: Gregory Yamamoto
We've all had it happen. Our kids wake up early on the weekend, wake us up, then keep us running around all day. Here's a way to put that extra energy to good use. HONOLULU Family's second Family Fun Run, presented by First Hawaiian Bank, is on Saturday, March 31 from 7:30 to 10 a.m. at Ala Moana Beach Park. Kids can start with the 500-meter keiki dash, superhero capes provided, then the entire family can take on the 5K walk/run that includes selfie stops, snack stations, entertainment and more. The parent team of HONOLULU Family has made a few changes from the inaugural fun run. Here are 11 tips for families on the run.
Our Tips
1. Know where to go. The start and finish line and festivities are all at the keyhole next to McCoy Pavilion at Ala Moana Beach Park. We'll be closing off that road so you won't have to worry about traffic during the walk. Bring your swimsuit and plan a trip to the beach to cool off.
2. Arrive no later than 7 a.m. Cars won't be allowed in starting at 7:15 a.m. That's when the keiki warmups will begin.
3. Bring a camera. Ariel, Spiderman and Tinkerbell will be leading the stretches and will stick around for photo opportunities after the races. There will also be a selfie stop with bubbles along the fun run course. Take a picture and post your pics with the hashtag #HFFunRun.
4. Get ready to cheer. The 500-meter keiki dash will be held before the 5K so that little legs won't be worn out. Every finisher, 3 to 10 years old, will receive a medal. Not sure your child will run alone? Register for the keiki dash anyway, it is the same price for both the keiki dash and the 5K for kids. And that way, there will be a medal waiting, just in case.
5. Run, walk or take a shortcut. This year, we'll be timing the 5K so athletes can use it to train for other races. But families are still welcome to stroll along and take their time enjoying the stations along the route. There will be a selfie stop with bubbles, a Keiki Parkour course, two cheer squads, snacks including bananas, milk, juice, water and prize-filled Easter eggs from First Hawaiian Bank. Because the course is in the park, if your little ones get tired, you can always take a direct pathway back to the festivities.
6. Stick around and for the keiki fun zone. At the finish, you'll find activities and entertainment including a bounce house, face painting, balloon animals, the princesses and Spiderman, a Honolulu Fire Department prize wheel, samples of Jamba Juice, Shaka Tea and Sun Bum sunscreen, and entertainment by Kamehameha Elementary Dance Fitness Team and Diverse A.R.T.
7. Need to take a bathroom break? There are toilets next to the festivities and, in addition to the HONOLULU Family snacks, the nearby L&L Hawaiian Barbecue stand open at 8 a.m.
8. Sign up now and start training. Register at active.com now or in-person on race day starting at 6 a.m. The top three overall male and female finishers in the 5K will receive a case of Shaka Tea and a gift bag from Sun Bum.
9. Fundraise for your school. Add your school to our list and $3 of each designated entry will be donated to your campus. Just email Christyd@honolulumagazine.com by Wednesday, March 28. Here is the list of schools registered so far.
Aloha United Way
Aliamanu Elementary
Daniel K. Inouye Elementary
Kaimukī Christian
Kalihi Waena
Kamalani Academy
Kanu o ka 'Āina Charter
Kawaiaha'o Church
Keone'ula Elementary
Mānoa Elementary
Mililani 'Ike PTO
Mililani Waena
Momilani Elementary
Montessori Community
New Hope Christian
Pacific Buddhist Academy
Pali Preschool
St. Clement's
St. Philomena Early Learning Center
Strode Montessori
Soto Academy
10. Pick up your race packet early. You can get it on March 29 from noon to 6 p.m. at Boca Hawaiʻi, 330 Cooke St. You can also pick it up on race day starting at 6 a.m. Come early to avoid long lines.
11. Tag your photos. Use the hashtag #HFFunRun18 on Instagram and your photos will be instantly printed and ready for pick up at our photo station.
The HONOLULU Family Fun Run is March 31 at Ala Moana Beach Park. The keiki dash begins at 7:30 a.m. with the 5K to follow. Register on active.com.