Inside Look: 2017 Jersey Fun Run
We get the scoop on the course, obstacles, bonus activities, and which fans you'll see out in force at this first ever fun run.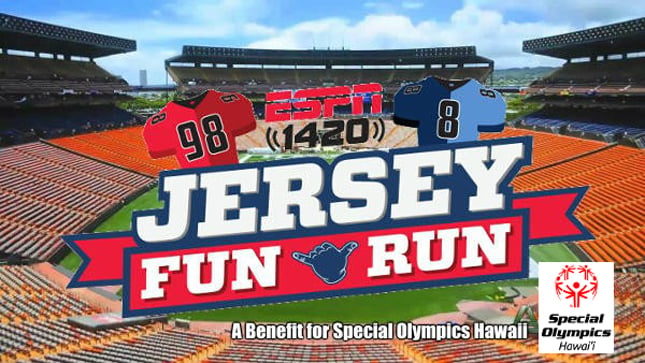 This weekend the Cowboys are coming to Hawaii. So are the Raiders, Seahawks, the Patriots and other NFL teams. All will be represented by fans on the field at Aloha Stadium for the third Jersey Fun Run.
This family-friendly event, which will raise money for Special Olympics Hawaii, will send runners (plus stroller- and baby snuggie-riders) on a 3K course through the stands, ramps and concourses of the stadium. That's just the start of the fun. Prize giveaways, vendors and more will start at 7:30 a.m. and continue after the 9 a.m. run.
Online registration closes Friday, at noon. But you can register on site. We asked ESPN 1420 for the scoop on this year's big giveaways, keiki activities and what to watch for at the Best of HONOLULU Family award-winning run.
Interactive Activities: These sports-themed activities along the course are one of the things that sets the Jersey Fun Run apart from other keiki dashes in Hawaii. In 2017, UH Rainbow Wahine soccer team head coach Michele Nagamine will help kids kick a goal. UH baseball coach Mike Trapasso will be there with a keiki baseball activity, a football toss could earn a runner new tires, and Speed & Quickness will run agility drills on Aloha Stadium's football field. Before and after the run, kids can also get a free airbrush tattoo and stop in at the photo booth by the Na Koa Football Club.
Don't Miss: The Fan Experience. ESPN organizers say that many leave as soon as they finish the behind-the-scenes stadium run. But, the keiki activities, giveaways, entertainment and autograph sessions with athletes including former Rainbow Warrior running back Steven Lakalaka, Miss Hawaii 2016 (and volleyball player) Chelsea Hardin continue from 9:45 a.m. to noon.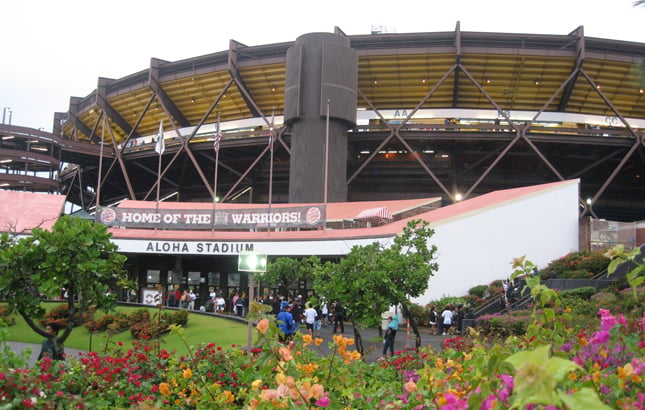 Stop in the End Zone: Running across the football field is a unique experience for many. Make sure to stop to do your best touchdown dance in the end zone, then watch others break it down on the JumboTron. The best dancer will win a pair of season tickets for the 2017 UH football games.
Get Dressed to Win: "Best Touchdown Dance" is just one of several contests this year. Dress to impress in your team colors because "Most Spirited" wins a staycation for two and the title of "Best Team Uniform" comes with a $500 gift certificate to Dave & Buster's. Remember, you do need to register for these contests on race day. Visit the registration table between 7:30 and 8:45 a.m.
Who Is Coming: Last we checked, the three teams with the most fans registered were the Dallas Cowboys, Seattle Seahawks and the Pittsburgh Steelers.
The ESPN 1420 Jersey Run is Saturday, February 4 at Aloha Stadium. Walk-in registration begins at 7:30 a.m. and the run begins at 9 a.m. $40 for adults, $30 for kids 5 to 12 years, 4 years and younger are free but must ride in a stroller. Go to active.com for more details.