Inferno's Wood-Fire Pizza, from a tent in a Kalihi parking lot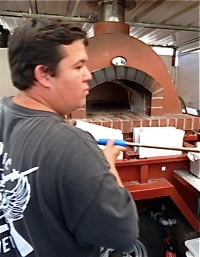 It's excellent pizza—and certainly the best pizza you'll ever find for $12 in a tent in a Kalihi parking lot.
How did Inferno's Wood-Fire Pizza end up purveying its wares from the parking lot of a flooring company at the corner of Nimitz Highway and Kalihi Street?
The answer (in a roundabout kind of way): Air conditioning.
John Wong and Kyle Okumoto were installing A/C at the headquarters of Hawaii Hardwood Flooring, talking about their avocation–pizza.
For years, Wong and Okumoto had been making their own pizza on a jerry-rigged Weber grill, when Okumoto decided he had to have a brick wood-fired pizza oven. Wang suggested they make it portable, so they could cart it to friends' houses for parties and such. The portable brick oven arrived in a big crate from California, and the two mounted it on a trailer.
Hearing of the two's passion for pizza and their portable oven, the owner of Hawaii Hardwood suggested they try setting up in his parking lot, just for fun, to see what happened.
It might have been the aroma of kiawe smoke wafting from their chimney. It might have been that workers in the surrounding industrial area wanted an alternative to plate lunches.
Whatever the reason, business just snowballed, and why not? The two ex-A/C techs fire up some great pizza: classics like fresh tomato, spinach, basil and mozzarella, or pizzas nouveau like a smoked beef brisket with barbecue sauce (see left). All on crispy, slightly charred crusts redolent of kiawe smoke.
"We bring the flour for the dough and the tomatoes for the sauce from Italy," says Wong, "but everything else is local. We even buy our kiawe wood from local guys, help them out."
Prices are low: $12 for a pizza and they throw in a couple of sodas. "We wanted to be reasonable, because this is fun," says Wong. "We started out making pizza for friends—and now pizza has made us a whole lot of new friends."
During the week, Inferno's Wood-Fire is open only for lunch, 10 a.m.-2 p.m. On Saturdays, however, it stays open from noon to 9 p.m. "Sometimes we're there later if people keep coming," says Wong. "It's OK to bring your own beer or whatever and just hang out with friends in our tent." Wong and Okumoto have created a thoroughly casual atmosphere: You don't dress up to sit on plastic lawn furniture under a tent in Kalihi.
Inferno's Wood-Fire Pizza, 306 Kalihi St., (808) 375-1200, infernospizzahawaii.com.